If August is Rome's month for vacation, then September is defined by the reintro – that harsh re-entry back into the reality of day-to-day life and work.
While there are always a few late summer storms, September in Rome is glorious.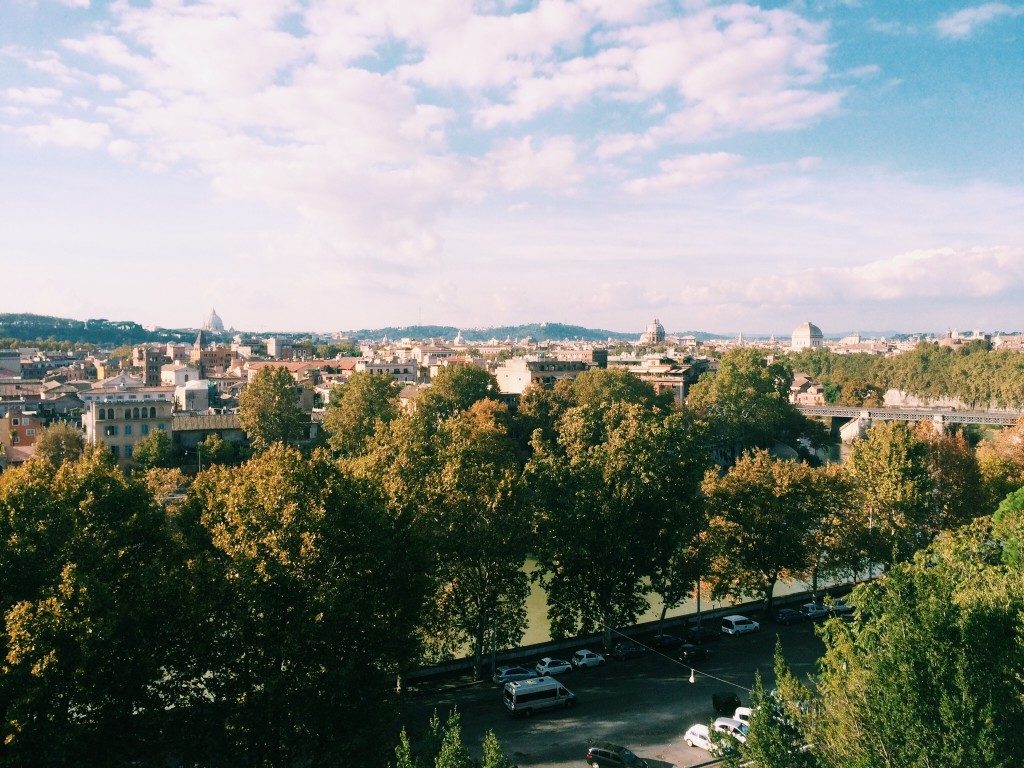 Rome is still warm, justifying plenty of gelato breaks as well as the excuse to savor sunsets over the Pantheon on long, lingering evenings.
After a lull in activity for August, September is full of events in Rome. From beer festivals, to live nude art classes, and some outdoor concerts, here is everything to do in Rome this September:
Various dates: There is still time to see a concert in Teatro Marcello before the weather becomes too unpredictable.
Various dates: Castel Sant'Angelo becomes the stunning setting for an intimate summer concert series.  Only 11 euro for a ticket, the concerts seat a maximum of 200 people in the center of the monument. Check the website for the schedule of the Sere d'Arte.
Every Friday (2, 9, 16, 23, 30 September): Enjoy a free jazz concert at 9 pm on the terrace of the Vittoriano as part of their apputamenti d'art e musica.
1-4 September: Testaccio's Citta dell'altra economia is back with yet another craft beer festival. Fermento will run from Thursday night and continue all weekend. More information is available on their facebook event page.
2-4 September: Eataly is hosting a Festa del Sud to showcase food and wine from southern Italy. Entrance is free, and tokens to purchase samples will run you 2 euro each. The festival will feature eats from Campania, Molise, Basilicata, Puglia, Sardegna (?), Calabria and Sicily.
3 September: La Casetta Rossa in Garbatella is hosting a lunch to benefit Amatrice, a town that was recently devastated by an earthquake. Lunch is a fixed price of 15 euro from 1 -3 pm. If you can't make it to Garbatella, here are more ways to help after the Italian earthquake tragedy.
7 September: The Anglo American Bookshop (Via della Vite 102) will host an evening with author Kevin Kwan who will present his novels Crazy Rich Girlfriend and Crazy Rich Asians. The presentation begins at 6 pm.
8-11 September: The 3rd edition of the Live Cinema festival is coming to Rome's MACRO. The festival will feature 50 artists from Italy, Hungary, Poland, United Kingdom, Netherlands, France, Germany, Austria, Czech Republic and Spain. Live DJ sets and screenings will take place over three days, and entrance is free.
8-11 September: Piazza San Silvestro (formally a bus stop) will be transformed into an Austrian forest with more than 300 trees. I cannot really imagine this so I might have to go see it in person!
9-11 September: The city of Rome is planning the second edition of RO-Map, an interactive light festival that will take place in Piazza Navona and other locations in the center.
10-11 September: After a summer closure, Mercato Monti reopens. Vintage and made-in-Italy goods are available from independent businesses.  The market also runs on the 17-18 and 24-25.
13 September: Ever been tempted to take an art class? Arts in Rome offers the chance regularly, and this Tuesday the class will focus on sketching a live nude model. Just throwing it out there.  Booking is essential.
13-17 September: The Ex-Dogana is hosting a beer festival, with tastings and music from 8 pm.
14 September: The second Tuesday of the month, some cinema's are offering tickets for just €2. Click here for more information on where and a schedule of what is showing.
15-18 September: Taste of Rome takes over the Auditorium Parco della Musica with cooking demos and plates prepared by some of Rome's top chefs. Tickets can be purchased online or at the event, but only grant access inside. From there, you will need to purchase food directly from the restaurant stands.
17 September: The next Open Day at Testaccio Market will be on Saturday. The market stays open until midnight, offering late night snacks and entertainment. Listen to DJ sets while you wait in line for the butcher to grill your meat to order. Yeah. I love it.
19 September: Only 60 seats are available for a an Unplugged in Monti concert featuring L.A. Salami.
21 September: After months of being off limits due to barriers and scaffolding, the Spanish Steps will be re-opened in all their gleaming clean glory.
21 Septmber: Katie Parla will be hosting a book discussion and signing of Tasting Rome at the University of California's Rome center from 6:30 to 8 pm. The cookbook made my list of Best Books about Rome.
24 September: Cool craft beer bar Stavio turns 2. Follow the event for more information on the celebration.
24 and 25 September: As part of the European days of Culture, many of Rome's sites are staying open into the night for just €1! This includes the Pantheon (open until 10:30 pm) as well as museums like Palazzo Spada.
27 September – 2 October: Leave it to the Ex-Dogana to dream up a candy festival.  The Festa della Caramella begins on Tuesday at 8 pm and will feature gummy candy stands alongside live music and all night DJ sets. Those licorice cocktails sound mighty tempting…
30 September – 2 October: If you feel like it has been a few weeks since you had the chance to go to a food truck festival, have no fear – Testaccio has you covered. The Città dell'altra Economia is hosting the International Street Food Parade. Entrance is free and you pay as you go.
30 September – 3 October: Last but not least: the 2016 edition of the Marino wine festival begins on Friday. This is the 92nd year Marino has hosted the event. While the biggest day will be Sunday (when wine flows out of the town's main fountain at 6 pm), the festivities take place all weekend. The Marino wine festival was literally the first thing I ever did when I moved to Rome, and the event made my list of best festivals near Rome.
Ongoing exhibits: 
Night visits to the Colosseum: Ok, not exactly an exhibit, but through 29 October you can explore the Colosseum by moonlight thanks to Coopculture. Tours are 20 euro and are available every Monday, Thursday, Friday and Saturday. Tours run from 8:10 pm to 11 pm and can be booked in English or Italian. Reserving online is required.
Banksy at Palazzo Cipolla: You have four final days to see the show featuring works by the artist Banksy, which is still taking place in Rome through 4 September centering around the theme War, Capitalism and Liberty. Reviews have been mixed and I admittedly never made it out.
Roma Anni Trenta: The Galleria d'Arte Moderna in Villa Borghese is hosting an mix of styles and techniques around the 1930s theme.  I definitely want to see this one, and you have until 30 October to make it to the show.
Barbie. The Icon. Yes, really. A Barbie exhibit at the Vittoriano, which I hear is really quite good. Of course, I have heard this from my 8-year-old friend of Ai Marmi fame. The exhibit tells the story of the ageless doll from 1959 to present, and runs through 10 October.
Still looking for more? Try my posts on things to do in Rome or get off the beaten path and explore the unexpected Rome
I will update this post as more September events are announced! Let me know if you have anything to be added.