I am back in Rome after some time away.
Thus far in 2016, I have been on a lot of planes.
Boston, South Dakota, Florida, San Francisco, Los Angeles; all with stops in San Diego in between.
Finally with a new visa in my passport, I took one last flight to Rome via London.
It is January and I am tired of planes for the time being.
All I want is to take a walk.

I usually explore the historic center of Rome, because I love turning corners and spotting the perfectly faded ombre wall topped with a blue dome.
I love these hidden corners of Rome.
But I needed to really take a walk. I needed space.
Villa Borghese is the perfect place to get a bit of breathing room in Rome.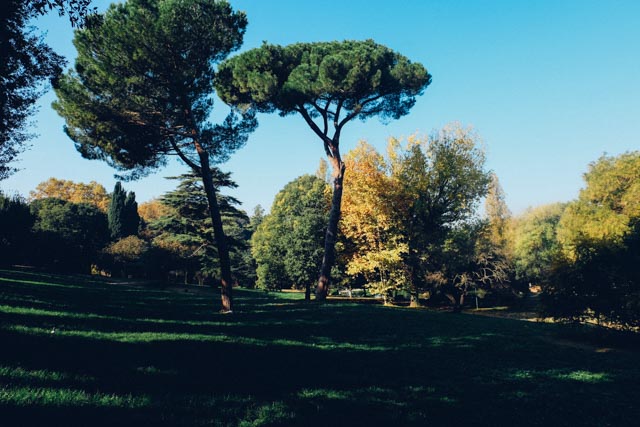 On sunny winter days, it is warm enough to get comfortable and read a book.
The park is perfect for long strolls.
Filled with paths, a lake with row boats, and even a horse ring, Villa Borghese is one of the best green spaces in Rome.
It is dotted with sculptures that you can admire as you wander.
Or stop for a picnic if you remember to pack lunch after a visit to Galleria Borghese.
Wide avenues criss cross the park, which also make it popular with bicyclist and rollerbladers on weekends.
I seek out the quieter spaces.
And at the end? Well, then you have all of Rome in front of you – a beautiful view from the Pincio terrace.
How much further you go from there is up to you.