The Tiber is not a straight river, which is fine because Rome is not a straightforward city.
It twists and turns, and cuts through the city as it damn well pleases.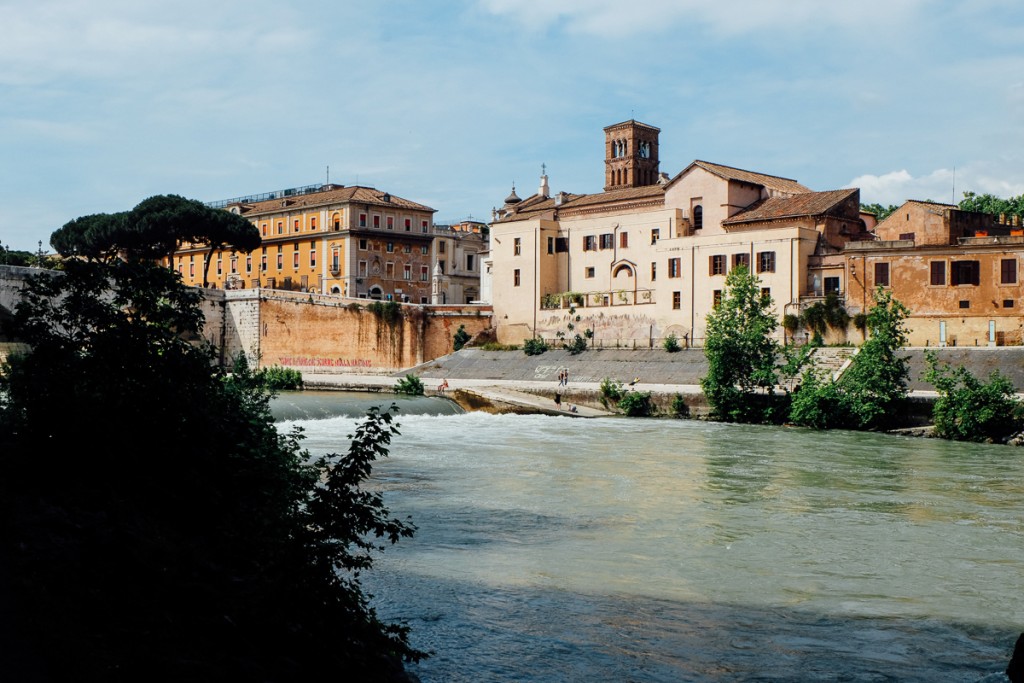 Walking along the river is almost never the shortest distance between two points.
However, Rome has invested in cleaning up the bike path that sits below the high embankments.
In this small, but perfect, window between the rain of spring and the unbearable summer sun, it is the perfect time to take advantage of the walkway.
At each bridge, you will find stairs that lead down to the path. (This is best done on the Trastevere side of the river, where the bike path has been developed).
Down next to the Tevere (Tiber), you can catch a glimpse of Ponte Rotto – the broken bridge.
As the river curves, you can spot St. Peter's Basilica.
But to me, walking along the Tiber is less about the landmarks and more about the urban city that Rome cannot help but become.
Rome is not Disneyland. It cannot be held static in time.
Sometimes its residents just need a place to practice the cello.
Or to relax in the sun, away from the constant traffic.
And what good are walls if they cannot be painted?
In these too few days where the weather is perfect, and the river bars have yet to appear, you can get up close and personal with Triumph and Laments.
While the modern city tends to encroach, the Tiber remains timeless.
One of my favorite spots to stop is below Ponte Sisto – the perfect place to peer up at the many colors and layers of Rome.
A walk along the river is always free and always open, but I would stick to daylight hours.