Some spots in Rome are unmissable, and most of whirlwind trip can be taken up by zipping between the Colosseum, Pantheon, Trevi Fountain…
But it would be a mistake to skip the Pincio Terrace.
A lone palm tree marks the spot on one of the best hills in Rome.
Though not one of the "seven hills of Rome," the Pincian hill offers sweeping views of the city.
Above the trees, you can gaze down at the historic center and across towards the Vatican.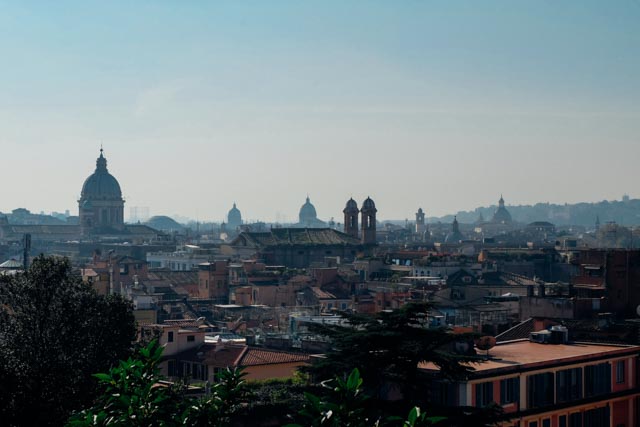 The layers and domes of Rome are what get me every time.
The Pincio terrace sits directly above Piazza del Popolo, at the end of Via del Corso.
You can access the terrace, and the free Pincian view via Villa Borghese.
Follow the signs to "Pincio" and keep an eye out for selfie-stick sellers.
Or, you can take the stairs from Piazza del Popolo up.  When facing the terrace, the stairs are to the left.
However you arrive, you might have a hard time leaving. This is one of my favorite views in all of Rome.