Rome's keyhole is known for its amazing view.  Wait in line and you can peek through to see perfectly manicured hedges outlining St. Peter's Basilica.
But if you head just up the street, and even better view is waiting:

The lovely terrace of Giardino degli Aranci offers a sweeping view of Rome.
You will know when you have arrived at the giardino, also known as Parco Savello, by the fountain out front. The fountain is by Giacomo Della Porta previously lived in the Roman Forum before making its eventual way to this spot after a stop on the lungotevere.
(Or you can also find the entrance if you keep an eye out for man with the impressive girth who sells roasted chestnuts at the gate pretty irregardless of the season).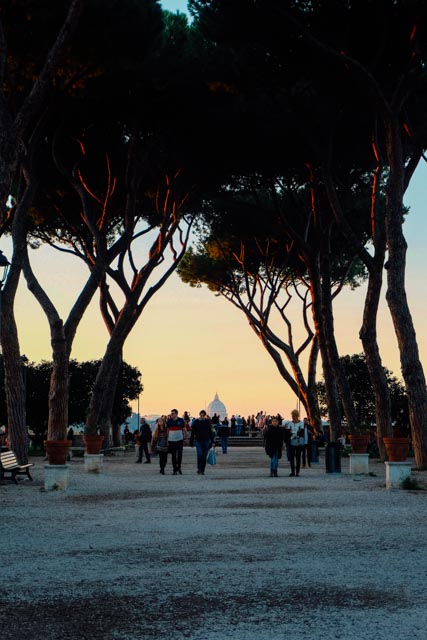 Walk through the gates, and follow the pathway. When you turn left, you will see it.
St. Peter's Basilica is gloriously centered, with Roman umbrella pines on either side.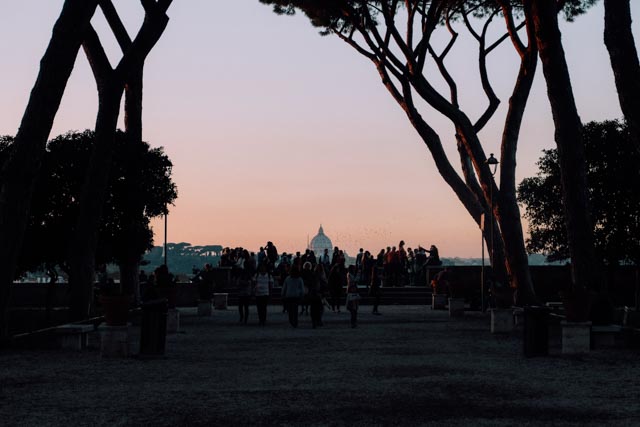 The terrace of the giardino deli aranci is popular with locals and tourists alike.
It is one of my favorite spots in Rome to watch the sunset.
Though I am not so brave as those who sit over the ledge.  The garden rests next to Basilica of Santa Sabina, and high above Lungotevere Aventino (which is why I do not lean too far over).
To the right, you can look towards the centro storico.
And straight ahead is Trastevere, with St. Peter's further beyond.
The garden is easily reached from either Circo Massimo or Testaccio. There are also stairs from Lungotevere Aventino, not too far from the Mouth of Truth.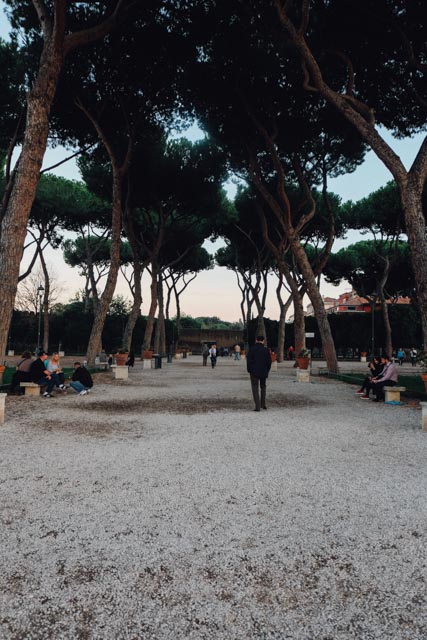 While the umbrella pines are the more impressive tree in the park, the garden takes its name from the orange groves on either side.
The fruit is bitter but the groves make the perfect picnic spot.
Bring a book or a friend and enjoy a break from the chaos of Rome below.
Giardino degli Aranci (Parco Savello)
Via di Santa Sabina
00153 Roma, Italy
Open: 7 am to sunset, year round.