Those interested in the history of Rome would be amiss to skip the Capitoline museums. Housing the most impressive collection of Roman antiquities, the museum sits on the highest of Rome's seven hills.
But, if you don't have time to visit the collections, it is good to keep in mind that you can still access the terrace of the Capitoline Museums.
If you are coming from Piazza Venezia, reaching the museum requires climbing a daunting staircase. (Though these stairs are not as steep as the steps that lead to Santa Maria in Ara Coeli, to the left of the Capitoline stairs).
As you climb to the top, you will be greeted by a square designed by Michelangelo.
The entrance to the museum will be further ahead, but if you want to proceed directly to the terrace without buying a ticket, then you should turn right.
If you have followed the directions, you will arrive at Piazzale Caffarelli.
The view is already impressive here, but it gets even better if you head up to the rooftop.  Officially called Terrazzo Caffarelli, access to the terrace is free if you find the right door.
There should be a museum guard standing there, but just explain that you would like to go to the bar and they will usher you into an elevator.
Take the elevator to the top floor, and tah-dah: a secret rooftop bar.
There is also a bar that you can access for free on the second level of the neighboring Vittoriano complex. That bar is great because it has drinks with a view of the Colosseum.
However, it has been closed for restoration recently and is more seasonal.
The terrace of the Capitoline Museums has a permanent bar as well as a covered seating area for all times of year.
And the view?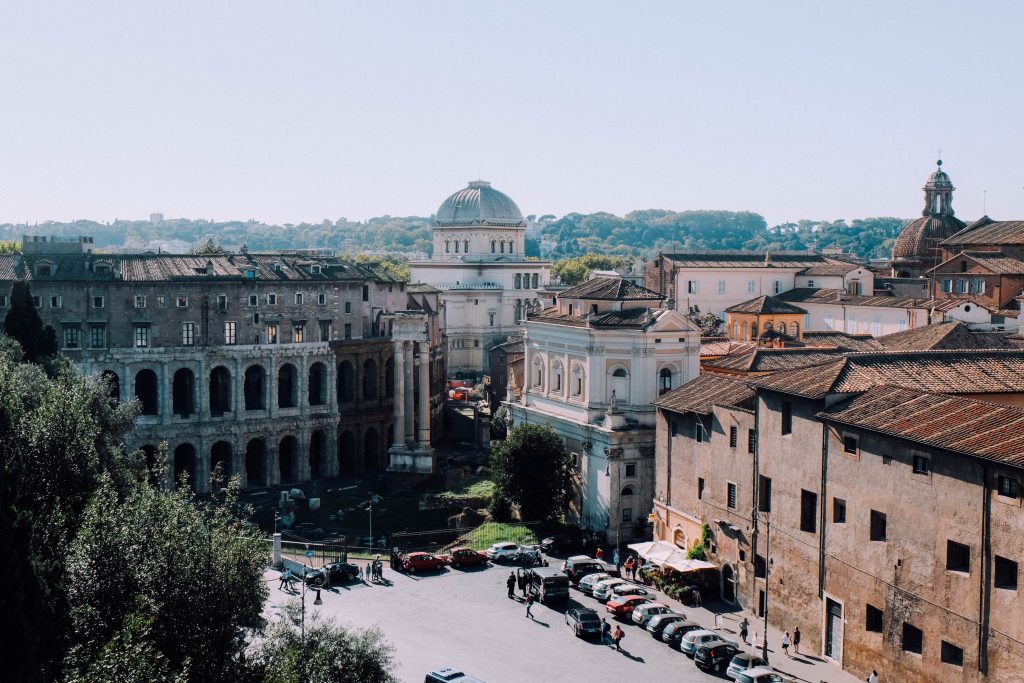 Gorgeous!
The terrace looks out over Teatro Marcello and towards the Jewish Ghetto.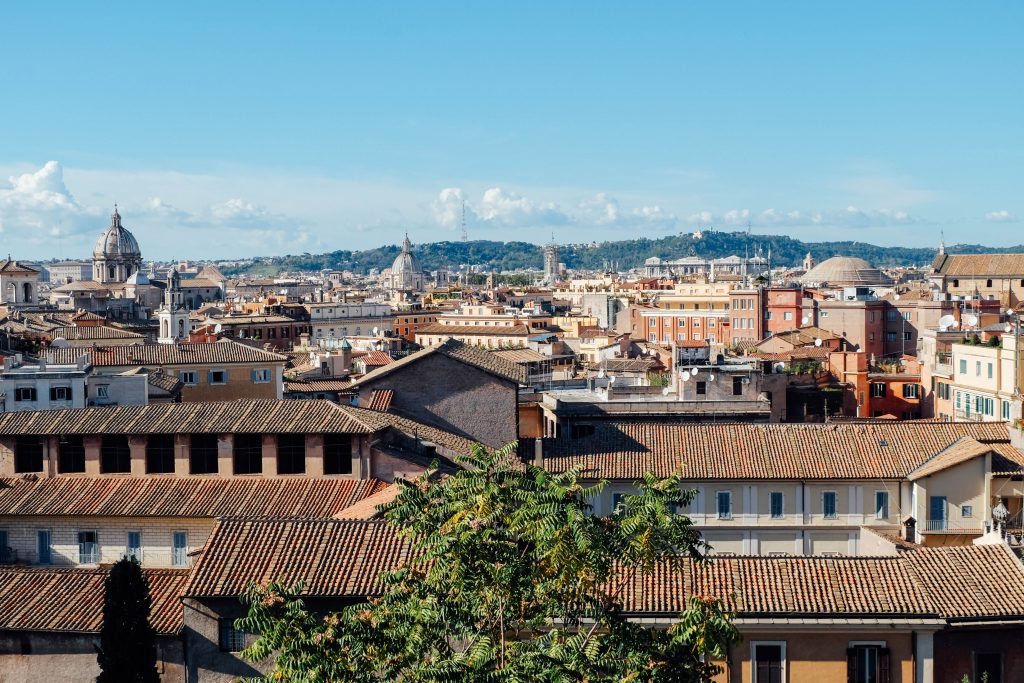 In addition to the distinct top of Rome's synagogue, you can also see various domes and rooftops – and even the unmistakable curve of the Pantheon.
The terrace is expansive, and you can visit it even if you don't want to stay for a coffee or a drink.
But go with enough time to soak up the view!
You know I love a good rooftop bar in Rome, and while Terrazza Caffarelli is less swanky and more day time than some others, its view is one of a kind. It is worth a visit if you are in central Rome, and definitely a must see if you visit the collection of the Capitoline Museums.
Above Piazzale Caffarelli
Open every day from 9:30 am – 7 pm.