One of the key pieces of advice I give people who are just moving to Rome is "carry a book."
You never know when you will be paralyzed in an impossibly slow, bureaucratic queue, or when you will be stuck waiting 45 minutes for the bus that is supposed to pass by every 10 minutes.
Books have saved me many frustrated hours in Rome by giving me an escape from whatever chaos the city was choosing to throw at me that day.
Very simply, I love to read. I majored in Literature as an undergrad, and struggled with the idea of selling my books when I moved to Rome.  It was saying goodbye to the books that made the move real to me.
Over the last several years, I have restocked my book collection in a new apartment in Italy and though I would share some of my favorites.  From fiction to guide books and history, here are the best books about Rome:
Fiction
The Roman Spring of Mrs. Stone
 by Tennessee Williams
Tennessee Williams lived in Rome and was inspired by the city. Though best known for his plays, The Roman Spring of Mrs. Stone is a novella. The story centers on an aging actress who is struggling to come to terms with both the death of her husband and the loss of her good looks.  The city is the backdrop to Mrs. Stone's sense of 'drifting,' and it shines through in Williams' descriptions of Rome's buildings and winding streets. This was a book I loved for the language and for the Roman setting, but I found myself sucked into the story and surprised by the ending.
More on Tennessee Williams and his love for Rome here.
Rome Tales (City Tales)
 edited by Helen Constatine
A lovely collection of short stories about Rome throughout the centuries. At first, it feels like a mishmash of themes, styles, and voices, but slowly the common narrative threads are pulled together. Editor Helen Constantine has accomplished an incredible feat, somehow managing to make stories from twenty Italian authors flow together despite focusing on different time periods and different aspects of the Eternal City.
Clash of Civilizations Over an Elevator in Piazza Vittorio
 by Amara Lakhous
There is nothing one dimensional about Rome. If you see only old ruins, you are missing the multicultural vibrancy that exists outside edges of the touristy center of the city. In Clash of Civilizations Over an Elevator in Piazza Vittorio, Lakhous tells the story of a murder in Rome. But the novel is about more than a crime, it is about the Romans; "Romans" who come from all over the world and are thrown together by a single event.
Portrait of the Mother as a Young Woman: A Novel
 by Friedrich Christian Delius
An incredibly intriguing novella that is set in a single afternoon and told in a single sentence. The story centers around a young German woman who has moved to Rome in 1943 to join her husband, an officer in the army. When he is suddenly deployed, she is left all alone in a city she both admires and fears. The narration traces her steps through the city, admiring the SPQR symbols without understanding them, and imagining the world that her child is soon to be born into.
Non-fiction/Memoirs about Rome
Four Seasons in Rome: On Twins, Insomnia, and the Biggest Funeral in the History of the World
by Anthony Doerr
I read Four Seasons in Rome years ago, when I first moved to the Eternal City.  Doerr wrote the short memoir after a year-long fellowship at the American Academy in Rome. He has since gone on to win the Pulitzer Prize for his novel All the Light We Cannot See
. Doerr's way with language is impossible to forget. I love his descriptions of what real life is like in Rome. My only complaint? I wish it were longer.
As the Romans Do: An American Family's Italian Odyssey
 by Alan Epstein
Alan Epstein longed to move to Rome and finally made it a reality. As I prepared for my own move to Rome, I read his memoir of his family's experience of arriving in Italy. Epstein moved to Rome in 1995, so some of the observations felt a bit dated, but it is one of the few first-person accounts of trying to come to terms with Roman lifestyles, even if the style of writing was not always my favorite.
There is also always Eat, Pray, Love: One Woman's Search for Everything Across Italy, India and Indonesia
by Elizabeth Gilbert which captures a bit of wide-eyed wonder at all the glorious ways to indulge in Rome. However, I am being a bit of purist here and not considering a three-month stint enough for a true Rome memoir.
History
SPQR: A History of Ancient Rome
by Mary Beard
My father is a historian, but the gene seems to have missed me. Mary Beard's SPQR is a masterful history of ancient Rome that I am still slowly working my way through. It is impossible to talk about modern Rome without acknowledging the millennia of history that came before it – it is what makes the city eternal. History is not always my first choice for bedside reading, but if you are going to read one book on Ancient Rome, this is it.
Rome Guide Books
Rome (Granta City Guides)
by Elizabeth Speller
Even after many years living in Rome, I still love to pick up Elizabeth Speller's guide to the city. It is divided into neighborhoods and organized as though you were walking down each street in turn. The history and the observations about the city are seamlessly linked together. It describes the anonymous facades that you may have strolled by without thinking about. Speller captures both the best known and the unheard of monuments in the city. I love to walk through Rome, and this is the perfect guide for wandering.
City Secrets Rome: The Essential Insider's Guide, Revised and Updated
 Edited by Robert Khan
I will admit that City Secrets is a bit of a mix for me. I think that its value is in its multiple viewpoints – each recommendation comes from a different contributor (an artist, a historian, a writer). However, the mix of voices can also be jarring and one recommendation does not always feel like it leads naturally to the next. The book makes my list because there are some gems in here that could only come from people who live in and love the city. It sets the guide apart from other professional guidebooks written by someone who is good at research but fundamentally only passing through.
Cookbooks
My Kitchen in Rome: Recipes and Notes on Italian Cooking
by Rachel Roddy
I have long admired Rachel's writing. She has a way of tying together memories and meals that captures the role of food in nourishing both body and soul. Her writing always triggers a sense of shared experiences, and so when she wrote a cookbook, I had it pre-ordered to arrive as soon as possible. I knew it would be a book written from the heart and that my own kitchen would be all the warmer for it. Rather than merely listing recipes, her book tells a series of stories of food from her kitchen in Rome. I cannot resist the photographs of Testaccio that accompany the recipes — there is even a shot of my house.
Tasting Rome: Fresh Flavors and Forgotten Recipes from an Ancient City
by Kristina Gill and Katie Parla
If you have eaten in Rome, you have likely followed the advice of educator and writer Katie Parla. Teaming up with Kristina Gill, who wears many hats including as Food Editor at one of my favorite blogs Design*Sponge, the two Rome experts have pulled together a gorgeous cookbook of authentic Roman recipes. Working with the best chefs in the city, Kristina and Katie have documented the best of Rome's food to be re-created at home. Kristina's beautiful photographs bring the cooking, and the city, to life.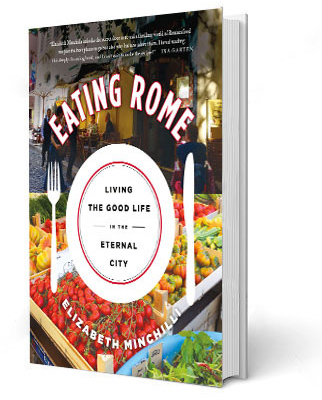 Eating Rome: Living the Good Life in the Eternal City
by Elizabeth Minchilli
Eating Rome could nearly just as easily been filed under non-fiction, because Elizabeth's book will be your guide to Roman eating. It is not just about the where to eat in Rome, so much as the how to eat in Rome. How to follow unwritten protocols at the coffee bar, how to find a fruit and vegetable vendor and be loyal, how to plan a Sunday lunch, how to have the right ingredients at the right time. Now that you have been armed with the information to take on Italian shopping, you can recreate the dishes in your own kitchen using Elizabeth's recipes at the end of each chapter.
If you are in Rome, these titles and many more are available at the Almost Corner Bookshop (Via del Moro, 45 in Trastevere) or at the Otherwise Bookshop (near Piazza Navona) which is, frankly, friendlier.
Did I miss any of your favorite books about Rome?
_______________________________________________________________________
Note: The links above are affiliate links. This costs you nothing, but if you do decide to purchase any of these books, I get a small commission.  I have read all the books above and the recommendations are mine.