I took to Instagram stories to ask people about the most overrated things in Rome and I got some amazing answers. People were disappointed by places, restaurants, gelato, and experiences.
Hype can really ruin something. You are expecting life-changing, or at least something worth a trip around the world, and you get… ordinary. Or worse: you waste your time and money on something that actually sucks.
Make the most of your time here by skipping these overrated things in Rome – and consider the suggested alternatives.
[Note: These overrated places were suggested by others and I tallied them up. I have added my own comments about if I agree or if I have more information.]
What NOT to do Rome:
Overrated Places in Rome:
Trevi Fountain
Spanish Steps
Mouth of Truth
Keyhole
Vatican
Over and over, I saw these same places pop up as totally overrated in Rome.
The Trevi Fountain made the list because it is so crazy crowded. If you are a morning person, try going right at sunrise. It is gorgeous and empty.
This would be a good trick for Rome's keyhole as well. If you show up and the line is too long during the day, then I suggest going to the nearby Orange Garden instead. The view is still gorgeous.
At the end of the day, the Spanish Steps are just a very nice outdoor staircase. If you plan ahead, then book a visit to the nearby Giorgio de Chirico House Museum. You will get a great view of Piazza di Spagna and be able to see a beautiful art collection.
The Vatican also has some unbelievable crowds. Try booking to visit on a Friday night when there are fewer people.
The Mouth of Truth is so overrated. Skip it. You can, however, grab a drink on the terrace of Hotel fortyseven which is a two-minute walk away and has one of the best rooftop bars in Rome.
Overrated Things to Do in Rome:
Take a large group tour
Take a tour bus
Go inside the Colosseum
Yes. Yes. Yes. Those massive groups with headphones following someone with a flag? Not worth it. If you really want to take a tour, then I suggest paying a bit more for a small group.
Several people thought that going into the Colosseum was overrated. I still think this is something that you should do once in your lifetime but that is probably all you need. The Colosseum line can be very long, so find a way to skip it and you will have more time and less stress once you get inside.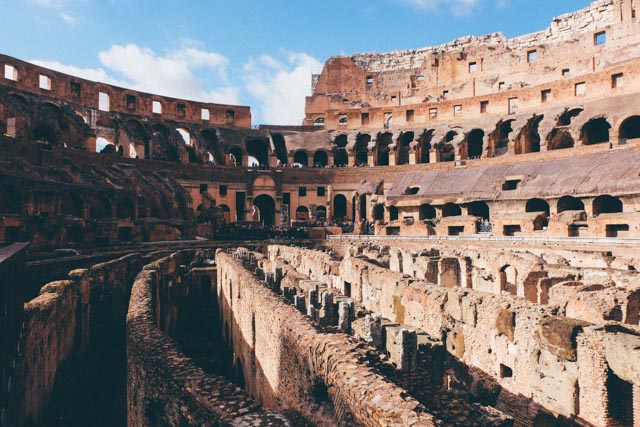 Overrated Restaurants / Food in Rome:
Emma Pizzeria (I agree and removed it from my app)
Dar Poeta (Never been because it didn't seem quite worth it)
Tonnarello in Trastevere (I have never been because it looks a bit tourist-y)
Osteria Fernanda (Sorry to hear because I WANT to go, but can't comment because I haven't been)
La Romana Gelato (Agree)
Giolitti gelato (Yep)
Pompi (Uh huh)
Sant'Eustachio il Caffe
Places to try instead, in corresponding order:
Is there anything else that you tried and then felt disappointed by? Or, instead, did you actually love some of these overrated places in Rome? Beauty is always in the eye of the beholder!