Someone recently wrote to me to ask how to skip the line at the Colosseum to avoid waiting 2 hours to get in. Ouch. That is a ridiculously long line, even for Rome's most famous attraction. Luckily, there are several ways to skip the line at the Colosseum, even if you don't plan ahead.
Whether you want to take a tour, buy tickets or use a RomaPass, here are all the ways to avoid the line at the Colosseum.
How to Skip the Line at the Colosseum
Leave your luggage and large bags at home. There have always been lines at the Colosseum but the wait has become especially long because of security measures that were brought in recent years. Everyone must now pass through a metal detector and have their bags scanned. Bags larger than a backpack are completely banned and there is nowhere at the actual Colosseum where you can store them, so be sure to leave your large bags back at your hotel.
Buy tickets at Palatine Hill or the Roman Forum. If you have not planned ahead and thus not pre-purchased tickets then you can still skip most of the line by buying your tickets at the Roman Forum or Palatine Hill. Both are close to the Colosseum and all three sites use the same ticket. (FYI the ticket is good for two days so you can come back to see all three sites if you like). The lines at both the Forum and particularly at Palatine hill are MUCH shorter. This will allow you to avoid the line to buy tickets at the Colosseum, but you will still have to wait in the security line, as mentioned above.
Use the Colosseum as one of your free entries with the RomaPass. Purchasing a RomaPass entitles you to free entry at two major Rome monuments and museums, as well as discounts at other sites and free public transportation. The pass is worth it if you want to see a lot but you should save one of your "free" entries for the Colosseum. If you use your free Roma pass entry you can skip the Colosseum line and go to the special events counter. If you simply use your RomaPass for a discount, you will save a bit off the ticket price but you will still have to wait in the regular line. (Just remember that you have to pick the RomaPass up in person at a Tourist Info Point).

Buy tickets skip the line Colosseum ahead of time. If you already know the day and time that you want to visit you can buy tickets ahead of time for €18 (regular entrance + an official online surcharge). Here's more on the new ticket prices in 2019, in case you are interested in why they went up. You will have to either print the ticket out or go to a little office – and wait in line – to collect your skip the line ticket. If you want to do everything seamlessly on your phone, I recommend buying from Tiqets. You can then go to the "Visitors with Reservations" line and scan the barcode at the turnstile.
Take a Colosseum Tour. Reputable tour groups will always have pre-booked tickets and will take you directly to the Group Entrance instead of the (long line) Individual Entrance. Taking a tour really helps to bring the Colosseum to life, and can grant you access to areas like underground and/or the 4th and 5th levels, that the general admission Colosseum ticket simply is not good for.
Go at night (with a pre-booking). Even if you show up before the gates open, there will still be a line at the Colosseum. Skip it all by going to the Colosseum at night – a tour that is only available if you book ahead. No crowds and cooler temperatures? Completely worth it.
Note: for security reasons, only 3,000 people are allowed inside the Colosseum at any given time. This means that even if you have reserved tickets to skip the line, you might have to wait a short while. You will, however, be given priority as soon as the number of people inside evens out again.
And if you are going to be in the area, here is where to eat near the Colosseum.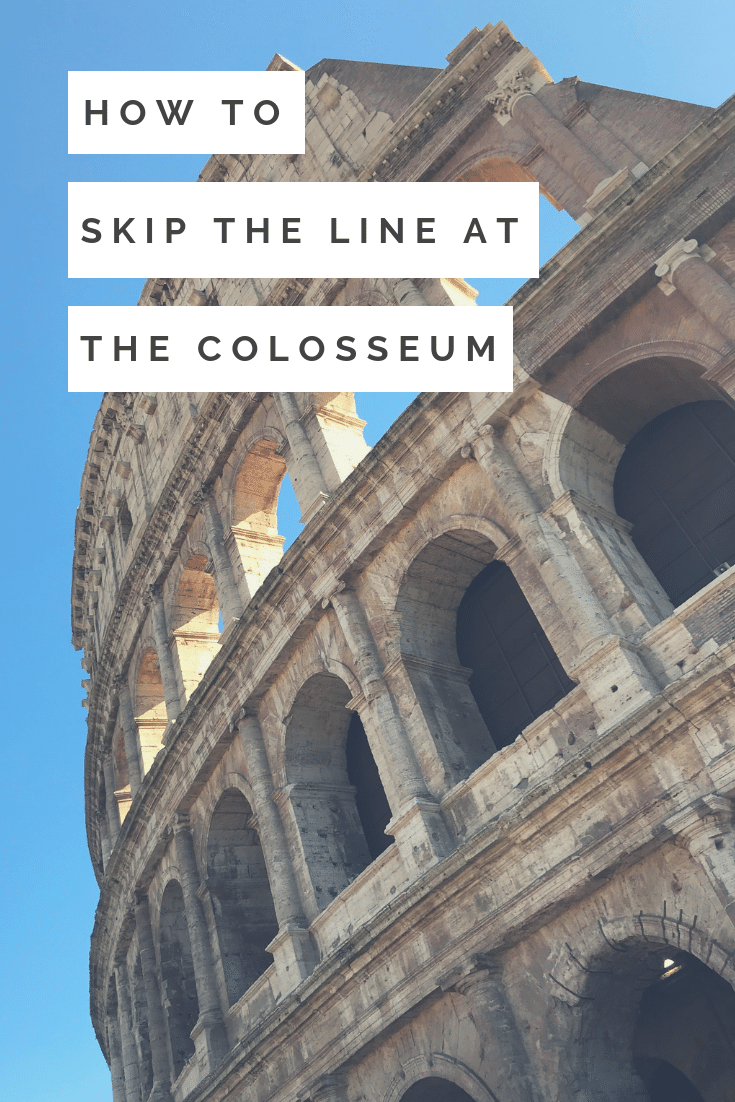 Please note that this post includes links to the official ticket office, recommended tour companies and affiliate providers. If you choose to purchase skip the line tickets for the Colosseum, I may earn a small commission – but you are under no obligation to do so.