Pompeii is one of the most important archeological sites of the ancient world and one of the most popular things to see in Italy. Planning your trip to Pompeii correctly can help to ensure that you see everything in the ruins and avoid the crowds as much as possible. Depending on your travel style, there are lots of options for buying Pompeii tickets, including skipping the line, purchasing on the spot, selecting an integrated ticket for multiple Naples attractions, or taking a tour of the ruins.
From how to find the entrances to prices and opening times, here is all you need to know about visiting Pompeii, Italy.
Background
Once a thriving city full of trade, Pompeii was founded at the foot of Mount Vesuvius in the 6th century BC. Located just a few miles outside of modern-day Naples, Pompeii was completely destroyed when the volcano erupted in 79 AD.
The eruption was many times more powerful than an automatic bomb and the entire population of Pompeii was wiped out. The city was soon buried under a layer of volcanic ash, and this ash (along with the sudden nature of the catastrophe) is what helped to preserve Pompeii in such amazing condition.
The ruins of Pompeii have been a treasure trove for archaeologists to learn more about Ancient Roman customs and lifestyles. Today it is possible to visit Pompeii and walk along the same stone-lined streets that civilizations there used over 2,000 years ago. The volcano still lumbers in the background of the fallen temples, old storefronts, amphitheater, and many more sites.
While many of the best-preserved pieces such as statues and mosaics have been moved the archaeology museum in Naples, the impact and extent of Pompeii's ruins are something you need to see in person to truly gather a better understanding of ancient life along the Mediterranean.

Skip the Line Tickets
Given its history and amazing state of preservation, Pompeii is one of the most popular sites in Italy. That can mean there are often lines to access the site. While many of these lines move quickly, those on a tight schedule (or visitors who do not want to wait out in the sun) can buy tickets in advance to skip the Pompeii lines.
You can buy skip the line tickets through third-party suppliers for a small markup to save yourself time. There are no official skip the line tickets available from the Pompeii official ticket office unless you are a school group. However, there are skip the line tickets you find online here are always accepted.
You can buy priority tickets for €20, with instant delivery to your phone. You can use the tickets at the Porta Marina Superiore or the Piazza Esedra entrances – where you will see a skip the line lane and can proceed directly there. That's a €5 markup but it is worth it to beat the crowds many days.

Tours of Pompeii
The ruins at Pompeii are truly amazing because they are an example of Ancient Roman civilization that was frozen in time in 79 AD. That being said, they really are still ruins, and taking a tour is the best way to ensure you see everything and gain the best understanding on the site. Visiting on your own means you may find yourself standing in front of some columns with no idea of why they were important.
Any reputable tour of Pompeii will also include your skip the line tickets. The tour will start at a specific time, and you will be able to follow your guide past the line and into the site. Most of the best guides at Pompeii are archaeologists who have a wealth of knowledge about what life was like here 2,000 years ago. You can opt for a professional 3-hour tour to see all of the major ruins and stop in Sorrento, or take a shorter more affordable tour through Pompeii.
There are lots of tour options depending on your level of interest in the site, but be sure to select a small group tour (less than 15 people) for the best experience.
You can also rent an audio guide when you purchase your ticket if you would like to hear more history while exploring the archaeological site at your own pace. You simply type in the corresponding number posted on the site map to listen to more about the history and significance of the ruins.
Pompeii Ticket Prices
If you wait in line and purchase Pompeii tickets on the spot, the entrance fee is €15.
Children under 18 (both EU and non-EU citizens) are free and do not need to buy a ticket.
If you plan to explore the sites more extensively, you should consider the €18 integrated ticket for Pompeii, Boscoreale, and Oplontis – which is valid over a three-day period.
You can also visit Pompeii as part of the Campania Artecard circuit, without needing to pay an additional fee for entrance as long as it is one of the two sites you choose to visit. The card also grants you a discount at a third site, plus public transportation discounts.
How to Get There
Pompeii is located just outside of Naples (about 5 miles away), at the base of Mount Vesuvius. Most people who visit and wish to take public transportation usually head to Napoli Centrale (the main train station in Naples) and then catch the local train known as the Circumvesuviana. These trains depart regularly and there is a stop directly in front of the Pompeii ruins.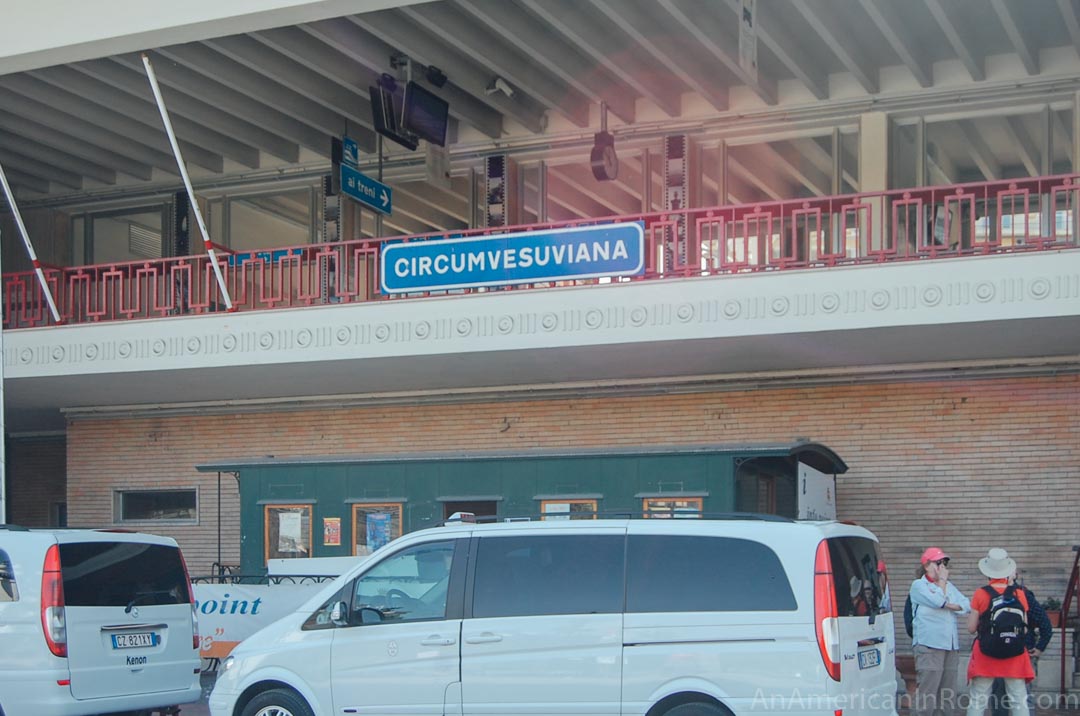 You can also reach the site by bus from Naples, and purchase a ticket which includes a private bus transfer from Naples.
If you are coming from Rome and do not want to deal with the train, there are many private tour companies which will arrange a coach bus transfer, skip the line tickets and a tour guide, with transportation back to Rome included at the end of the day. The company The Tour Guy usually has particularly good guides for these type of Pompeii day trips, and take you along a bit of the Amalfi Coast for amazing views.
If you are driving, Pompeii is easily located off of the A3 autostrada – the highway from Naples to Sorrento. To reach the ruin, take the Pompeii exit, which is about 150 miles south of Rome.
Where to Stay in Pompeii
If you plan to explore the ruins extensively and would like an alternative to staying in Naples, you can find some lovely places to stay in Pompeii itself. Pompeii is also a bit more affordable than staying in Sorrento or down on the Amalfi Coast.
Pompei Palace B&B: With balcony views of Mount Vesuvius, easy-to-find parking on the street below, and a great location close to the ruins, this comfortable B&B is an excellent option for exploring Pompeii at a more leisurely pace.
Hotel del Sole: This is one of the better hotels in Pompei, a four-star property right in front of the ruins. Some of the design inside is inspired by the frescoes you find in the archaeological site itself, but there are plenty of modern touches like hot tubs in some of the superior rooms, and amazing views.
Hotel Diana: One of the larger, but still affordable, hotels in Pompeii – this property is centrally located and great for visitors who prefer traditional properties with a helpful front desk and breakfast included.
Flamingo B&B: This fun and modern B&B is a contemporary place to stay located right next to one of the most ancient sites in Italy. The amazing rooftop terrace with gorgeous views is also a major plus!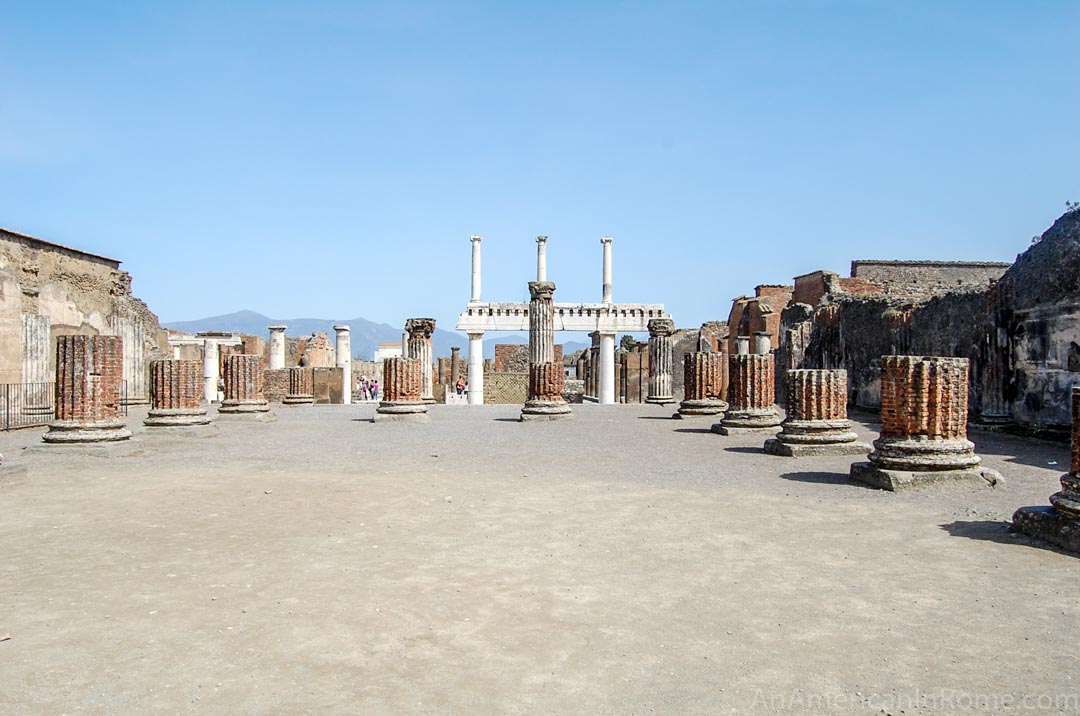 Note: This post may include affiliate links to service providers I personally recommend. Should you choose to purchase, I may receive a commission, but you are under no obligation to do so.