Chianciano Terme is one of Italy's best-kept secrets.
It's hardly unknown – people have been coming to the area for literally millennia thanks to the healing powers of the mineral-rich water here. The Etruscans built a temple at the source and, in more recent history, in the 1960s there were lines 6,000 deep to wait for a curative cup of spring water.
Close to Siena, Chianciano Terme is also ridiculously easy to get to from Rome when you're ready for a weekend outside of the city filled with dips in thermal pools. The city has a combination of dolce vita glamor plus contemporary spas pools that is irresistible.
Here's how to spend the perfect weekend in Chianciano Terme, Italy:
Day 1
Take the train from Rome to Chiusi-Chianciano Terme and grab a taxi for the 20-minute drive through Tuscan hills to Chianciano Terme. There is also an extra-urban bus service that runs there in case you are looking for even more car-free options.
Next, check into Hotel Lory, a three-star family-run hotel that sits between the thermal baths and the historic old town.
Get your first taste of relaxation with a trip to the hotel's new spa – which has a relaxation pool, aromatherapy shower, Finnish sauna, and Himalayan salt room.
Wrap up for dinner, which is one of my favorite dining experiences. The husband and wife who own Hotel Lory dawn white dinner jackets and take on the service with a set menu served on monogrammed plates.
The perfect pink and powder blue decor makes it feel as Wes Anderson inspired as Bar Luce.
Never say no to a generous glass of Montepulciano with your bistecca alla fiorentina, but make sure to save room for the homemade cake served at the end of the meal. Don't worry, the baby stuck to water and carrot soup.
While the dining room is adorably retro, the bedrooms are completely updated and absolutely spotless. Head upstairs for an early night so you can get an early start on relaxation.
Day 2
The next morning, get ready for a day at the pool.
The newly renovated pools at Theia are the perfect way to experience the thermal water. The 7 pools (four outdoor and three indoor) are filled with water from the Sillene spring. The naturally warm water is between 33 and 36C (91-97F), which makes for a warm but never scalding dip.
The water is rich in minerals and has anti-inflammatory properties so the point here is to relax and recover more than to do any serious laps. To that end, there are underwater recliners and all kinds of jets and waterfalls.
For €19 you have full access to the facilities for four hours. You can also purchase an all-day entrance pass for €27 in order to have even more time to spend inside.
Out of the water, the huge spa complex has plenty of lounge chairs and a dining room.
Don't worry about carrying anything in your bathrobe or worrying about your stuff while you soak in the thermal waters – everything (including your locker) is controlled with a bracelet and you can pay for any food or massages at the end when you exit.
Theia is family-friendly and there are kids pools to keep the littlest swimmers happy – while also giving the kids their own area to play around in so that the adults have a quieter experience in the upper pools. G and I even took a baby swim class together to get him used the water and he loved it. (The ball pit was also a hit).
After another dip in the water, get ready to explore Chianciano Terme's old town.
The centro storico is about a 5-minute drive from the thermal pools, but we stopped back at Hotel Lory to rest before setting out on foot.
Admire the clocktower and take in the views of the Tuscan countryside, then stop for a coffee or a quick drink on the terrace of Bar Centro Storico.
When the sun sets, its time to mozy across the street to Bradi Toscani. The gourmet food shop and eatery is set inside a historic butcher shop and you can still see some details of the original store.
It is also a fitting location because Bradi Toscani is best known for its salami.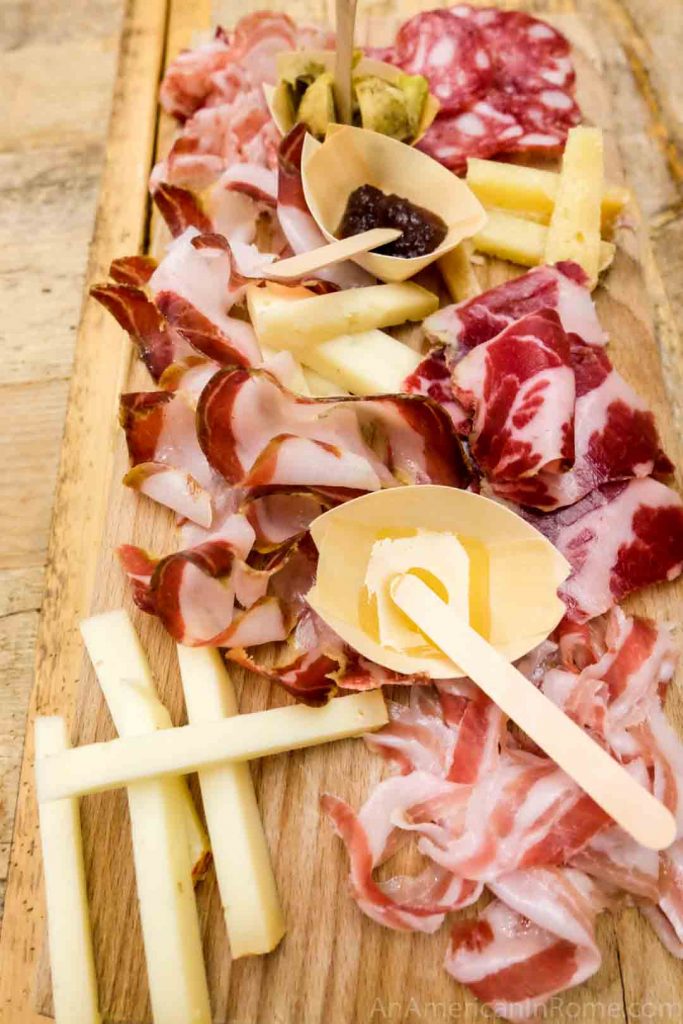 I do like cured meats but I am no fanatic – except when it comes to Cinta Sinese. These heritage black and white pigs get their name because of the marking which makes it look like they are wearing a belt. And for some reason, they are disproportionately delicious.
Bradi Toscani is family-run and was started by three brothers who are first and foremost farmers by trade. From the olive oil to every cut of salami, a majority of the menu is homemade. What they can't make themselves (like fresh fior di latte cheese), they source from the best local producers.
Come for the taglieri. It alone is worth the trip.
Day 3
The next day, grab a slice of homemade cake for breakfast before checking out of Hotel Lory. Its bittersweet to say goodbye to a place where you already feel like family but Parco Acquasanta awaits.
The large park and all of its little facilities are what made me love Chianciano Terme most of all. It is a Made in Italy blend of pure retro style, natural healing and chic spas.
I mean – look at this coffee bar!
It's perfect. So is the dance hall attached to it.
Admittedly, most people do not come to Chianciano Terme's Parco Acquasanta for the coffee or the evening entertainment (though I recommend both). Almost everyone comes for the water.
The water here is legendary and there is an entire building dedicated to dispensing and drinking the mineral-rich spring water. You can actually only go in if you have a proper doctor's note.
The water really does do a liver good, and the Italian National Health Service still gives out prescriptions to visit the thermal spring. These days, the University of Pittsburgh Medical Center has also set up a state of the art clinic across the street from the entrance to the main spring.
I, however, was here for an entirely more indulgent reason: the sensory spa.
The new spa was created to be as organic as possible – both in design and in philosophy.
The adults-only spa is about quiet relaxation, and you can choose to follow a self-guided three hours by stopping in various pools and rooms.
I loved the sensory pool that played music underwater as colored lights changed above. But there was also the mud room (yessss), thermal pool, Etruscan sauna (with scented herbs) and sensory showers. I tried pretty much everything and went back to the spa rooms that I most enjoyed.
As my time wound down, I stepped into the salt room and had a few moments to myself before lunch.
And then, there was still plenty of time to make it back to the 3 pm train to Rome. But I'm already plotting my return to Chianciano Terme for more salami, home-cooked meals, spa days, and lounging.
P.S. Not sure what to wear/bring? Here is a guide to what to expect at Tuscan hot springs.
We were guests of Terme di Chianciano, but no one ever tells me what to say! I only write about places that I have personally tried and loved.