Jimmy proposed in Berlin.
It was the first time we had ever been to Germany, and we were thrilled with the experience despite the January weather.
We have been waiting to make another trip to explore more of the country, and this time wanted to experience the much overlooked Munich.
Just an hour and a half flight from Rome, arriving in Munich was simple. Take the S1 or S8 train from the airport (10.80 each way) and you can be in the city center in 40 minutes.
Just a few minutes walk from the main train station is Augustiner-Keller, a massive beer garden the sits 5,000.
Friends bring picnics and stake out tables under the shade.
Liters of beer cost €7.20.
If you come unprepared and fail to pack your own food, you can order a pretzel the size of your head.
Other traditional German dishes are available from kiosks, meaning you can easily spend all evening drinking and chatting and eating.
The Munich city center is small, sweet and manageable.
While we easily could have taken the subway more, we chose to navigate on foot. The only public transport needed was for our trips to and from the airport.
Our hotel, the Cortiina, was just minutes from Marienplatz – the central square.
The sweet attic room was perfectly cosy, filled with fresh flowers, and modern designs.
I curled up the leather sofa to do some work, while Jimmy enjoyed the rooftop views from our balcony.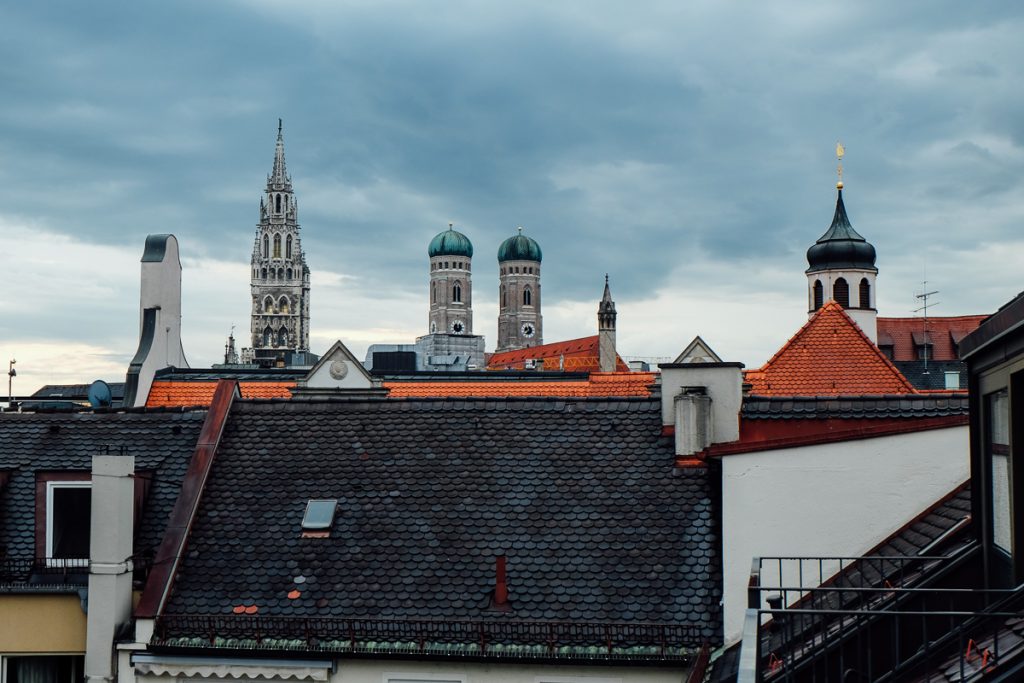 A quick walk was all we needed to explore the Viktualienmarkt – a farmer's market in the center.
In town for just two nights, we didn't do any shopping. Instead, we headed back to the hotel to enjoy their market-fresh breakfast spread.
Coming from Italy, I was amazed at the cappuccini – I had two!
After breakfast, we headed out to watch some creative urban surfers.
Because Munich is more than just beer gardens, and even a landlocked city can have dudes in wetsuits biking around.
The surfers share one river wave, and it is mesmerizing to watch.
Leaving the Eisbachwelle wave behind, we checked out the art culture.
A €12 day pass grants you access to five museums for the day. We managed three.
I loved the Brandhorst (that did not allow photos) for its Cy Twombly retrospective that focused on many of the works he created while living in Gaeta, Italy.
Having visited Berlin, we were struck by both the similarities and the differences.
Street art? Yes. Same. But Munich had charm and an un-rushed coolness the Berlin seems not to, and we delved into different neighborhoods to seek it out.
After plenty of exploring, we re-fueled at Steinheil 16, a popular no frills restaurant serving German classics.
Currywurst for Jim, meatloaf smothered in mushroom sauce for me.
That night, at the suggestion on a friend, we stopped into Zephyr for amazing cocktails.
Ok, ok. We might have had two each.
Super chill vibe, and mixology the likes of which Roma has yet to see.  Drinks set on fire, drinks topped with cookies, cocktails served in takeout containers. I wanted to stay just to watch the scene.
With an unseasonably warm morning greeting us a few hours before our return to Rome, I was craving iced coffee.
Man vs. Machine was just the third wave caffeine fix I was looking for before bidding goodbye to Hila, who graciously showed us around her post-Rome hometown.
We were really impressed with Munich, but one thing to remember about traveling in Germany in general is that almost EVERYTHING closes on Sundays so save your picnics or museums trips for then.
And to try all the places mentioned above, as well as a few more that come highly recommended, here is a map to guide your weekend in Munich:
Many thanks to Cortiina for the invitation to stay! The location and personal touches made it a trip highlight.