Updated 16 June 2021
Planning to do a spot of shopping in Rome? The shopping area of the historic center is one of the most beautiful parts of the city and a perfect place to find unique gifts for everyone on your list. (And shop for yourself as well, naturally). While you can definitely find a cheap plastic model of the Colosseum, I honestly believe that there are much better souvenirs to buy in Rome.
While Rome has all the major international outlets if you want a dress from Mango or a purse from Fendi (I wish), I wanted to highlight the local artisans and the shops that make the most unique gifts in Rome.
So without further ado, here is the Ultimate Rome Souvenir Guide:
1. Pope socks: Last year, my father-in-law received (from me, naturally) a piece of papal clothing. I stopped by Gammarelli, the Pope's tailor near Bernini's elephant.* I decided he probably didn't need a priest's robe or a cardinal's hat, but socks? Pope socks are always in style. This years I went with purple – the color of bishops.
2. Made in Italy: I am really happy to welcome Assemblea to Testaccio. The small shop is brimming with fantastic potential gifts (think accessories and home décor). All the items in the shop are made in Italy. Assemblea finds small artisans throughout the country and makes these items available in Rome. Certainly unique and a great way to support local economies.
3. Lela Casa: I love Alice's suggestion to pick up pasta accessories at Lela Casa to take home as a unique but authentic gift from Rome. I make no secret of my love for Lela Casa. Emanuela, who owns the shop, has an amazing eye (and is also incredibly sweet). As a result, Lela is filled with a cool, simple palate of high-quality kitchen tools and home accessories. I am slowly accumulating a range of the linen tea towels (which you can see in the background of my photos of fave dei morti). Anyways, if you are shopping for ME, (cough cough Jimmy cough) I would send you here. I guarantee that you will find a small goodie.
4. Wine from Les Vignerons: Need a host gift? Stock up on natural wines, hard-to-find bottles, and craft beer from Les Vignerons. Let's be honest – booze is one of the best gifts. Usually, the host will share it with you so… bonus! However, even if they rightly keep it for themselves, you know it will go to use rather than be stuffed into the back of all cupboard with all the other not-quite-my-style gifts they are bound to receive.
5. Perfume from Essenzialmente Laura: Want something a bit more personal? Laura makes incredible perfumes inspired by Rome. The scents are subtle but interesting – with reference to iconic Roman details like orange blossoms from the Giardini di Aranci. Too worried about picking out a wearable scent? Essenzialemente Laura is also stocked with candles and home sprays for a just as thoughtful alternative.
6. Vintage goodies from Mercato Monti: Up the ante by finding something one of a kind at Mercato Monti. The weekend gathering of vintage dealers and artisans is the perfect place to pick up a creative gift. (I like it so much that I always manage to find more for myself than for others – whoops). While there are vintage booths, there are also small jewelry designers and hat manufactures. Accessories are a big draw, but there are plenty of small home goods and collectibles to please anyone on your list.
7. Go green: Have a plant lover in your life? Or are you determined to give gifts that keep the environment in mind? Make the world a greener place with a stop by Aromaticus in Monti. The plant shop and small restaurant is packed with fashionable gardening supplies but I love the small planters most of all.
8. Sempre Natale: Are you someone who loves Christmas? Then you need to pop into this charming ornament store not far from the Pantheon. I think that ornaments make the perfect souvenir because you get to re-discover and display them every December. Sempre Natale sells Italian-themed ornaments and glass decorations made by European artisans. It is open year-round.
9. Rome is More: If you want a more irreverent gift, browse this funny shop in Testaccio. Rome is More prints Roman sayings (which tend to be … colorful…) on mugs, t-shirts, magnets, and bags. These make good gifts for friends who appreciate a good laugh over their morning coffee.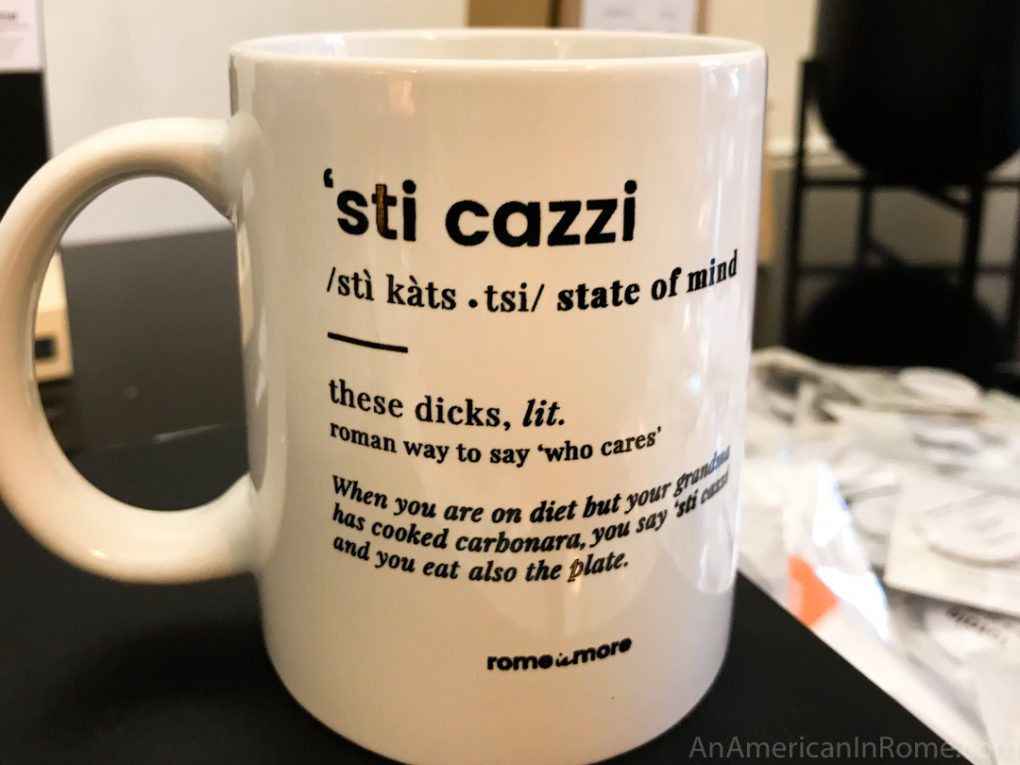 10. Books about Rome: Want to give something useful but also entertaining? Find a great selection of books about Rome from The Almost Corner Bookshop (Via del Moro, 45) in Trastevere. Or if you are shopping for gifts from outside Italy, browse my round up of the best books about Rome to find a guide, novella, fiction or history libro for your book-loving friends and family.
Did I miss any of your favorite and unique Rome gifts?
Happy shopping!