Rome is beautiful at Christmastime. While I do love the massive tree in Piazza Venezia, my favorite places in the city are the tiny alleyways strung with lights. But even if you can't experience the beauty of the holiday season in Rome, you can still take home some decorations to put up in your own home next December.

Sempre Natale is a Christmas store that is open year-round in Rome. It is the best place to find beautiful ornaments any day of the year. Sempre Natale literally means "always Christmas" and stepping inside the tiny shop is sure to bring a smile to your face.

The Christmas store is filled with delicate glass ornaments from the best artisans in Europe. The handblown glass ornaments are the definition of whimsical. Hailing from Italy, Poland, and a few other countries with glassmaking history, the tiny decorations are so charming and unique that they make the perfect souvenir or future gift.
There are handpainted glass orbs for the traditionalist.
Or you can find a gorgeous tree topper to make a statement next Christmas.
Of course, my favorite ornaments at Sempre Natale are the Italy-themed decorations. Perhaps you really need a wedge of parmigiano reggiano to hang from the tree next year? The fruit ornaments are so beautifully done that I almost picked a fig. However, it was the cannolo that got me this year. I can't wait to see the Sicilian dessert decorating the branches of our Roman tree.
There are vespas and Fiat 500 ornaments in case those speak to you more.
Or you can find animals and unicorns to add to your Christmas collection.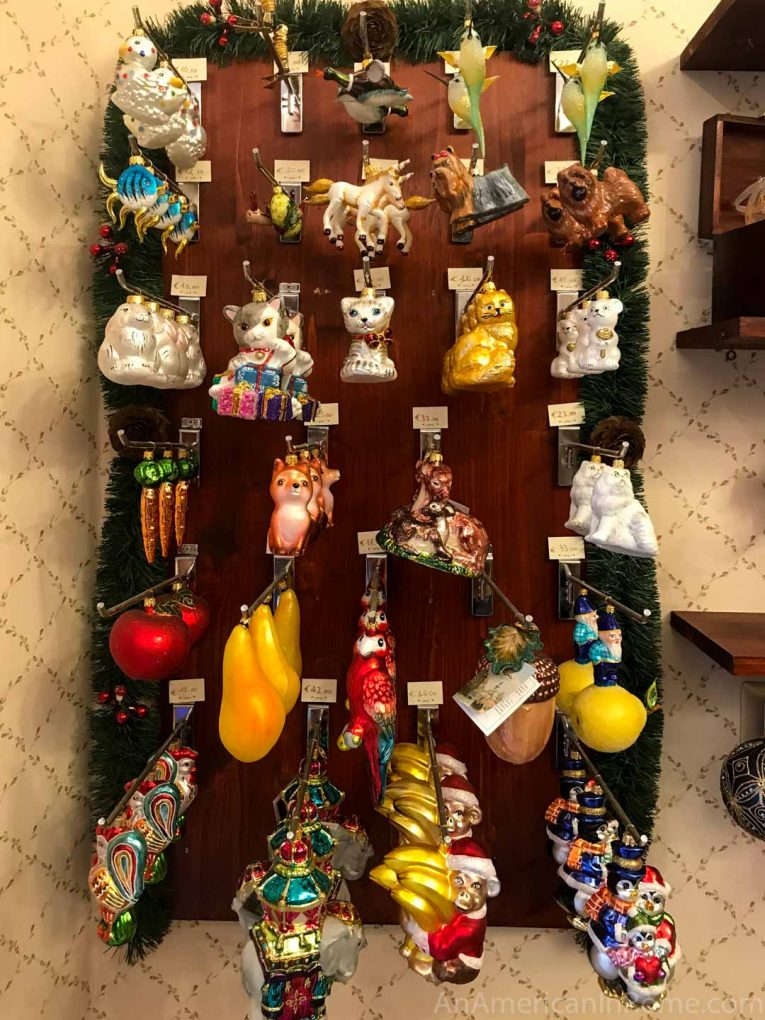 If you can't be in Rome in person, you can also see Sempre Natale's online store or contact them via the website.
Of course – we could not forget about La Befana – Italy's Christmas witch. She is always available in this Roman Christmas store as well!
I love the idea of Christmas ornaments as souvenirs because you can relive your travels every time you unpack them each December. However, here are some other unique Rome souvenir ideas.
Happy shopping!
The store is a short walk from the Pantheon, and definitely worth a visit when you are in the area! Here are more tips on where to shop in Rome.
Sempre Natale
Via della Scrofa, 93
Rome, Italy (Centro Storico)