After almost 10 years in this city, I am often asked where my favorite stores are in Rome. While I do have a few tried and true favorites that I return to often, I am much more of a window shopper. I will browse a lot before making a coveted purchase, so I make the most of my time by beelining to areas that have several good shopping options nearby. Regardless of your budget, there are wonderful places to shop in Rome.
Rome doesn't have any one-stop shops or malls unless you are willing to go to the suburbs. That means that if you really want to indulge in retail therapy, you should stick to certain neighborhoods to maximize your options. From high street to high end, here is where to shop in Rome:
High street: Via del Corso
If you are going to talk about shopping in Rome, there's really no getting around Via del Corso. This massive boulevard, which runs from Piazza Venezia to Piazza del Popolo, is filled with stores from top to bottom. While the city center of Rome (thankfully) lacks any real shopping malls, Via del Corso is where you will find the highest concentration of stores near the historic sights. It is the equivalent of Rome's high street – with major brands like Zara, H&M and Nike taking up serious real estate. However, even though there are superstores here, you can still find small family-run shops as well. I particularly like these little gems, like the Alfieri Leather store with artisan Made in Italy jackets (Via del Corso 2). Expect large bustling crowds which sometimes spill into the road itself when the sidewalk becomes overrun.
High end: Via Condotti
Running perpendicular away from Via del Corso, Via Condotti leads directly to Piazza di Spagna. With the highest concentration of luxury brands, this is the elegant street to shop if money is no object. Browse at Bulgari, or set down some serious change at Gucci or Chanel. Or, simply join the crowds for a spot of window shopping and admire the always chic displays that line one of Rome's most exclusive streets. For a small splurge, stop for coffee at the city's oldest coffeehouse: Antico Caffe Greco (an institution now at risk of eviction thanks to the area's high rent). As an added bonus, hang a left when you arrive at the Spanish Steps and continue the luxury shopping down Via Babuino.
Upscale chains: Via Cola di Rienzo
Prati is known for its wide boulevards and tree lined streets. The most famous street in the area is also the best for shopping – Via Cola di Rienzo. Running from the river and finishing near the Vatican, the main thoroughfare has upmarket chain stores that match the upscale clientele of the neighborhood. Expect Italian stores like TwinSet and Falconieri, but be sure to stop into the Coin Excelsior department store for clothes and much more.
Funky boutiques: Via Urbana and Via del Boschetto
Most of the streets above have major well known brands, I prefer Monti for more unique boutiques and one of a kind purchases. The best streets for shopping in this part of Rome are Via Urbana and Via del Boschetto, which run perpendicular to each other. Urbana has boutiques like my beloved lol, as well as vintage shops. On the weekend, you can also pop into Mercato Monti. Via del Boschetto, on the other hand, has great accessory stores and drool-worthy retro furniture shops.
Affordable smaller brands: Via dei Giubbonari
Set between the Jewish Ghetto and Campo de' Fiori, Via dei Giubbonari is lined with small shoe shops and affordable clothing boutiques. There are a few chains in the mix, but for the most part these are small businesses. I am still sad that my favorite shoe shop disappeared off this street, but there are a few others (like Angelo's) to substitute for the loss of my go-to Made in Italy boot store.
A Dolce Vita Melting Pot: Via dei Coronari
Via dei Coronari is one of the most beautiful streets in Rome. I head here for ice cream at Gelateria del Teatro, but like to window shop along the way. I absolutely adore some of the small jewelry shops and artisan perfumery Essenzialmente Laura, but there are also a few shoe stores and luxury antique shops thrown in for a good mix of a real Roman shopping experience.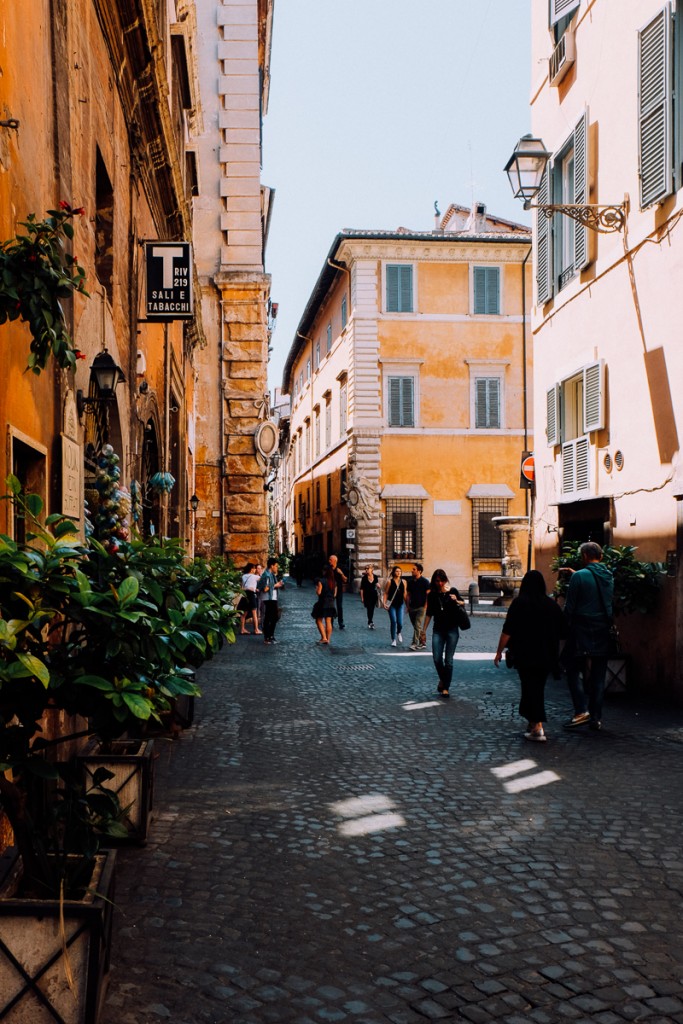 A mix of old and new: Via del Governo Vecchio
Located near Piazza Navona, I love walking down Via del Governo Vecchio. Not only does the street have some of my favorite wine bars in Rome (Cul du Sac and Il Piccolo), it is also packed with lovely shops. There are small boutiques that range from reasonable to splurge-worthy, and a good selection of vintage stores as well.
P.S. Italy's saldi (sales) happen twice a year, in January and July. It's worth keeping in mind if you are planning to do a lot of shopping in Rome!
Outlet Shopping in Rome
The best shopping in Rome is in the city center, but if you are so inclined, you can also make the trip to shop at the Rome outlets. Just be warned that the Castel Romano Outlet Stores require dedication because you need to drive out there or take the shuttle which leaves from Via Marsala outside Termini Station at 10 am, 12:30 pm, and 3 pm and costs €13 for a return trip. If you are on an Italian bargain hunt it might be worth it – there are over 140 stores, including Burberry and Valentino, and they all offer steep discounts up to 70% off.
For more recommendations on where to shop in Rome, you can download the Discover Rome app!