When it comes to pizza, most Romans stick to a beloved neighborhood spot.
For us, that is usually Da Remo in Testaccio – which has crowds and crispy thin pizzas served up fast and with very little fanfare.
But sometimes we venture slightly further afield to Pizzeria Ivo in Trastevere.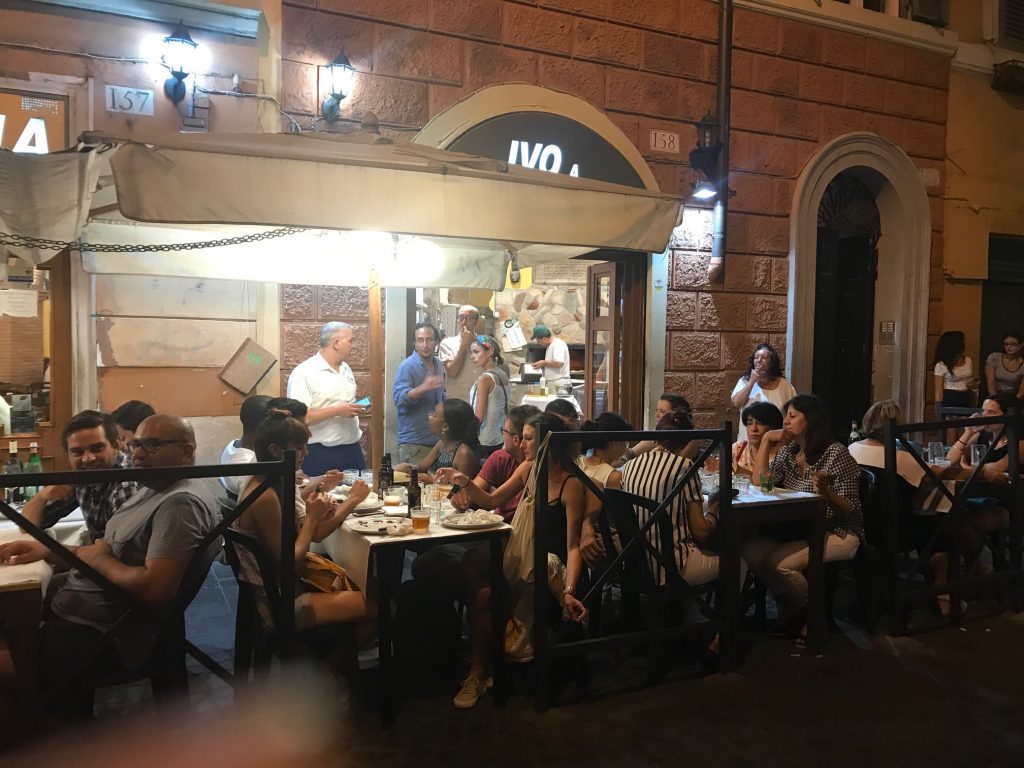 We have been finding ourselves at Ivo more and more often when visitors pass through because Ivo is one of the few pizzerias in the area where you kind find a menu of non-pizza options that doesn't totally suck.
I wouldn't normally advocate for ordering anything but pizza from a pizzeria, but Ivo has some classic Roman pasta dishes when some of the people in your dinner group want their carbs to come in a slightly different format.
But I remain loyal to the sausage pizza that Pizzeria Ivo does especially well.
Even when Jimmy THINKS he wants Amatriciana, he almost always tries to steal a piece of my pizza. (And when I was pregnant, this got a solid "NO." from me more than once).
Pizzeria Ivo is quite large inside (there is a back room that you can't really see from the street), but it can still be a tight squeeze. There is very little breathing room – but you're there to inhale pizza, not air.
In the warmer months, Ivo also has some popular outdoor seating, which miiiiiight be worth waiting for but you can also always book a table online.
Pizzeria Ivo
Via di San Francesco a Ripa, 158
Rome, Italy (Trastevere)
Open: Wednesday – Monday from 6:00 pm – 12:30 pm, and Sunday for lunch. Closed Tuesday.
Book a table online or call +39 06 581 7082