An Italian morning meal can be a bit of a disappointment if you stumble into the day blindly. Burnt espresso and a pre-made cornetto? Nope. No thanks. Better to know what to eat in Rome for breakfast – and exactly where to get it.
Mornings in Rome begin with coffee, usually accompanied by a sweet pastry. So skip the sad cold cut buffet at your hotel, and definitely pass on the fette biscottate that are in the cabinet at your Airbnb rental – and join the locals for breakfast.
What to Eat in Rome for Breakfast
If you want to go full Roman, you have to get a maritozzo for breakfast. These barely sweet yeasted buns are a city specialty.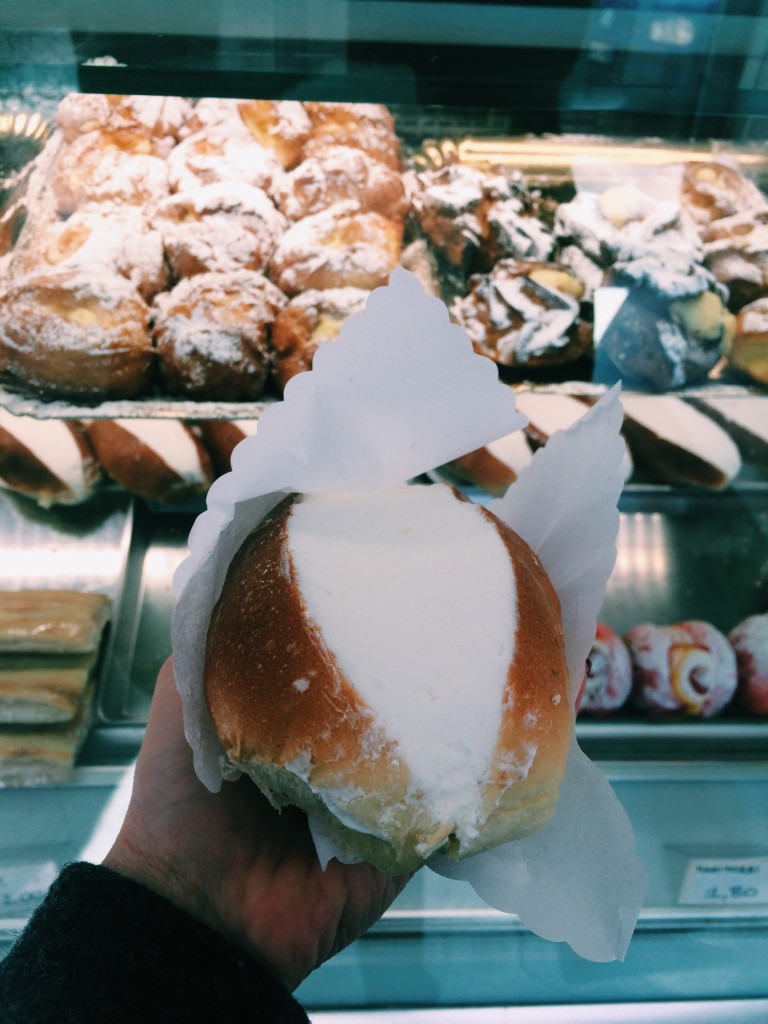 The bun itself is light and easily inhaled – but the panna/whipped cream? That is what makes a maritozzo such a morning commitment. You can do it. I believe in you. Get the best ones at Pasticceria Regoli, Il Maritozzaro (which is named for this monstrous AM treat), and/or Roscioli Caffe.
Want the most traditional breakfast in Rome? Then it has to be a cornetto. Shaped like a croissant, these pastries are often made with oil instead of butter and have a slightly sweetened flavor.
Cornetti can be "semplice" (plain), or filled with jams (marmellata) or cream (crema). If you want to be a bit healthier, go for a "cornetto integrale" which has more whole grains and is often filled with honey.
If I am going to really eat a great cornetto, I go to Panificio Bonci in Prati. Unfortunately, they don't do coffee so you probably want to get this first. The best in the neighborhood is at Pergamino Caffè (Piazza del Risorgimento, 7). Tram Depot in Testaccio also has fantastic cornetti, and Pasticceria Barberini (which sits across the street) is known for their great pastries made with real butter.
Craving a donut? We don't really have those for breakfast in Rome but we do have something even better: ciambella.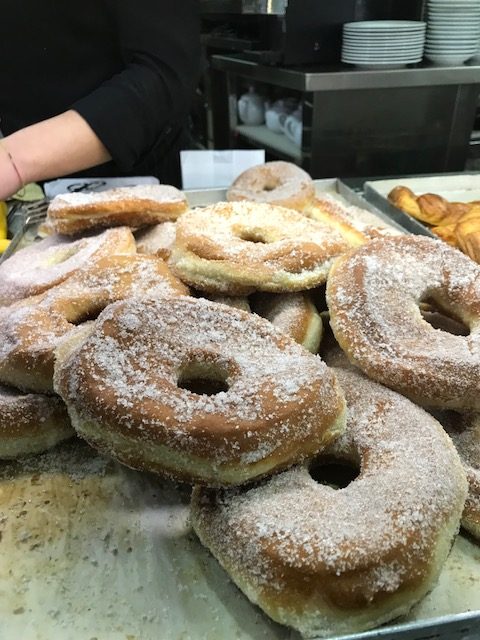 The fried dough is doused in crystals of sugar which add a nice crunch and a lot of sweetness to the golden fluffy pastry. The best in the city? Well, if I walk into Linari (Via Nicola Zabaglia, 9) and see a just-fried try being carried out to the bar, there is NO WAY I am going to pass on that kind of perfection.
While those are the classic pastries to eat in Rome for breakfast, there are also plenty of others to appeal to any palate.
A bombolone, perhaps? It is fried and filled with pastry cream.
Or you can get a danese, or a slice of crostata, or these delicious apple and almond creations from Roscioli Caffe Pasticerria – which is a fabulous place to go for breakfast in Rome if you are in the center. It is in between Campo de' Fiori and the Jewish Ghetto. In my opinion, the prices for breakfast are too steep if you sit in the back at the large, family-style table. However, it is worth it to squeeze into the bar area for their excellent pastries and specialty coffee.
If you want a savory breakfast in Rome, many people opt for tramezzini. I simply cannot support the white bread and mayo sandwiches. I know they don't look that bad, but they are.
For sit down savory morning meals, Coromandel (Via di Monte Giordano, 60) makes a great breakfast but the menu is not traditionally Roman.
The best newcomer on the Rome breakfast scene is without a doubt Marigold Roma (Via Giovanni da Empoli, 37). The restaurant and micro-bakery has homemade bread, delicious (but not too sweet) cinnamon twists, organic yogurt with their signature toasted granola plus seasonal fruit, pancakes, and the unmissable avocado toast with a poached egg and pepperoncino. The specialty coffee and long list of teas are also wonderful.
Is there anything else you like to eat in Rome for breakfast?