The newest Roscioli project, the Roscioli Caffe is located two doors down from the namesake restaurant.  
The storefront is a so narrow that it is really easy to walk past. I speak from experience.
However, the tiny coffee shop packs a serious punch in the center of Rome.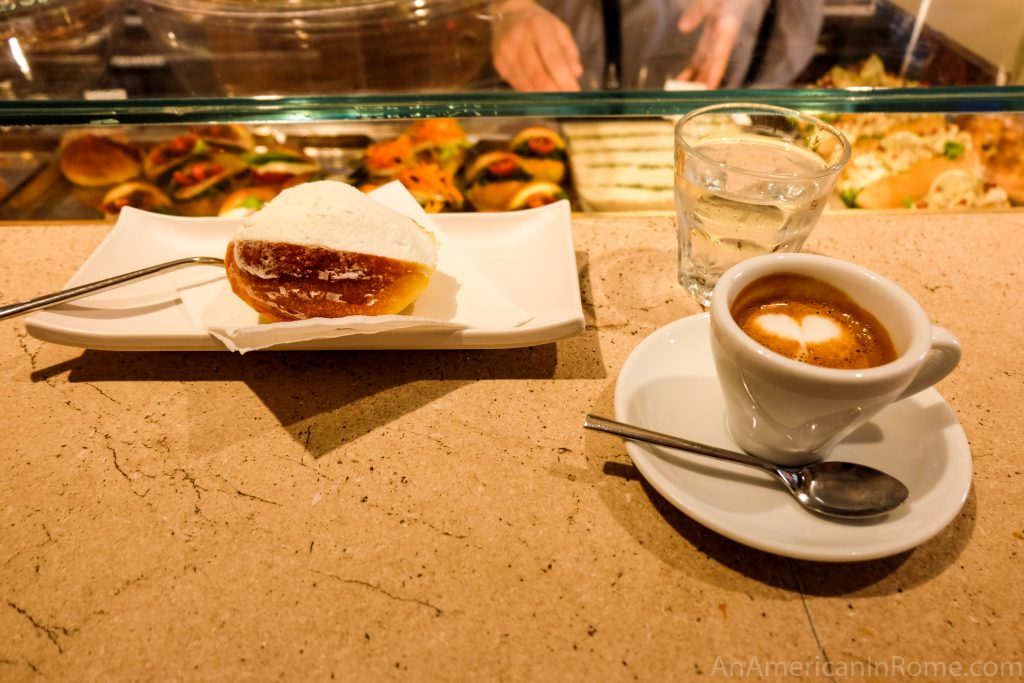 The cafe quickly gained a reputation for great coffee, but it also features perfect breakfast cornetti (Italian croissants), and small sweet pastries.
Most beloved of all might be the mini-maritozzi, a Roman sweet bun filled with cream that I've written about at Pasticceria Regoli before.
However, the morning breakfast pastry with almonds and apples are my favorite.
But you are going to have to find space at the busy bar to ever get a taste.
The space can honestly feel a bit claustrophobic when you arrive at peak hours. However, always persevere to ensure that you get a spot with enough elbow room for your cappuccino. The glass counter will give you the perfect view of the sweets available as well.
Roscioli Caffe Pasticceria clearly takes the pastry part of its shop seriously – but the coffee is just as important.
The cafe had their coffee maker specially made (a first that I've seen in Italy), and is one of the few coffee shops in Rome to serve specialty coffee from Italian roasters.
If you are still really in it for the Roscioli food – later in the day, the cafe shifts towards more savory panini and light meals.
There is also a 9-person single table in the back where you can have a bit more time and breathing room to enjoy a meal. For breakfast, this includes favorites like eggs and toast. And for lunch and dinner, you are likely to find easy, seasonal dishes.
Roscioli Caffe Pasticceria
Piazza Benedetto Cairoli, 16,
00186 Rome (Centro Storico)
Open Monday – Saturday from 7 am – 11 pm, and Sunday from 8 am – 6 pm