I have a major soft spot for the Portuense attitude and fluffy maritozzi of Il Maritozzaro, but I am not one to deny a good thing when I see it.
Pasticceria Regoli makes seriously delicious maritozzi.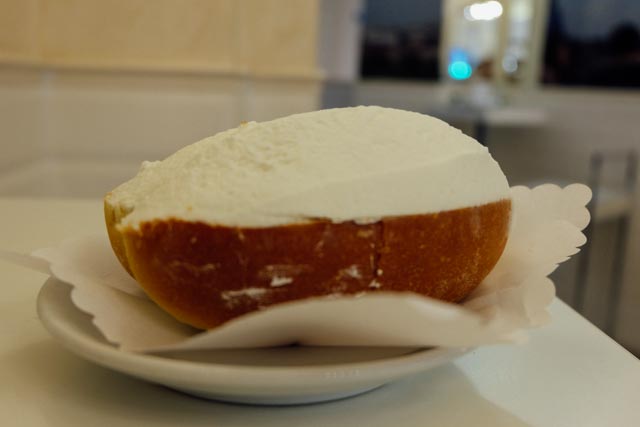 Remember- a maritozzo is a classic Roman pastry. Traditionally a Lenten treat, the bun topped with panna (heavy cream) is now an indulgent breakfast option year round.
Regoli, a classic pastry shop that turned 100 this year, turns out more than just lovely maritozzi.
Think tarts topped with wild strawberries and cannoli.
A few years ago, Regoli expanded its space and now has tables and chairs in the bar area that neighbors the original shop.
The bar is filled with mirrors. It's a bit terrifying to watch your self infinitely reflected while trying to consume a cream laden monstrosity.
Don't despair- it's basically impossible to be dainty while eating a maritozzo, and the mirrors come in handy for wiping off the whipped cream that will inevitably end up on the tip of your nose.
The spread and the setup is why I picked Regoli as the best breakfast option in Rome when asked to round up my favorite Rome eateries for Thrillist.
Pasticceria Regoli
Via dello Statuto, 60,
00185 Roma (Esquilino)
Open: Wednesday-Monday 7 am to 8:30 pm
Closed Tuesdays