One of the questions I get asked most often about Rome is about Trastevere restaurants and where to eat in the area. Perhaps it is because more and more people are drawn to stay in Trastevere, or maybe you simply want to spend a day wandering and soaking up the atmosphere in the charming Roman neighborhood.
Regardless of your tastes, here are 18 Trastevere restaurants (and gelato shops) where you will eat extremely well. I have divided them by style and you can find something to suit any appetite and budget.
Just remember: Trastevere is a very popular neighborhood and thus a busy area to eat out. With the exception of breakfast and street food, I really suggest making a reservation to eat out in Rome.
Breakfast in Trastevere
My favorite place to start the day in Trastevere is at Le Levain. The French bakery has amazing pastries ranging from perfect croissants to elaborate citron tarts. It may not be Italian style but it is truly delicious.
If you are looking for heartier fare, Baylon Café (Via di S. Francesco a Ripa, 151) has an American-style breakfast as well as a buzzing coffee bar with outdoor seating. It might not be a traditional Italian morning meal but the ingredients are top-notch and brought in from the owner's family farm in Calabria.
Traditional Trastevere Restaurants
Trastevere is quite frankly full of tourist traps, but there are also some wonderful traditional restaurants in the area.
Da Enzo (Via dei Vascellari, 29) is a lovely family-run trattoria on the charming backstreets of Trastevere, which has become extremely well-known. People will wait for hours to get a table at the adorable restaurant (no reservations available for lunch). Do yourself a favor and try the carbonara, or anything really. It is a wonderful place to eat in Trastevere if you can stomach the waiting time.
Poor Trattorio Da Teo (Piazza dei Ponziani, 7A) is sometimes the second choice when Da Enzo is full but it is another good traditional Trastevere restaurant and has the bonus option of being able to book a table online. Don't let them talk you into the shrimp and lime pasta – just stick to the amatriciana, gricia or traditional cacio e pepe.
I was introduced to Osteria der Belli by Maria and now I am sharing that good luck forward because it is hard to know just how delicious it is until you try it for yourself. Instead of Roman, the family that runs this restaurant in central Trastevere is from Sardinia. The menu is very seafood focused and that is what I would recommend sticking to. The pasta alle vongole (with clams) is first class, as are the fish specials of the day. If they have their calamari and artichoke appetizer on the menu- get it.
New to Trastevere (opened in late 2021) is Ercoli. Ercoli is a wonderful combination of high end gastronomia (deli), restaurant, and bar. The food menu is contemporary Italian but you can also go for aperitivo and order one of the best tagliere in town (e.g. salami and cheese platter). The address is Via Giggi Zanazzo, 4 and it is open from morning to night in case you are trying to dine in those odd afternoon hours when traditional eateries close.
Close to Stazione Trastevere (so not in the old part of the neighbor), La Tavernaccia da Bruno (Via Giovanni da Castel Bolognese, 63) is really one of the best restaurants in the area. It is away from the crowds but very popular so make sure you book ahead to get a table. The arched stone interior is rustic and the menu is full of traditional Roman recipes that are perfectly executed. I LOVE the pasta alla gricia here.
Finally, it has become a bit full of itself, but if you do want to eat the cacio e pepe that Anthony Bourdain ate in No Reservations which is served in an edible bowl made of cheese – you'll find it at Roma Sparita.
Modern Trastevere Restaurants
My top pick for a contemporary meal in Trastevere (and honestly in most of Rome) is Zia. Headed by young Roman Chef Antonio Ziantoni. Zia is modern and airy with an innovative menu that changes with the seasons. I highly recommend you do a tasting menu (which is very reasonably priced, especially at lunch) and let the chef select his favorites for you. The presentation is really unforgettable – like this tiny Chef's welcome of tomato gelato in a parmigiano cone. It is still under the radar so go and go now.
Newcomer Jacopa is also really promising additional for a special dinner out in Trastevere. Located inside Hotel San Francisco, their cocktail list is fantastic and perfect for enjoying on their rooftop terrace. The modern menu plays with Roman traditions but there is always a fresh infusion of international inspiration. The seared scallop is the thing dreams of made of and the squid ink pasta is one of the best I've had in Rome.
If you want to try classic dishes in a newer setting, Eggs (Via Natale del Grande, 52) specializes in carbonara. You can find it topped with truffles or with raw red shrimp, or simply dig into a bowl of a very good version of the regular old egg-guanciale-pecorino dish. The staff all speak English and are very welcoming in case you have been put off by typically brusque Roman service elsewhere.
I can't give a personal review because I haven't been, but Glass Hostaria (Vicolo de' Cinque, 58) is currently the only Michelin-starred restaurant in Trastevere. Under the helm of Chef Cristina Bowerman, the restaurant offers a contemporary dining experience in the heart of one of the oldest neighborhoods in Rome.
Pizza in Trastevere
If you are hoping for a traditional pizza dinner (good pizzerie in Rome only serve pizza at night because of how long it takes to heat the wood fire oven), Ai Marmi is right on Viale Trastevere and has lots of outdoor seating in summer. It's best to go when they open around 7 pm to beat the crowds, but if you can't beat them – join them. You'll see the line stretch down the street for this popular pizza place, but it tends to move quickly.
If you want to reserve a table, the pizzeria I suggest is Pizzeria Ivo a Trastevere. I love the sausage pizza here. It is loud and jam-packed but that is all part of the fun. There is also a full menu of pasta and secondi but I would personally stick to the pizza. You can book a table online.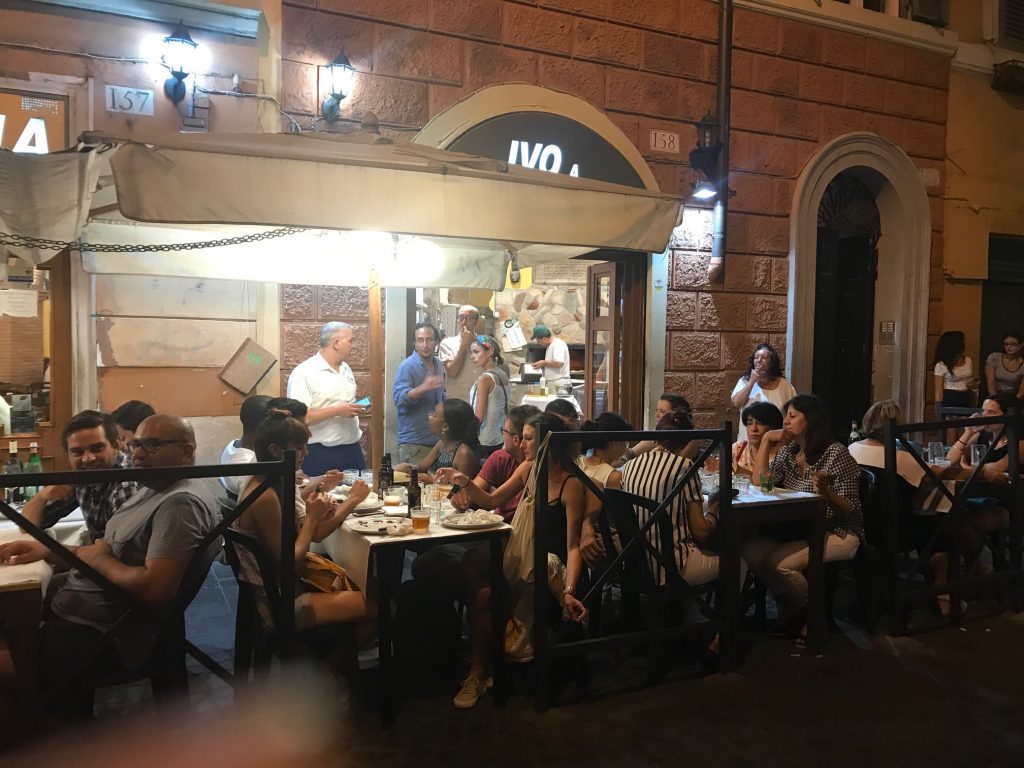 If you are willing to travel a few tram stops down Viale Trastevere, you can and should eat at Seu Pizza Illuminati. The modern pizzeria is one of my favorite in Rome. The pillowy crust is a nice change from crispy thin Roman-style pizza and the toppings are mind-blowing. I love how creative pizzamaker Pier Daniele Seu really gets with his seasonal pizzas, but the classic flavors are winners, too. Just be sure to go hungry so you can dig into an assortment of fritti (fried starters including supplì) before you get to the main pizza event. The beer and wine selection are also fantastic.
If instead, you want just a slice of pizza, then I Supplì (Via di S. Francesco a Ripa, 137) is the place for you from 10 am – 10 pm every day except Sunday. The tiny pizza al taglio shop has my favorite pizza marinara in the city. They also do excellent fried street food like their namesake supplì and filetti di baccala. At lunch, there is also a daily pasta option. They only have two small standing tables, but you can find benches to eat and people watch in nearby Piazza San Cosimato
Gelato
Trastevere has three fantastic gelaterie so you are spoiled for choice. All are within about a 3-minute walk of Santa Maria in Trastevere.
My favorite is Otaleg! (gelato spelled backwards). The flavors are made fresh every day and use seasonal ingredients from the market, as well as international ingredients with creative twists. You are going to want at least three scoops.
There is also a Fatamorgana in Trastevere (get the strawberry and white wine if they have it, trust me). Finally, for chocolate flavors, I suggest Fior di Luna.