Is there anything dreamier than sharing an evening murmuring sweet nothings over plates of perfect pasta with your one true love? Throw in a bottle of Italian wine, some candlelight, and a little mood music and you may have stumbled upon one of the most romantic restaurants in Rome.
There are lots of things that can make a meal romantic. It could be the company you're in, the ambiance, the twinkling backdrop of the Eternal City, or food so good it makes you fall in love with the chef.
Because there is no one single way to classify "romance," I have asked some amazing, knowledgable bloggers to join me to share their tips on where to find the most romantic restaurants in Rome.
Here's wishing you an unforgettable date night!
Most Romantic Restaurants in Rome
The cobblestone lanes of the city center can be some of the most charming spots in Rome, but for true romance away from all the beautiful chaos, head straight to the top of the Gianicolo Hill above Trastevere. Antico Arco is quiet and intimate, with a modern menu that is designed to impress. The restaurant is classically romantic, with white tablecloths, candles, and elegant stemware. It is quiet enough for conversation and small enough to feel like you are in your own little world. The dishes all have an Italian basis and range from carbonara with black truffle to Piemontese steak tartare with smoked foie gras – and it all arrives beautifully presented at the table. And definitely don't forget a bottle of wine. The romantic Rome restaurant's cellar is located under the dining room, inside part of the ancient catacombs of San Pancrazio, and has over 1,200 labels.
Maria, blogger and author of the cookbook I Heart Rome, says Aroma is the most romantic restaurant in Rome because: what could be more romantic than dining under the moonlight with the best table-with-a-view in Rome? The elegant terrace of Aroma at Palazzo Manfredi is a complete show off with unobstructed views of the Colosseum to take your breath away. Chef Giuseppe Di Iorio has a Michelin star, so the food matches the view! And for a stylish romantic stay in the very heart of the city – think breakfast in bed! – you can't go past Corso 281 Luxury Suites. Happy Valentine's day!
Abigail from LaVitaRoma says "While it's a new discovery for me, I think Al Cantuccio in the north of Rome is perfect for a romantic date night if you're looking for something whimsical, unique and of course, delicious. The decor in this tiny restaurant transports you to a different world, where verbal menus, home-cooking, and desserts full of love are the norm. Come with an empty stomach and expect to spend your night enchanted with this hidden-treasure of Rome."
Joanne or @swissguardwife says that she and her husband like to celebrate every night out like it's Valentine's Day, while staying close to the Vatican – just in case the Pope calls! Their special occasion go-to is tiny, family-run Da Benito e Gilberto in the Borgo.
"Romance for us means oysters and champagne. Only a few steps from the Vatican walls, Da Benito e Gilberto serves a mouth-watering array of raw and cooked seafood and pasta dishes, and most importantly, a selection of French and Irish oysters. Carrying on the tradition started by their grandfather, Gilberto's daughters will take extra special care of you both in the kitchen and in the cozy, nautically-themed dining room. Neatly lining the walls are photos of smiling celebrities taken over the last 40 years, a reminder as you enjoy every morsel of fresh seafood that you're in good company. Be sure to save room for the housemade crostata (baked apricot or berry pie)."
For more recommendations in and around the Vatican, see Joanne's blog TravelAngel.
Livia Hengel, a travel journalist and storyteller, says: an element of surprise is one of my preferred aphrodisiacs so my pick for the most romantic restaurant in Rome has to be Osteria Fernanda, a modern bistrot with a refreshingly innovative menu. Fernanda is a great for the experimental palate that appreciates fine comfort foods. With a focus on peels, roots and fermented foods, the dishes are full of unexpected flavors, colors, and textures that draw on their earthy components and elevate them to something more refined and subtle. The spaghetti with burnt eggplant, red prawns, coriander and pistachios left me eager for seconds and the desserts were divine: the black garlic foam with porter beer cream and tuber peels was a standout and more delicious than it sounds. The wine list here is excellent as well, with over 200 bottles, lots of natural labels and champagnes. I'm already looking forward to round two!
(And you can see even more of Livia's restaurant picks in her article for Forbes).
It would be hard to say too many good things about dining on Hotel Raphael's rooftop. Unlike some of the other rooftop bars in Rome, Hotel Raphael strikes that perfect balance between million dollar views and a tiny size which keeps the venue intimate. The only key feature here is that the restaurant has a modern, 100% vegetarian menu and the flavors are so good that you won't miss the meat even if you are an omnivore. However, the most romantic thing about this option is the Roman vistas over towards the Pantheon on direction and St. Peter's in another. You really do feel like you are in one of the most special places in Rome. (When booking, make sure that the rooftop is open for the season. The menu is lovely but less impressive when you have to enjoy it in the regular dining room).
In Rome, pizza is usually a dish shared with friends while you try to yell over the crowd of happy tables surrounding you. It is cheap and quick and absolutely delicious, but super casual. However, I love pizza and I fully believe it can be a sexy date night meal. The most romantic pizzeria in Rome has to be Seu Pizza Illuminati. The cool decor is the perfect accompaniment to sultry, seasonal toppings. Adding to the romance? Valeria and PierDaniele (the owner-manager and the pizzamaker) are totally in love, just got married, and are super adorable. Go. Eat. Talk. Re-fall in love. No one is going to rush you here… and you are probably going to want to linger over fritti, mind-blowing pizza, and excellent craft beer, anyway.
Tucked into a quiet corner on the edge of Esquilino, Trattoria Monti is a traditional restaurant that serves rich dishes influenced by the Le Marche region. The intimate restaurant only has about twelve tables, so you are guaranteed personal service – most likely by one of the two brothers who own the trattoria. Some recipes, like the cheesy layered eggplant parmigiana, are almost so decadent that they are better shared (in other words – perfect for a date night between two food lovers). Opt for the pollo alla cacciatore (hunter style chicken cooked in a white wine and herb sauce) or quail with shaved truffles for a delicious from Rome's heavy pasta dishes. Reservations are highly recommended because the cozy space fills up quickly with local diners.
Romantic Bars in Rome
On our first date ever, my husband whisked me off to Castel Gandolfo for the first time, and then when we came back to Rome that evening, he suggested dinner at Antica Enoteca. The restaurant is on a side street near the Spanish Steps and it can get a bit touristy but it absolutely nails the romantic vibes. I obviously have fond personal memories here but I'm not letting that alone cloud my judgment. The interior of Antica Enoteca is perfectly decorated to give that just-right I'm in an Italian dream feel without being too much, and in the warmer months, it has outdoor tables that sit on a quiet cobblestone street surrounded by the everyday beauty of Rome. The experience is mostly about the setting, but the menu is also good with great value for the upscale area.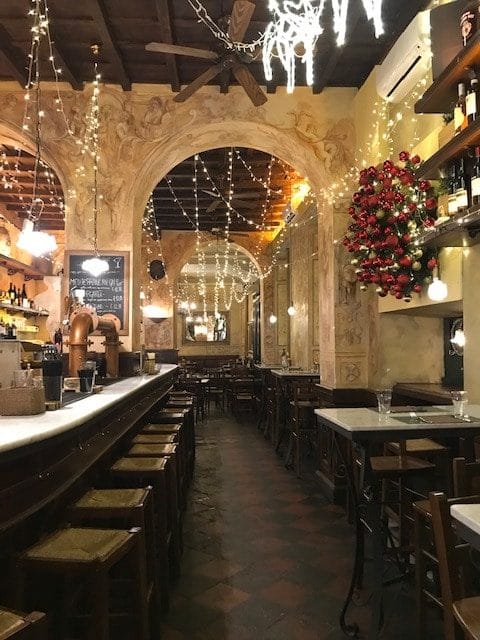 Do you have any other romantic restaurants that you love to visit in Rome? What it is that makes them so great for a date night? To be honest, I also love a quiet romantic night at some of the city's best wine bars.