Updated 28 May 2021
One of the great joys in Rome is never knowing what you might find around the next corner. Wandering with no itinerary can lead to some incredible Roman Holiday moments with unexpected hidden gems. However, when it comes to eating out in the Eternal City, planning ahead is always a good idea. That's because you really do need restaurant reservations in Rome.
Getting a reservation in Rome is not just about ensuring you have a table at the latest hotspot. You should also really make reservations for neighborhood trattorias and local favorites as well.
It has always been important to make reservations in Rome, however now it is almost essential. Now you have to account for personal preferences (e.g. post-pandemic, I always prefer to eat outside), and manage the fact that there are now much fewer tables available.
So here is why you need to book ahead in Rome, why you will otherwise be turned away from seemingly empty restaurants, and how to make a restaurant reservation in Italian, so that you can be sure of some amazing meals while spending time in the Italian capital.
How Restaurant Reservations Work in Italy
There are a lot of false truisms that seem to get passed around about Italian food culture – my favorite being that you can't have a cappuccino after 11 am – but things do work a bit differently when it comes to restaurants in Rome and most of the rest of Italy, as well.
For one thing, restaurants are rarely open all day. Most Italian restaurants open for lunch from about 12:30 pm – 2:30/3 pm and then close, only to open again for dinner at 7:30/8 pm – 11 pm. A good exception to this rule is Retrobottega, in case you want to eat at off hours in the center of Rome.
Since most restaurants have limited operating hours, there is pretty fierce competition for seats.
But in addition to the post-COVID world restrictions on the number of diners permitted in a given space, the real reason that you need a restaurant reservation in Italy is because your table is booked for the night.
I always like to say that coffee culture and restaurant culture are the reverse in the US and in Italy. If you order a single cup of coffee in the US, you can sit and use the shop's Wi-Fi for hours. But in Italy, you drink your coffee standing at the counter in less than 60 seconds then leave. However, in the US if you go out to dinner, your server will come over and ask how everything is and then leave the check on the table as a helpful hint to get going. In Italy, you can sit and eat for as long as the kitchen is open and you will never be rushed.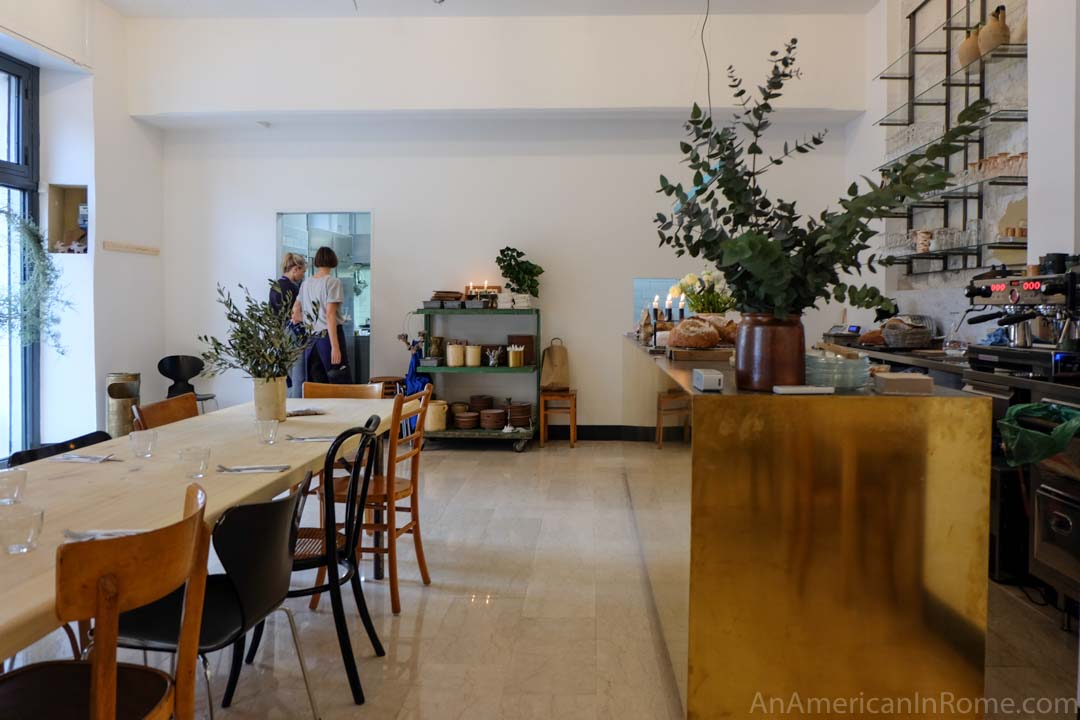 You need to book a table to eat out in Rome because of this very difference. Meals in Italy tend to be longer affairs. You aren't required to order four courses, but you are certainly welcome to. More wine? No problem. Have you seen the dessert cart yet? Meals are meant to be opportunities to enjoy yourself and have a conversation over food. A waiter is never going to interrupt that to push you out the door.
This is also why you MUST MUST MUST call and cancel your reservation if you are not going to make it. Restaurants, which are usually family-run businesses, are turning away hungry customers to save that precious table for you.
And there lies the answer to why you might walk into an empty restaurant in Italy and still be turned away: others have booked the tables and they are expected to make use of them at their leisure. If the restaurant is empty, you are also probably early. Most Romans start eating around 8:30 or 9 pm so they will show up soon.
When to Book a Table
You should book your tables in Rome at least a week in advance. So, yes, the front desk at your hotel may be able to help but it might also be too late to get the really good spots if you are making your reservations after already arriving in Italy.
If a restaurant is particularly well known, like Armando al Pantheon, Roscioli or Da Cesare, you also want to book at least two weeks in advance to be safe – especially for dinner or Sunday lunch.
Also, give yourself more time if you have a large group (over six people). Larger groups are more difficult to accommodate in small Roman restaurants so you want to stake your space further in advance. (Keep in mind that if your group is very large, you will probably be asked to select a set menu so that the kitchen can keep up with serving so many meals at once).
If you are planning to come to Rome around a holiday (including Easter, Pasquetta or Christmas), you will have more peace of mind if you book three weeks in advance as these are very popular times for families to go out to dine together.
There are multiple closures in August and during the first two weeks of January. Because there are more limited restaurant choices, it is also a good idea to book these times at least 2-3 weeks in advance so you can make alternate plans if you first few restaurants are full or closed for vacation.
How to Make a Restaurant Reservation in Italian
The best phrase to know if you are stopping by or calling ahead to make a restaurant reservation in Italian is "Vorrei fare una prenotazione, per favore" – "I would like to make a reservation, please."
You are going to be asked "Per quando?" – "for when?" First, give the day, then the month (e.g. "2 giuno").
Next, you will be asked "per quanto?" – "for how many?" Give the party total, and mention if you have children and need a high chair, or if you need space to park a stroller.
You will also have to specify "a che ora?" – "at what time?". Or, they may first also "per pranzo o cena?" – "for lunch or dinner?"
Some restaurants will also ask for a "recapito telefonico, per favore" – your phone number.
If you want to specify "a table outside" this is: un tavolo fuori, per favore. Al fresco is not a phrase that is actually used in Italian.
If you need to call from outside of Italy, keep the time difference in mind and call during opening hours. The best way to save money while making international calls is to use an internet-based phone service like Skype.
In terms of booking online, Rome restaurants are a bit behind the curve and most do not have a website which allows you to book a table online.
What to Do if You Can't Get a Reservation
Did someone say pizza? While most restaurants in Rome need reservations, pizzerias are the exception to the rule and almost never accept them. The best way to get a table quickly is to go on the earlier side (before 8 pm).
However, don't be too discouraged if you see a crowd waiting. That's a good sign that the pizza is delicious. Since pizza is cooked and eaten quickly, the line tends to move pretty fast. An exception to this rule is Seu Pizza Illuminati – you DO need a reservation to eat that amazing pizza.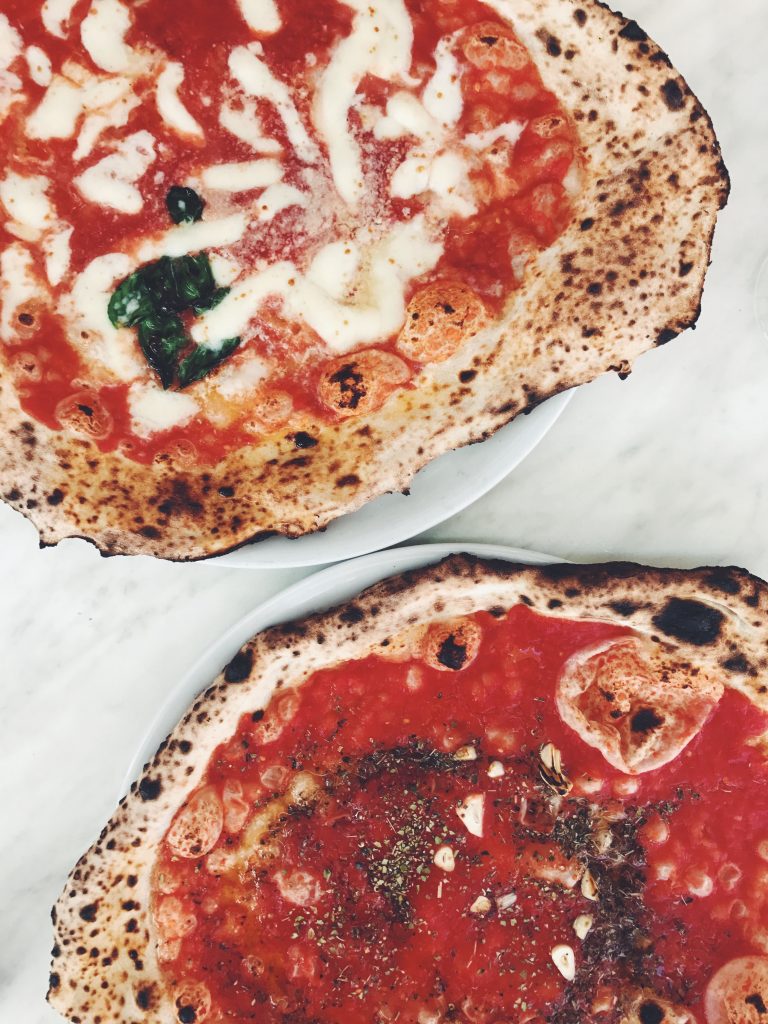 If you really prefer a sit-down, multi-course meal, then showing up at the beginning of service is usually key. If they have any openings, you will get that coveted table. In rare cases, you may be told that the table is reserved for later that evening and you need to be done by a certain time.
Italian restaurants will do a maximum of two seatings a night, so be respectful of the time restraints you have been given if you are sneaking into a fully booked dining room.
If you plan to wander, here is how to avoid eating at a tourist trap. I personally think you are better off turning the meal into an opportunity to try Rome's best street food.
AND If you want to know what the restrictions and atmosphere is like right now? Here is the latest on curfews and dining restrictions if you travel to Italy in 2021.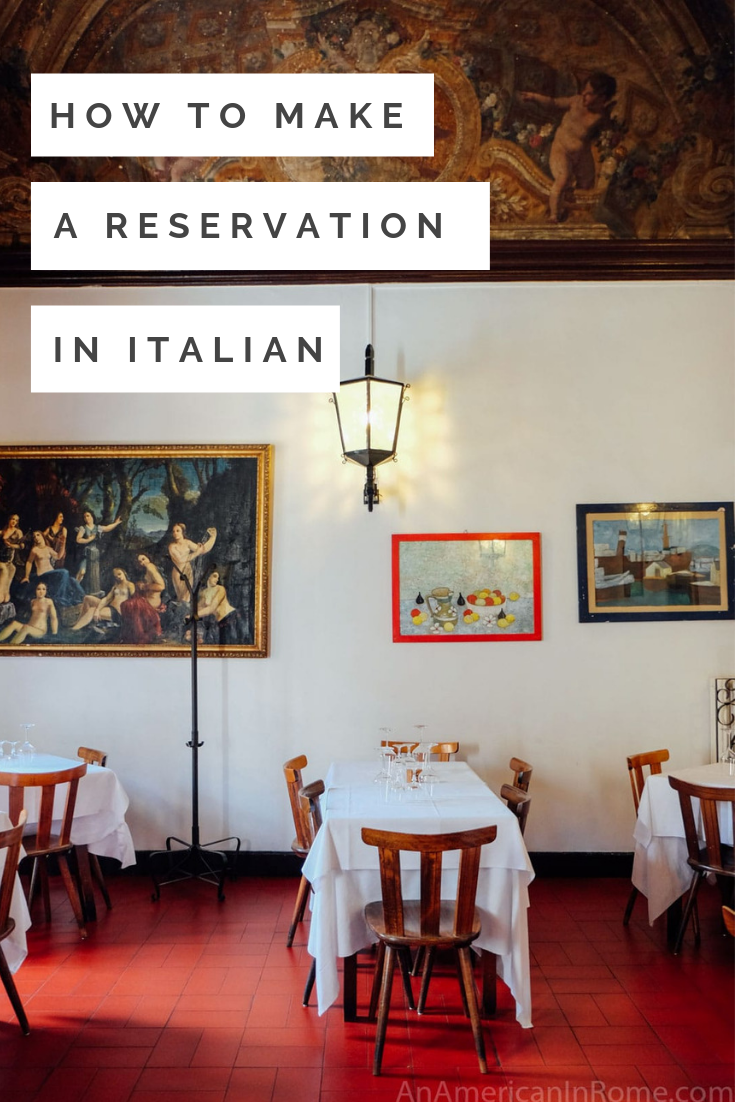 Ready to waltz into your reserved restaurants? For more dining guides, here is a guide to tipping in Italy and information about eating out with babies in Italy, as well as a full list of Rome restaurant reviews to help you pick where to eat.