To say I was excited about the long-awaited opening of Marigold Roma would be an understatement. Sofie and Domenico have been cooking up some of my favorite food in Rome for years in their pop-up restaurant, The Eatery, and I could not wait for them to open a permanent, brick-and-mortar restaurant. Which is exactly how I ended up being the first customer ever at Marigold Roma.
Well, there is a bit more to it than that. I was waiting and waiting (years, really) for the opening, and was thrilled when I heard that the location would be in Ostiense – a short walk from my home in Testaccio. It is the neighborhood to be in these days, with new street art and other wonderful restaurants like Trattoria Pennestri popping up alongside each other.
When the day of the official opening finally arrived, we were up early because we have a baby who thinks sleep is for suckers. By the time breakfast rolled around, all we had to do was wheel the stroller down and waltz through the doors of the pristine space filled with warm smells of fresh baked goods.
Marigold Roma opened in December 2018, and I have been back countless times since. It has quickly become one of my go-to spots for breakfast and lunch. In fact, I think it has one of the best breakfasts in Rome. Period.
That first day, we tried almost everything on their early menu: avocado toast with a poached egg (perfect), fresh bread with cheese and butter, and the famous cinnamon twists.
I've since been back for more of all of the above, plus the organic yogurt with homemade granola and the buttermilk pancakes.
The brains behind the baking is Sofie. Her bread is the stuff dreams are made of, and you should certainly plan on taking a loaf of sourdough home.
Heading the kitchen is Domenico. And both partners are fully committed to using the highest quality, local, seasonal ingredients possible.
I keep find myself at Marigold for this very reason. The quality of the food is superb. As delicious as breakfast is, you also need to find time to stop in for lunch or dinner.
I am still dreaming about the pasta I last had there with a fava bean and pecorino pesto and the crunch of perfectly crisped guanciale.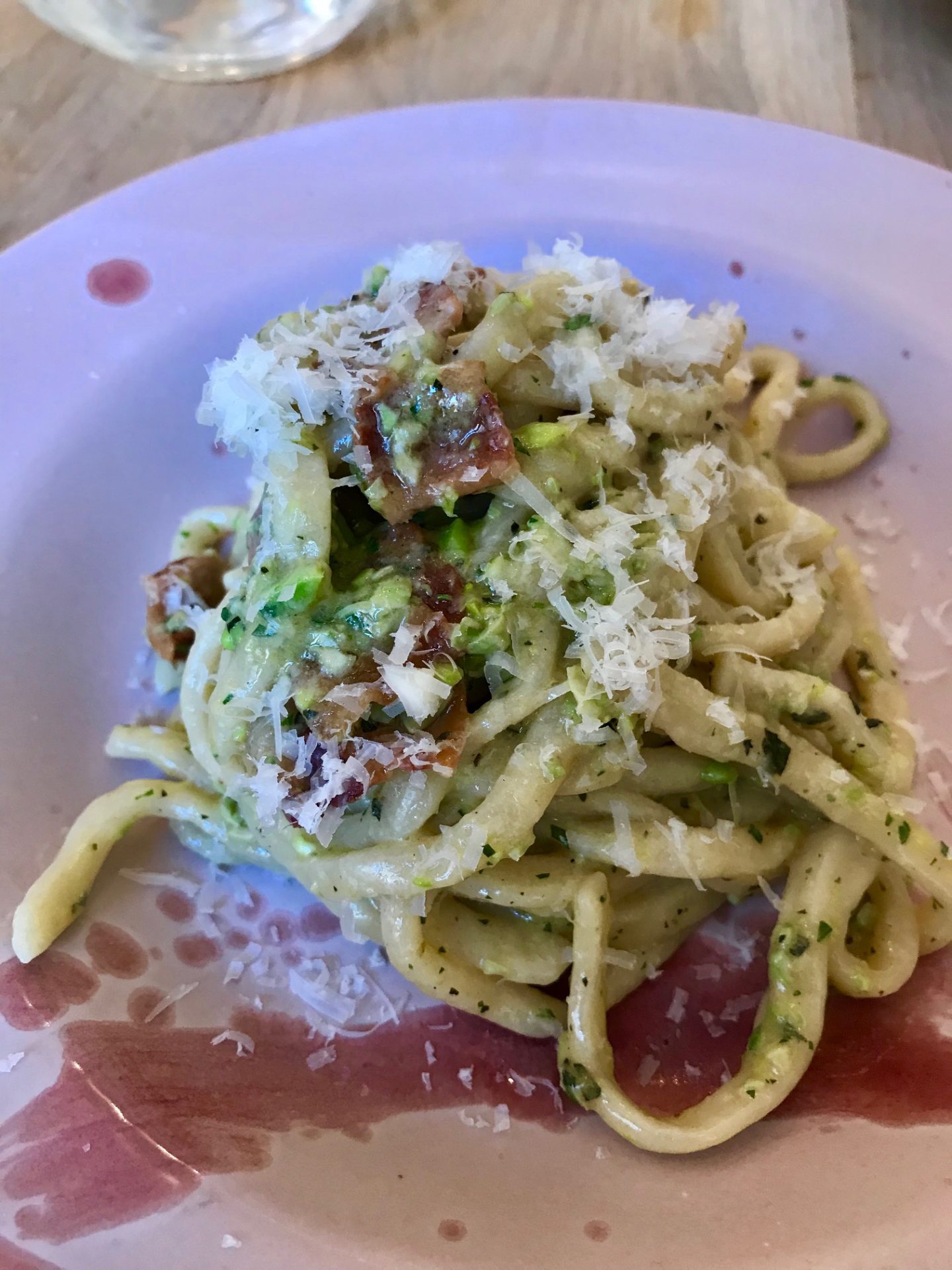 In addition to the lovely food, the setting is irresistible. The clean, modern interior is such a welcome change from the white subway tiles and poured concrete that most contemporary eateries seem to be incorporating into their design this day. That not-quite-Roman aesthetic is thanks to Sofie's Danish influence, but every piece is Made in Italy.
The beautiful tables (and new shelves) are handmade by Tuscany-based craftsman Andrea Brugi. Most of the chairs are from Sofie's antique hunting expeditions in Puglia, and the ceramics are also handmade in Puglia.
I was also thrilled when I bumped into Sofie last summer and she mentioned that had decided on a La Marzocco coffee machine. It fits so well with the whole philosophy of Marigold – using the very best, Italian-made products. That being said, I do wish the coffee was less expensive. The loose leaf tea is a better value if you are in search of something warm and comforting.
There are no reservations accepted for breakfast or the weekend brunch, but you can and should book ahead for dinner.
Come for the food, stay for the natural wine and craft beers. Or stop by for their new aperitivo.
I hope you love Rome's new Marigold restaurant and bakery as much as I do.
Via Giovanni da Empoli, 37
Rome, Italy (Ostiense)
+39 06 87725679
Open: Wednesday – Friday for breakfast and lunch (9 am – 4 pm)
Brunch is served Saturday and Sunday. (9 am – 4 pm)
Closed Monday and Tuesday.
Dinners are currently special ticketed events.