There are a lot of reasons to move to Rome.
Weather, food, art and culture all come to mind.
However, one of the reasons I moved to Rome was because it made sense for my budget.
Think you can't afford to move to Italy? Here are 8 ways I saved and/or made money by taking the plunge and moving to Rome.
1. The cost of graduate school: In the US, I would have paid $20,000 – $40,000 a year for my masters degree. In Italy I paid €5,000. I used up every penny of my savings to cover living expenses but I managed to graduate with zero student debt.
2. The career bump that came after graduate school: I drained my bank account to cover my return to school, but in the end it was worth it. My last career had limited growth opportunities and grad school was a chance to hit reset. Taking the time and energy to complete my Masters was an investment in my career that paid off.
3. Downsizing: In the US, I felt a fairly acute need to try to keep up with my neighbors/friends/peers. Moving to Italy, let me escape that.  Sometimes I briefly worry that we are somehow falling behind all our friends who are 'real' adults and own homes and cars, but overall I am really happy with our lifestyle and our financial priorities.  Less keeping up means more money in the bank. I also have less stuff overall which means less up keep and equals more flexible spending.
4. Selling my car and using public transportation: Ditching four wheels has probably made one of the biggest differences in my budget. No more car payments, insurance bills, mechanic trips, or gas.  Now I spend just €35/month for unlimited bus, metro and local train rides. Now that I don't have a car, I also feel that the occasional Uber splurge is worth it.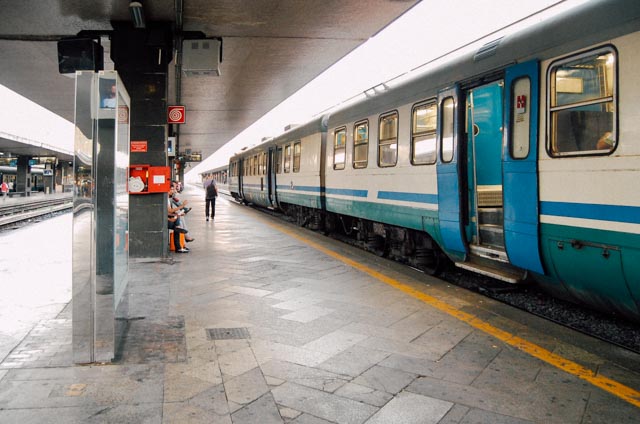 5. Health care: I don't have great health insurance, but I still pay way way way less on health care than I ever did in America.  Getting a filling replaced with no dental insurance cost about €100 out of pocket. Can you IMAGINE what that would be in the US? My yearly check up costs about the same as a co-pay. And the great New Year's Eve fiasco of 2015 that warranted a trip to the ER? 0. 0 euros/dollars/pesos. 0.
6. Travel: If you haven't already guessed, a big chunk of my budget goes to travel. It is something I prioritize spending on, and I am willing to cut out other things from my budget to make it happen. Living in Rome means that travel has, in many ways, become a lot cheaper for me. I have fewer transatlantic flights to factor in, which keeps costs down. I can also take day trips from Rome to beautiful towns without spending more than €10 on getting there.
7. Food: When it comes to eating in Italy verses eating back home, the ratio of quality to price is insanely better.  I really had to change my consumption patterns when I moved to Rome, and make the time to prepare less pre-processed foods.  In the end, I pay less for fresh foods and tend to waste less because I buy small quantities rather than letting half a package of mystery nibbles languish in some dark corner of the cupboard.
8. Wine: Seriously. Why is wine so crazy expensive in America? The much more reasonable Italian price point means a small indulgence comes at a small price. Ultimately, I feel like I am living large on a much tighter budget.
Having lived in Los Angeles immediately before moving to Rome, I would say that the rent is comparable. (Potentially rent in Rome is lower than LA now).  However, my bills for electricity, gas, etc have all increased. That seems to balance out many of the budget gains in other areas.
Overall, because Italy is a good fit for my lifestyle, I save money.  The things I enjoy doing for fun are all accessible here, and the cost of living is close or less to what I was paying in California.
Of course, budgets and career prospects will differ from person-to-person, but moving to Italy does not have to be unaffordable as long as you are ready for the life changes that come with it: no big cars, or massive houses, or even simple things like clothes dryers (too much energy!).