While breakfast in Rome is often a speedy affair consisting of a caffè and a cornetto enjoyed while standing at the bar, lunches and dinners tend to be long and leisurely. As a result, there was not previously a lot of street food in Rome.
In fact, in the early 1900s, it was more common to find stores that sold wine and a place at the table to eat the food that workers brought with them from home. Eating out and on the go was simply not done.
But today it is possible to find new takes on street food in Rome. These include classics such as pizza by the slice, plus fried goodies such as supplì. There are modern takes on classics, such as the Roman dishes reimagined as sandwiches at Mordi e Vai, as well as delicious pizza bread stuffed with meatballs, eggplant parm, and more!
Best Street Food in Rome
Supplizio: The king of street food in Rome remains the humble supplì.  Supplizio does the best in the city, selling gourmet fried rice balls and potato croquettes in the historic center.  Similar to Sicilian arancini, the classic supplí is stuffed with mozzarella, marinara, and risotto-like rice, before being fried golden. The small shop also makes them in a variety of flavors such as cacio e pepe and carbonara. Supplì are traditionally eaten in a pizzeria, however, their portable size and fried coating make them ideal for a snack on the go as well.
Mordi e Vai:  This sandwich stall in the bustling Testaccio Market offers the perfect way to taste Roman cuisine on the go. For around €5, you can order your pick of sandwich fillings – veal carbonara, tripe, Alessio (slow-cooked beef), sausage with greens – and Sergio layer it onto fresh bread. The vegetarian pickings are slim, but that is true of classic Roman food in general. This is my favorite sandwich in Rome, in my favorite market. The stall is open Monday – Saturday for lunch only. However, a new location call Mordi & Vai 2.0 in San Giovanni (Via Appia Nuova, 221) is open until 10 pm.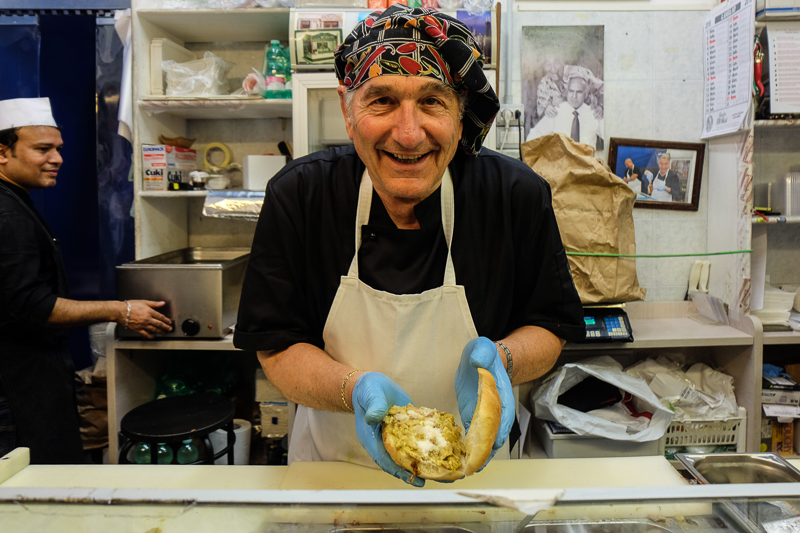 Trapizzino: A new take on an old classic, Trappizino is a reimagining of Rome's ubiquitous white-bread-and-mayonnaise tramezzini sandwiches. A triangle of pizza bianca is cut and filled with your choice of deliciously stewed stuffing such as chicken cacciatore, meatballs, or savory veggies.  The result is an indulgent pita-pizza hybrid that rings in at only €3.50 pop. That means you can justify trying more than one of these modern street food incarnations. In addition to these portable pizza-pita sandwiches, Trapizzino makes excellent supplì (fried risotto balls) in a variety of flavors such as cacio e pepe or seasonal specials like pumpkin. Thanks to its obvious deliciousness, there are a growing number of locations, including Testaccio, Ponte Milvio, and Trastevere (Piazza Trilussa).
Mercato Centrale: Rome's central market, Mercato Centrale, opened in late 2016 at Termini Station. The upscale and modern street food market at the train station is a hit with Romans and is very slowly being discovered by Rome's visitors. However, if you have limited time in the city it is a great way to try some of Rome's best foodie destinations under a single roof. Don't miss Bonci's pizza by the door, or Trapizzino's pizza sandwiches in the back corner. There are also more formal (but speedy) dining options on the second and third floor if you have time to sit.
Antico Forno Roscioli: Romans are raised on pizza bianca.  The simple white pizza is drizzled with nothing more than olive oil and salt, and is the ultimate snack.  A great all around bakery, Antico Forno Roscioli is most famous for its pizza bianca. Indicate how large a slice you would like and pay based on weight.
Pizzarium: You shouldn't leave Rome without trying this pizza. The shop is owned by master pizza maker Gabriele Bonci, who claims that he never makes the same pizza twice. The toppings on this pizza by the slice (called pizza al taglio in Italian) are inventive and delicious. On a recent visit some of the options included: Lasagna pizza, polpo e patate (octopus with potatoes), porchetta (roasted pork stuffed inside potato pizza), and white truffles with leek and ricotta.  The prices are all based on weight so select small slices from multiple pizzas to try the range of flavors. There is no seating and lines in peak seasons can be long so going at off hours around meals is a good way to stay sane but still sample the fantastic pizza.
Dar Filettaro: The only thing that is really on the menu at Dar Filettaro is filetti di baccalà. Why diversify offerings when you do one thing so well? In this case, the tiny shop serves freshly fried fish. The light, crunchy batter with a dash of salt coats the cod, which is then wrapped in brown paper and promptly handed over to be eaten immediately. You can find this dish at pizzerie in the city, but Dar Filettaro does it best.
Do you have a favorite street food in Rome?