Rome has no shortages of landmarks: Colosseum, Pantheon, St. Peter's Square, Pyramid of Cestius, Circus Maximus…
But one of my favorite landmarks of all is the bright yellow FORNO sign on Via dei Chiavari.
Antico Forno Roscioli is a Roman institution.  Locals come here for their daily bread, a few brutti ma buoni biscotti, and a panettone at Christmas.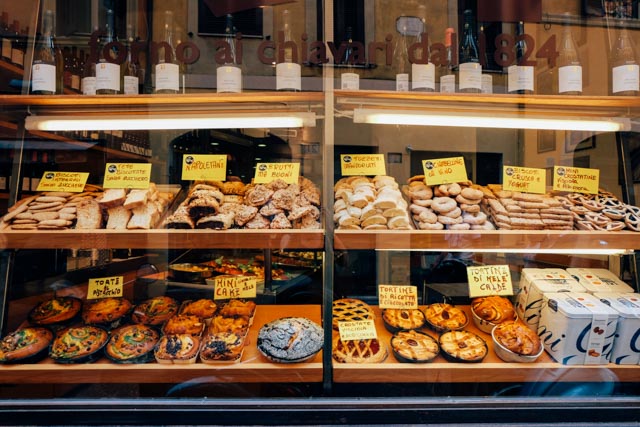 Everyone, locals and visitors alike, comes here for the pizza bianca.
I mean everyone.
You sometimes have to elbow your way back the pizza display, and indicate how much of what you want.  You can choose to have it wrapped up to eat on the go, or take it home if you can resist the chewy goodness for that long.
There are also a few seats and counter space if you would prefer to eat there.
That is what I usually do, because the seats are located just the right distance away from the hubbub of the pizza selling so that you don't feel actually consumed by the crowd, yet you have some great people watching opportunities.
But mainly I stay and eat on the spot because sometimes I pass on the pizza bianca and opt for toppings, and I love the messiest pizza of all: pesto.
Antico Forno Roscioli
Via dei Chiavari, 34  (Centro Storico)
Open: Monday-Saturday, 7 am – 7:30 pm
P.S. You can now follow my blog with Bloglovin