To me, Campo de Fiori is a meeting spot.  It is a place to agree to find each other so that you can move on to somewhere else.
It is not that I don't like the market there, it simply is not my market.  Neighborhood markets are, by definition, in your own neighborhood.  I wouldn't dream of carting produce from Campo de' Fiori back to Testaccio.
As for Roma t-shirts and phallic pasta? I'm all set.
Honestly though, the piazza is too picturesque to pass up, and so even if I have no one to meet, I usually make a detour to see what is in the windows on Via Giubbonari.
But Campo is more than a feast for the eyes, it is also home to Forno Campo de' Fiori.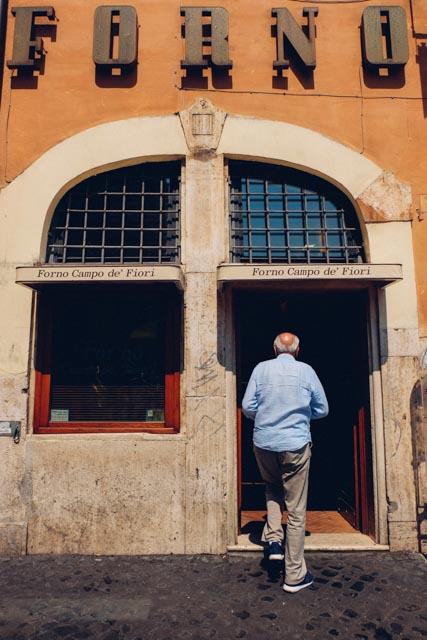 So in the interest of transparency, I will admit that pizza bianca is another reason I tend to make a detour through the famous piazza.
Sometimes I think of colleagues and friends and pick up biscotti or ciambelline, but for the most part, I am on a pizza mission.
Forno Campo de' Fiori serves up pizza al taglio, in addition to plain pizza bianca.  Simply indicate how much you want of any one flavor and then pay based on weight.
I usually stick with a quick snack, but the filled pizza bianca makes a great and easy lunch on the run.
One of the things that I long ago realized was an undeniable piece of my American-ness is my love for savory and sweet together.  Think peanut butter and jelly sandwiches, salted caramels, kettle corn… or proscuitto and fig.
Salty ham and sweet squishy fruit, held together with a chewy piece of pizza that can stand up to the soft filling.
A little piece of take away heaven.
Forno Campo de' Fiori
Vicolo del Gallo, 14,
Roma, Italy
Open: Monday – Saturday from 7:30 am to 2:30 pm and from 4:40 pm – 8:00 pm.