Updated 30 May 2021
I moved to Rome as a student, after being laid off, when the exchange rate was painful. You could say I was on a budget. Finding cheap places to eat in Rome was pretty high on my to-do list, seeing as I also did not have a functional refrigerator for a month in my sparsely furnished apartment*, so eating leftovers became a dicey game.
Luckily, Rome has some great low-budget dining options. If you want to eat on the cheap, here are the best places in Rome to eat on a budget of about €5.
1. Forno Campo de' Fiori (Vicolo del Gallo, 14): located on one of Rome's busiest and most picturesque squares, Forno Campo de Fiori has been serving up fresh baked goods since 1953. Eating well on a budget in the center of Rome can be a challenge, but Forno offers a fantastic break from a busy day exploring. They sell fabulous pizza bianca (chewy pizza bread simply topped with olive oil and salt) by weight. However, the best deal is to opt for a panino (sandwich) made from a slice of pizza bianca and stuffed with classics like mortadella (ham) or seasonal treat like my favorite, prosciutto and fig.
2. Mordi e Vai (Box 15, Nuovo Mercato di Testaccio): probably the busiest stall in the buzzing Testaccio market, Mordi e vai is the brainchild of a former butcher and one of the best ways to sample Roman classics on the cheap. Monday to Saturday, foodies and working stiffs alike line up for a sandwich that gets a good lashing a "meat juice" to soften the bread before being stuffed with stewed tripe, slow roasted beef, Roman artichokes and/or sausage with greens. My new favorite? The carbonara sandwich – mind. blown.
3. Trapizzino (Via Giovanni Branca, 88 – Testaccio; or Piazzale Ponte Milvio, 13): my favorite stop in my neighborhood of Testaccio, trappizzino is a pizza sandwich that dreams are made of. A corner of crispy pizza bianca is sliced pita style and then filled to the point of overflow with your choice of daily specials. You can never go wrong with the meatball or the €3.50 price tag. The supplì are also getting better and better – don't miss the cacio e pepe or the coda.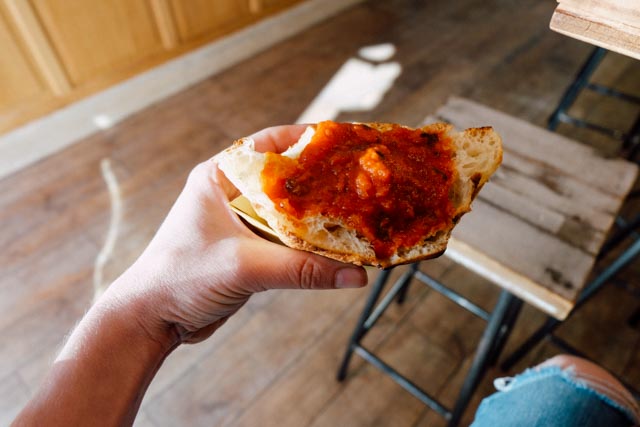 4. Pinsere (Via Flavia, 98): from ancient delight to modern day working lunch staple, pinse is a kind of Roman flat bread that is similar to pizza. The fresh flavors at Pinsere make it one of the most popular lunch stops in the area, where you can enjoy an entire flatbread for €4-€5. Want to really indulge? Finish the meal at Come il Latte gelato. I would love to go to Pinsere more often but its only open from 9 am to 4 pm Monday through Friday.
5. Pastificio (Via della Croce, 8): it's nearly impossible to find a good dinner for less than 5 euro next to the Spanish Steps. Imagine that it's only 4 and includes a glass of wine? That's the magic of Pastificio, which offers your choice of two fresh pasta dishes for lunch or dinner. The only catch? You'll have to eat it while standing along shelves of dried pasta. A small sacrifice for a local steal.
6. Janta Indian Fast Food (Via Mamiani, 11): craving a break from Italian and looking for a bit of spice? Head to Esquilino for a lunch special with rice, daal and your choice of curry for just about €5 depending on if you stick to vegetarian options or opt for the slightly more expensive meat curry of the day.
7. Dar Filettaro (Largo dei Librari 88): Located on the same square as Rome's cutest tiny church by Campo de' Fiori, Dar Filettaro does one thing and does it well. Here is where you can find the best fried fish in Rome – breaded cod fillets – also known as filetti di baccalà. Pay at the counter, and walk to the back, where you can wait at the kitchen door for your €5 filetto from 5:30 pm to 11:00 pm, every day but Sunday.
NEW 8. Amerina opened in 2020 on the same square as Dar Fillettaro. It serves personal pan size pizzas that are ready to go or cooked to order. Depending on the toppings, the pizzas start at just €3. All of the ingredients are super high quality and you can't ask for a prettier setting to sit outside. If you are hungry, or simply want to try more flavors, you can order additional tiny pizzas or share slices with a friend. I have been really impressed by the price and quality here.
All, except the last three (Janta Indian, Dar Fillettaro, Amerina) are pretty much takeaway options. If you want to sit down comfortably, you will have to pay more than €5 in most cases, but for budget eating in Rome– you have plenty of choices if you are willing to eat on the go!
*Lest you believe I was living in some sort of street situation, allow me to clarify that Rome apartments do not come furnished. That can mean there is literally NO KITCHEN. You have to go to Ikea, buy the cabinets, and then get out there and bring home your own stove and fridge. Weird system.