Forno Boccione (or Pasticceria Boccione) is easy to miss. There is no sign to announce the tiny shop in the heart of Rome's Jewish Ghetto. You would have to somehow notice the simple cake display to even realize it was a pastry shop.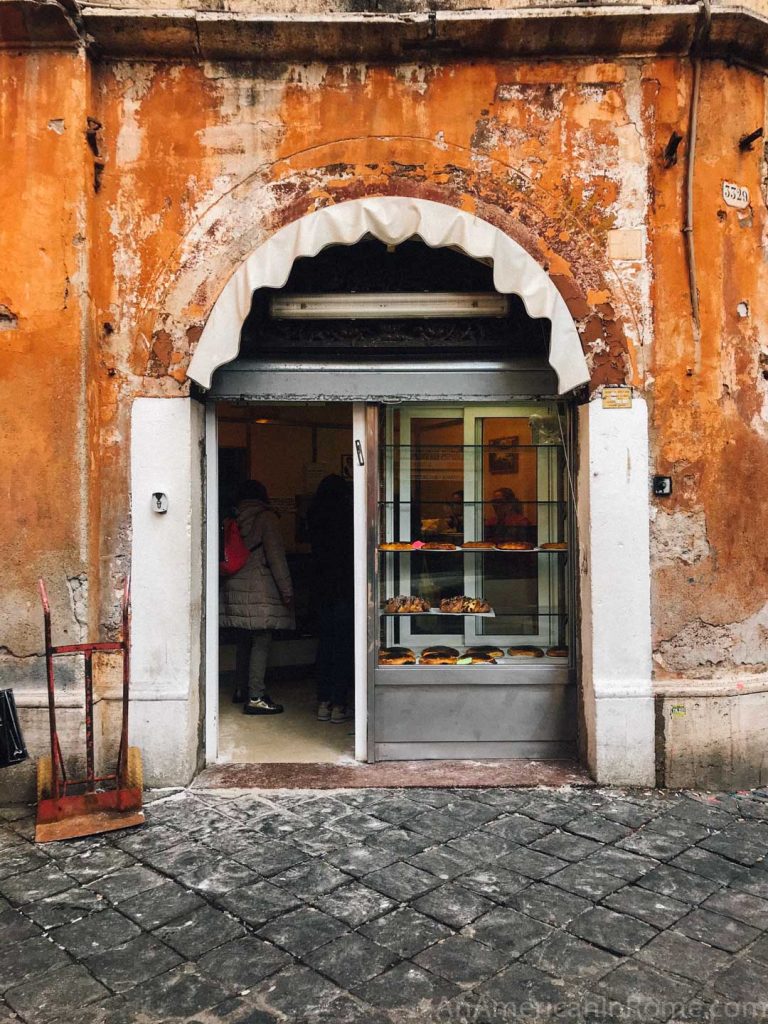 The kosher bakery is large enough to fit maybe six people at a time. However, you will usually find it packed with many more, all trying to order a slice of pizza ebraica or ricotta and sour cherry cake from the counter.
It is the ricotta e visciole (ricotta and wild cherry) cakes that are probably what the forno del ghetto is best known for. Though, the sparsely decorated shops also offers versions with chocolate or almonds as well.
If you stop by too late in the afternoon, this cake with its blackened top will likely be sold out.
Rome's Ghetto was established by Pope Paul IV in 1555. For more than 300 years, Rome's Jewish community was segregated in this swampy area near the banks of the river. The neighborhood would flood regularly, and the ramshackle living conditions were pretty wretched.
With all of this isolated confinement to a small area of the city, distinct recipes began to emerge. In addition to respecting religious dietary laws (kosher), Rome's Jewish community was also limited by their poverty and papal edicts.
This ricotta and cherry cake came about because of one such papal decree which forbade Jews from selling or trading any dairy products. One way to hide ricotta? Bake it into a pastry crust and mix it with cherries to further disguise the cheese. That is why the cake has a fully closed top rather than a pie-like lattice. The thicker layer of dough would have helped to better hide the ricotta inside. (Here is more on the history of the dish, in Italian).
Rome's Jewish Ghetto was liberated in 1870 and the once poor and persecuted neighborhood is now one of the most elegant areas of the city – where you can walk through ancient Roman ruins one moment and stroll past expensive apartment buildings in the same breath.
It remains the best part of Rome to find and try traditional Jewish Roman cuisine – and Boccione is one of the most historic shops in the Ghetto.
The ricotta e visciole cake can be purchased whole, or you can ask for a slice (though they are rarely interested in cutting less than a quarter of the cake at a time – so expect a LARGE piece).
The cakes are sold by weight, and cost about €24 each or €6 for a piece.
It is a sweet expense that is more than worth it.
I have Italian friends who dream of New York style cheesecake – but to me, this is certainly a better choice.
If you are still hungry and want to try more Roman Jewish cuisine, Sora Margherita is just around the corner.
Katie Parla and Kristina Gill also have a section of cucina ebraica recipes in their book Tasting Rome
, (that is an affiliate link which you can read more about here but you can also find the cookbook at the Almost Corner Bookshop in Rome).
Via del Portico d'Ottavia
Rome (Quartiere Ebraico/Jewish Ghetto)
Open Sunday through Thursday from 8 am to 7:30 pm, and Friday from 8 am to 3:30 pm.
Closed: Friday afternoon and Saturday, as well as Jewish High Holidays.