At first glance, it is hard to know that there is really a restaurant hiding behind the hanging red curtains on an alleyway in Rome's quartiere ebraico (Jewish quarter). All that announces Sora Margherita is an old stone sign on the brick wall that is practically covered by overgrown vines.
Those brave enough to venture through the curtains will probably be told to wait — even if the restaurant should technically already be open for lunch. That is fine. Simply wait.
Because eventually you will be granted entrance to a tiny dining room filled with paper covered tables. The tables and chairs tend to be so close together that you will quickly become well acquainted with the elbows and quirks of your fellow diners.
Given its size, it is not difficult to fill the small eatery – but the regulars squeeze in day after day for homestyle cooking off the handwritten menu.
We had to help the couple next to us navigate the primi menu because it requires you to first select your preferred kind of pasta (fettuccine, bucatini, gnocchi etc), and then the sauce.
But you should know that Sora Margherita is famous for one dish above all others:
Cacio e pepe with a dollop of ricotta to make things extra cheesy.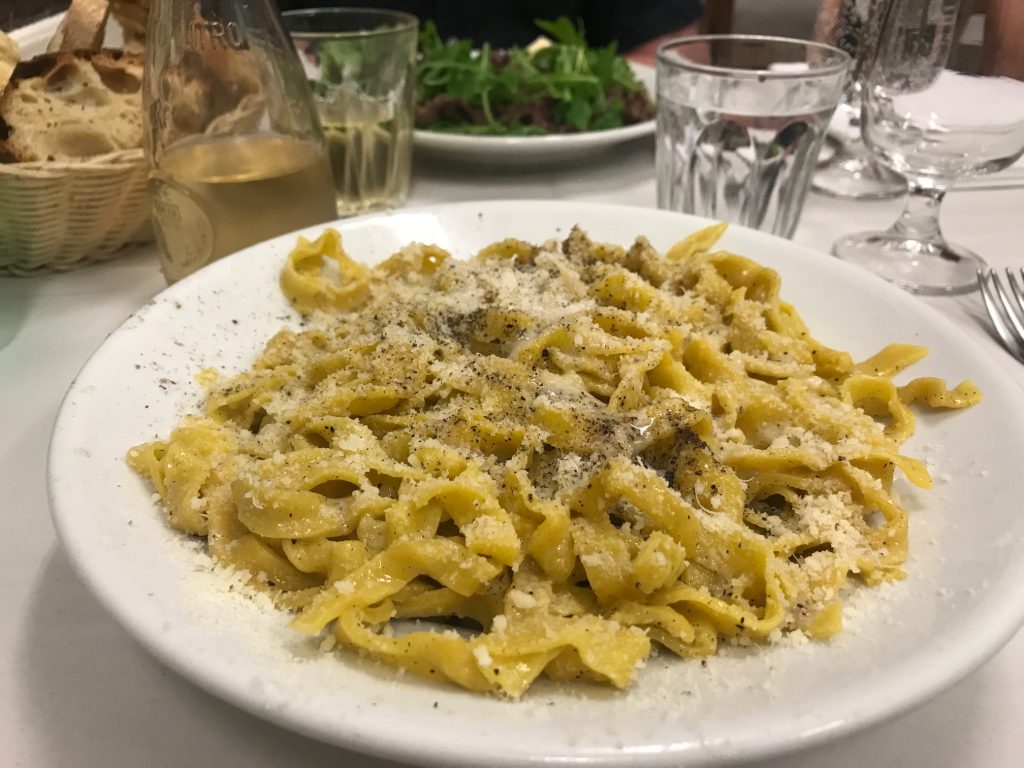 The restaurant is beloved for this dish, and its other more classic Roman-Jewish cuisine offerings.
This adoration is on full display because plastered across every available wall are notes from diners written on old receipts and scraps of paper to declare their undying love for the trattoria.
Sora Margherita
Piazza delle Cinque Scole, 30
Rome, Italy (Centro Storico/ Ghetto)
+39 06 6874216
Open every day (but Sunday and Tuesdays for lunch only)
P.S. This restaurant is included in the Discover Rome app, which has more than 150 recommendations on what to see, do and eat in Rome – plus helpful offline maps.