Rome has two airports, and even though it is farther from the city center, it is arguably easier to get from Fiumicino Airport to Rome. This is because FCO (also known as Leonardo da Vinci Airport) offers taxis, private transfers, group buses and two different trains to get to the city center.
Fiumicino airport is about 32 km (approximately 20 miles) from the center of Rome. Depending on the mode of transport and time of day, it takes around 30 minutes to 1 hour to reach the center of the city.
How to Get from Fiumicino Airport to Rome
Taxi to and from FCO
Depending on the time of day, a taxi can be one of the fastest ways to get from FCO to Rome. However, during the evening rush hour (from about 5 pm – 7 pm on weekdays), you are likely to be stuck in at least some traffic because the airport sits off the city's major highway (known as the GRA) and many locals who work in the office parks located outside of Rome need to use the same road to get home.
The good thing about taxis is that there is no need to bargain – there is a set cost of a taxi to and from Rome's airports. From Fiumicino, a taxi is always €48 (so long as you are going to central Rome). Taxis are now required to accept cards in addition to cash, so you should not have to worry about going the ATM, but they sometimes will say the card machine is not working.
When you exit from baggage claim, simply follow the signs to the taxi stand. Always always take an official white taxi from the city of Rome and do not agree to a taxi from drivers who may be waiting inside the terminal. Do not take a taxi that is from the city of Fiumicino, either. These have a higher set rate to Rome. Here is more on how to avoid being ripped off by a taxi in Rome.
If you prefer, you can also use the app MyTaxi (which works in many cities worldwide). There is a MyTaxi waiting area at FCO (near Terminal 1) where your assigned driver will pick you up.
Fiumicino Airport Transfers and Uber
My most common means of getting from Fiumicino Airport (FCO) to Rome is to take the train. However, when I know I will be arriving early or late, or have more baggage than I want to take with me on public transportation, I use a private transfer like Welcome Pickups. From the airport to the city, Welcome Pickups is the exact same price as a taxi (€48) with the difference being that the transfer is pre-paid and the driver will be waiting for you inside the terminal with a sign that has your name. If you are nervous about taking a taxi and communicating in Italian, this is a way to ensure that everything is pre-planned for your arrival and trip to Rome. You can read my husband's review here.
If you prefer to select the kind of car and the level of service, you can book with Uber is still legal in Italy (though taxi drivers may tell you differently). If you would like to use the app, the rate was around €65 into Rome last time I checked.
Fiumicino Airport Train
Taking the train is an easy and direct way to get from Fiumicino airport to Rome. There are actually two trains – one of which is an express that goes directly to the central Termini Station; and one which is a regional commuter train with several stops, including Trastevere Station, Ostiense, and Tiburtina.
The regional train costs €8 and leaves every 15 minutes, except on Sundays and late at night when it runs every 30 minutes. The first train leaves Fiumicino airport at 5:57 am and the last one departs at 11:27 pm. The trip from the airport to Stazione Trastevere takes just under 30 minutes. There are no reserved seats and the tickets can either be purchased online or in the train station at the airport. Be sure to validate your ticket in the machines before boarding the train. If you plan on using the train to reach the metro, exit at Ostiense and follow signs to the Piramide metro stop.
There is also a fast train known as the Leonardo Express which travels directly from Fiumicino Airport to Termini Station – Rome's main train station and the only place in the city where Metro lines A and B cross. The tickets cost €14 per person but children under 4 are free, and one child aged 4-12 is free with each paying adult. The train takes approximately 30 minutes and runs every 15 minutes (or 30 minutes late at night). The express train is guaranteed in case of a strike, which is unfortunately fairly common in Italy.
Please note: When you exit from the baggage claim area there will be signs directing you towards the train station within the airport. There are two train ticket machines at the top of the escalators before you reach the station. These always have a long queue and the station is still about a 3-minute walk away. Continue on to the station itself where there are more machines (which accept credit card) and various ticket stands where you can buy both the regional Fiumicino-Rome tickets and Leonardo Express tickets.
Here is more on how to buy train tickets in Italy.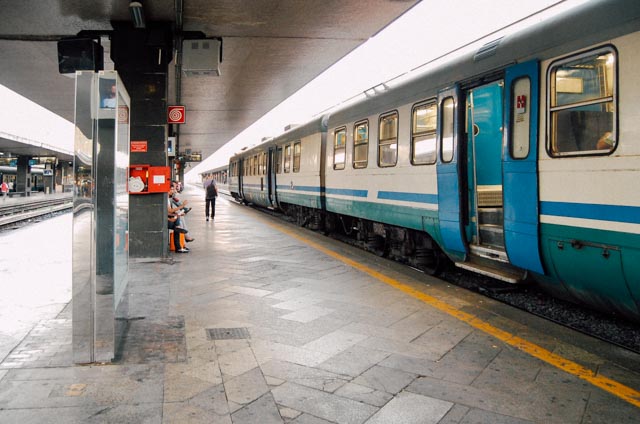 Bus
I do not recommend taking the public bus from Fiumicino airport to Rome because there is no direct route. This is because Fiumicino is not technically in Rome proper. However, taking a private bus is still very affordable and the cheapest way to get from the airport to the city center.
There are several bus companies that depart from the airport, but the best known is Terravision. The bus leaves FCO and stops in the center of the town of Fiumicino and again at Termini Station. The journey takes approximately one hour and currently costs €5. The buses are air-conditioned coaches, with the luggage stored underneath. They are usually new and comfortable. The trip takes about 45 minutes depending on traffic.
If you need to stop closer to the Vatican, SIT Bus is another great option which goes to Via Crescenzio before continuing to Termini. The buses all have AC and free Wi-Fi and a one-way journey costs €6.


Taking the Terravision bus is the least expensive way to travel from FCO into the city center. However, while there is a timetable, the buses usually do not depart until they are as close to full as possible so you may be stuck waiting in the parking lot for awhile. Credit cards are accepted, and tickets are purchased when boarding or if you want to be sure to have a guaranteed seat, you can buy them online.
Metro
Unfortunately, there is no metro/subway link to Fiumicino Airport. Your closest bet is the train. The regional train will take you to a Metro Line B link (at Ostiense/Piramide), or the Leonardo Express and the private buses will each drop you at Termini which has both Metro A and B lines. Here is how to use the Rome metro system once you get there.
Do you have any other recommended ways to travel from Fiumicino airport (FCO) to Rome?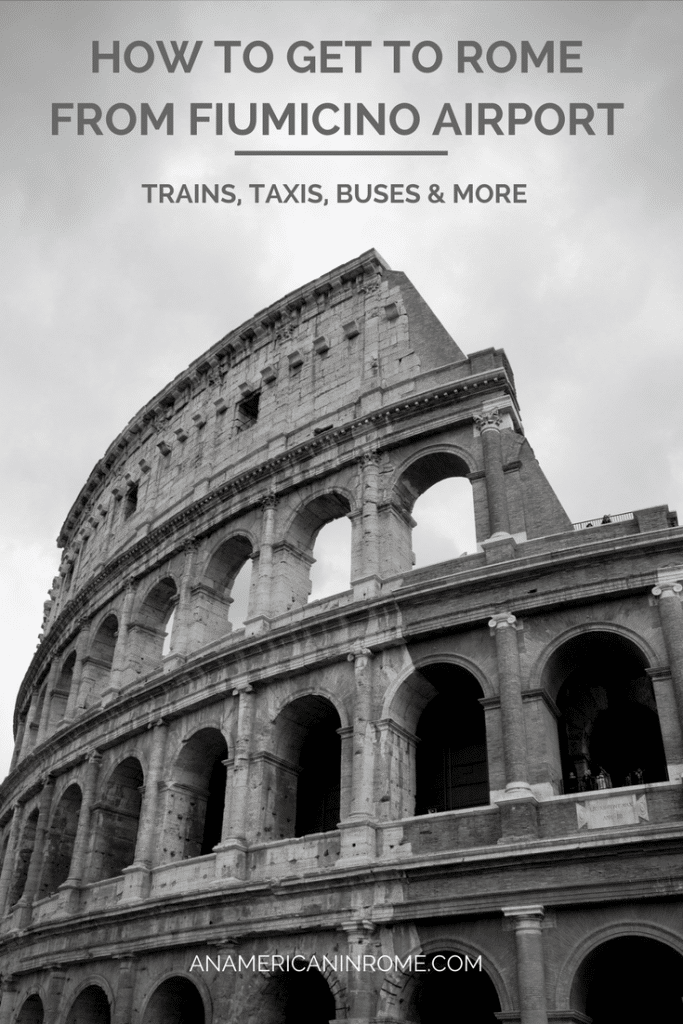 P.S. Wrong airport? Here's how to get from Ciampino airport to Rome.
This post contains affiliate links for services that I have personally tried and wholeheartedly recommend. Thank you for supporting the blog at no cost to you.