Without a car, I regularly travel through Italy by train. That includes taking regional trains to get to smaller towns or short distances, and fast speed trains to travel between major Italian cities. I have compared companies and routes for years in order to write a guide on how to buy train tickets in Italy.
While the time is obviously slower than flying to Milan for example, when you factor in getting to and from the airport and arriving early enough for check-in and security, train travel often takes the same total time door-to-door.
So how do you get on the Italian train bandwagon?
Five ways to buy

train

tickets in Italy:
Trenitalia: the largest train company with the most options is TrenItalia. You can create a free account with Trenitalia to purchase tickets online with a credit card or PayPal. On the main page, you can change the language to English by clicking on the Italian flag in the upper right and selecting the British flag instead.
Insert your starting station and destination, noting if it is one way or round trip. Select the calendar date and time and you will see the results from that time and later on the next page.
On the results page, you will also see the journey time, transfers needed and cost. I prefer as direct a train as possible and avoid transferring if I can, even if this ticket comes at a higher cost. Trenitalia includes both regional and high-speed trains so checking the travel time is really critical before making your choice.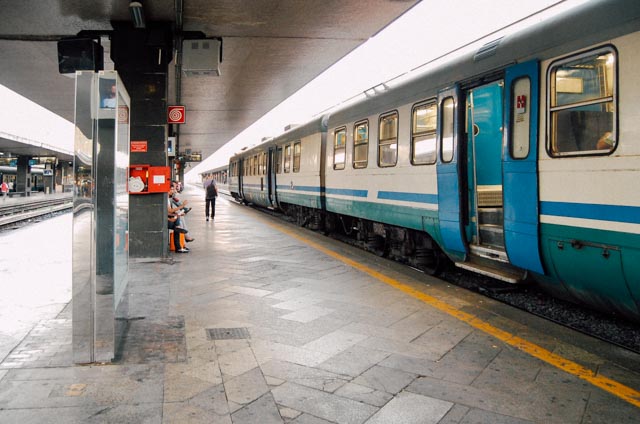 Italo: Italo Treno is a TrenItalia competitor. Italo only offers high-speed trains between select Italian cities. If you are traveling between major destinations such as Milan, Torino, Florence, Naples, Venice, and Rome, Italo may be more competitive than TrenItalia.
Because Italo is trying to compete, they also sometimes offer coupon codes to buy discounted train tickets. I recommend signing up for their free newsletter (only in Italian) to be notified of sales or carefully checking the website to see if there are any promo codes.
To use their system, select your departure city and arrival from the drop-down menu, pick the dates and select a time range if you like, then enter the promo code if applicable. On the next page, you'll see your departure options by time and price. After selecting your outward bound train, you can see the return tickets on the next screen.
No account is necessary, you can simply enter the passenger information and the payment details on the final screen. However, it is safer to create one in case you need to update or retrieve something later. Note the confirmation code because this will be how you can later retrieve your reservation and will also be the only detail that the ticket controller will need on the Italo train.
Note: train tickets in Italy are a bit like plane tickets because they tend to get more expensive as you approach the departure date (or occasionally one train at a more popular time will sell out). If your travel details are 100% confirmed, you can book in advance for the best prices and times. Otherwise, opt for something like ItaliaRail, or a flexible ticket on Italo, in order to protect your trip.
In person: prefer to pay cash for your train ticket? Or want to play your plans more by ear? You can also buy tickets in person at most larger Italian train stations. In Rome, this includes Termini, Trastevere, Ostiense and Tiburtina. You can buy tickets at the Trenitalia counter at all stations, and Italo also has ticket sales at Termini and Tiburtina. Other smaller stations, as well as large train terminals, have ticket machines that accept cash or card. For regional trains, some tabacchi sell the tickets based on km to be traveled. Here is more information about everything you can do at an Italian tobacco shop.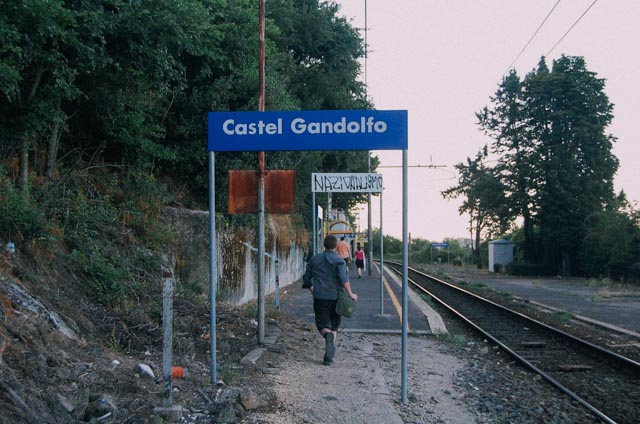 On the train: some small Italian train stations (Castel Gandolfo for example) do not have ticket counters or ticket machines. For this reason, it's advisable to buy a return ticket when you are leaving a main station. However, if you are ever really really stuck you can buy a ticket on the train. There is not a ticket inspector on every single regional train, but it's not worth the risk (and the heavy fine) to travel without a ticket. You need to find the official before he finds you. Walk to the first carriage and proactively stop the uniformed attendant to let them know you have to buy a ticket. You will pay a supplemental fee of at least €5 on top of the base fare but that is better than a fine of €50 (minimum) if the controller finds you without a ticket. If there's no ticket inspector, wait in the first carriage and signal to them when they come back. If they never come, then you've earned the free trip.
A note on arriving at the station and validating your ticket: Train stations differ from airports because there is no checkin process or major security screening. Therefore, there is no reason to arrive extremely early for your train. If you have luggage, plan to board the train 10 minutes before departure to find sufficient space. This is also true for regional trains where your ticket does not include a seat assignment – boarding early increases your chances of getting a seat because they sometimes fill up. However, because there are so many trains coming and going, don't expect it to even be at the station more than 10-15 minutes before departure (if you're lucky).
For high speed trains, you will have a carriage number and a seat on your ticket for a train that leaves at a specific time and date.
Regional train tickets in Italy are more flexible, therefore ensure that you validate it in a machine on the platform before boarding. An unvalidated ticket is the same as having no ticket at all and you are unlikely to find a sympathetic ticket inspector.
Please note: this post may include affiliate links to companies which I personally recommend. I may earn a commission if you choose to make a purchase with them.