There are a lot of reasons to travel by train in Italy: the romance, the convenience, the cost, and the scenic settings are the first that come to mind. However, the best thing about train travel in Italy is that it works like a charm – saving you time and money while also allowing you to see the country like a local.
Ready to explore Italy by train?
Here is the complete guide to how to travel by train in Italy, starting with why it is your best choice for getting around the country.
Updated 29 June 2021

Why to Travel by Train in Italy
Train travel in Italy is often the fastest way to get between two points. Driving between Rome and Florence takes close to four hours depending on traffic. The train takes as little as 1.5 hours. Italian highspeed trains travel on dedicated tracks at well over 100 mph, so you are going to be able to get between major cities in less time than it takes to drive.
Check-in for Italian trains is a breeze. Show up at the train station with your tickets and you are ready to go. All you need to do is make the short walk to your platform – no messing around with check-in, security lines, or gates and boarding procedures.
Italian train stations are easier to get to than airports. Most major Italian train stations have "centrale" in their name because they are indeed very central. Train stations are major hubs for transportation and so they tend to be right in the middle of Italian cities, or at least on the edge of the city center. Because of flight restrictions and the space needed to safely land a plane, airports are the opposite and tend to be located pretty far outside of the city. Train stations are 100% easier to get to, which is one reason that train travel in Italy is so much faster and more convenient than flying.
Traveling in Italy by train is incredibly beautiful. Trains in Italy pass through much more countryside than any road. In most cases, your train journey is going to travel through fields and vineyards. You will catch glimpses of untouched natural reserves and you won't be distracted by any zipping traffic. Taking in the sunset over a tiny village as you sit on the train towards your next Italian destination is not only scenic but also romantic.
Planning to travel by train in Italy is also easy. Once you are on board, all you have to worry about is remembering to get off at your stop. You don't have to mess with directions or check the GPS – just keep your eye on the clock so that you are ready to gather your things when you are getting close to your arrival time. Stops are announced in Italian and in English so you really won't mess up. If you still don't believe how easy it is – here is a complete guide to buying train tickets in Italy.
Driving takes longer and can be much more expensive. Having your own car does give you more flexibility but between the cost of renting a car, getting insurance, and paying for gas, driving is almost always more expensive than taking the train in Italy. If you are driving between cities you will likely be on the A1 autostrada and this also means that you will need to add toll fees on top of everything else. You also have to deal with actually driving in Italy, a country where lane markers are treated like a general suggestion rather than a rule. If you plan to drive, come with nerves of steel!
Trains are one of the most popular forms of transportation in Italy. For all of the reasons listed above, taking the train is the norm in Italy. I mention that in case you come from a country (like the US) where trains seem like an old fashioned way to get around. Because they are so popular in Italy, they are high-speed, new, and convenient. There are usually hourly departures for major Italian cities because the demand is so high. So when in Rome, travel by train like a local.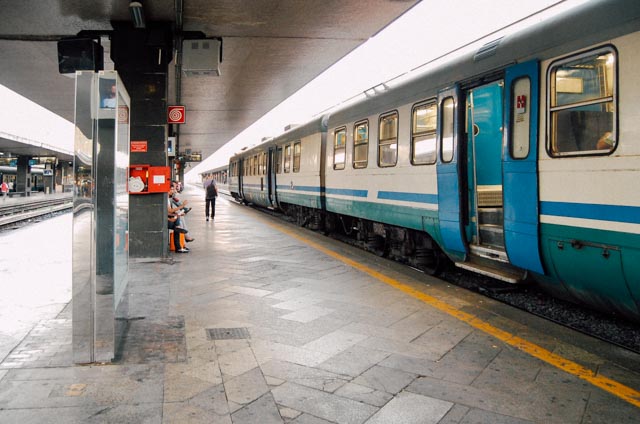 How to Travel by Train in Italy
Ready to climb aboard? Train travel in Italy is very straight forward if you remember a few general guidelines.
Know the name of the stations. Italian train stations have names much in the same way airports have names. The name of the station often starts with the name of the city, e.g. Roma Termini or Firenze Santa Maria Novella. Many cities have more than one train station, so save yourself some time and confusion by making sure you know the exact name of the station you want. You need the station name to buy tickets, and you can simply google "main train station [INSERT CITY NAME]" if you are unsure. For the big cities, the main train stations are:

Rome: Roma Termini (Roma Tiburtina is another large station but it is further outside the city center. Roma Trastevere and Roma Ostiense are two smaller stations which mainly handle regional trains)
Florence: Firenze Santa Maria Novella
Milan: Milano Centrale
Venice: Venezia Santa Lucia (this will drop you at the Grand Canal. Venezia Mestre is on the other side of the Venetian lagoon)
Turin: Torino Porta Nuova
Naples: Napoli Centrale

Buy your Italian train tickets in advance. As with flights, cheap train tickets in Italy are easiest to find if you are buying train tickets few months in advance. Even a few days in advance is going to be cheaper than booking the day of travel. You will also have the greatest selection if you look in advance because popular times and routes tend to sell out. If you aren't 100% about your travel dates, use a service that allows you to book a flexible ticket and buy insurance. It may cost a few euro more but it will save a lot in the long run if you need to change anything.
Select a highspeed train whenever possible. Fast trains in Italy are generally more expensive than regional trains, but time is money and they will get you there as quickly as possible. The regional train from Rome to Florence takes almost four hours instead of 1.5 hours on the highspeed train. That means a lot more time to explore (and more a more updated, comfortable train environment). Plus, if you are booking in advance, you can get an amazing deal on even the newer, highspeed trains. Regional trains in Italy are also first come first serve, so you will not have a guaranteed seat if you choose to book this option.
Arrive at the train station with at least 20 minutes before departure. You don't need to worry about long security lines but you will need enough time to check the electronic boards which display the train numbers and their corresponding track number (or bin./binario in Italian). Since you will have your luggage, you want to give yourself time to find the track number and board the right train.
Check the partenze. Partenze are departures in Italian, whereas Arrivi are arrivals. Make sure you find your train number under the Partenze column to ensure that you go to the correct platform for your departure. Knowing your train number is key because the Partenze will display the final destination o the train. If you are traveling from Florence to Rome, your train might actually keep going to Naples – so it will be Napoli which shows on the board. If you keep watching, all of the stops will scroll by in the smaller letters next to the main destination. This should help put you at ease, but you really can't go wrong if you focus on the number of the train (usually 4 digits) and the departure time.
Validate your regional ticket before boarding. If you do choose to take a regional train instead of a fast train, be sure to validate your ticket before boarding. There are small, brightly colored machines at the end of the platform where you can place the corner of your ticket so that it is stamped with the day and time, thus activating the ticket. You need to do this if your train ticket says regionale, but you do not need to do this if you are traveling on Frecciarossa, Frecciaargento or Italo. These train tickets are like plane tickets and unchangeable unless you make a flexible reservation in advance. You can tell if you have one of these if your ticket has your name and/or a specific carriage and seat number lister.
Board the correct carriage. Train tickets in Italy will include your train number (like a flight number to identify the correct train), the date and time of your departure, and a carriage and seat number. In order to avoid blocking the aisles while walking through many carriages to reach your seat, try to get on the right carriage to begin with. The carriage numbers are clearly visible either on the side of the train or on an electronic sign on the door. (But if your train is about to depart – just get on! You can find the right seat after it leaves).
Feel free to relax, but keep your arrival time in mind. You can sleep on a plane without every worrying about missing your stop, but most trains in Italy make multiple stops. If you want to sleep, make sure you place any valuables like a purse, securely between your feet or somewhere that you can feel it at all times. This makes it less likely to disappear along with someone who is disembarking before you. But you CAN sleep, or get on the free WiFi, read, or stare dreamily out the window. Set an alarm for 10 minutes before your scheduled arrival time just to be sure you are alert when it is time to get off the train.
Bring your own food, if you want. If you are going on a long train trip in Italy, it is totally fine to bring food on the train. Some people even bring wine or beer – there are no rules against this. Trains do not tend to have any hot food available, so bring your own sandwiches or picnic items if you are going to be hungry along the way.
Expect most of the same comforts of a plane. If you are on a highspeed train, your seat won't have a seatbelt but it will have a tray table and space to place your personal items. If you are traveling in first class, you will likely be treated to a beverage cart and snack. Otherwise, there is a bar car or vending machines where you can purchase water and simple foods like chips. And don't worry: train travel in Italy is comfortable even when it is not at its most glamorous. For example, even regional trains have bathrooms. There might not be a bathroom in every carriage but you are free to move around the train at any time, so go ahead and follow the signs (which might say "WC") until you find one.
Potential Drawbacks of Traveling by Train in Italy
Every form of travel within Italy comes with pros and cons. In this case, the pros of traveling by train far outweigh the cons but for total transparency, here are a few drawbacks to
There is no checked baggage. Trains in Italy have luggage racks over the seats and also have dedicated spaces for large bags right inside the doors when you board. If you are traveling with a lot of stuff, you are going to have to get it all onto the train and then take it down again when you reach your destination. One upside? There are absolutely no baggage fees when you are traveling by train in Italy so you do save some money with the DIY approach to handling the luggage.
There might be a strike. This is fairly rare but transportation systems, including trains, sometimes go on strike in Italy. If there is going to be a full strike, flights can also be affected so flying is not always the easier choice in this case either.
Delays sometimes happen. Even when there are no serious issues like strikes, train delays do happen. Usually, these are 10-20 minute delays but if there is a problem with the weather or the mechanics, these can be significantly longer. It shouldn't stop you from booking a train in Italy – just give yourself some padding time if you really need to be somewhere by a specific hour. Getting stuck with a delay is bad luck – much like getting caught in a random traffic jam.
Trains in Italy sometimes don't go to the smallest, hilltop towns. Train travel in Italy can be incredibly fast but some smaller towns are only served by older, regional trains which make frequent stops and move slowly. Other towns, particularly hilltop towns in Tuscany, don't have train stations. In these cases, having your own car is better than relying on the rural bus services that connect the nearest train station to the more remote villages.
Flying within Italy
If you really are not convinced about train travel in Italy, or if you simply prefer to fly, then there are of course options for flights between many Italian cities. There are also a few cases – like if you need to go somewhere like Sicily or Sardegna – when flying within Italy is going to be your best option. Yes, there are ferries but most are overnight and are going to take you a longer time to travel. If that works with your schedule, then go for it!
I personally use SkyScanner whenever I am looking for flights within Italy (or around Europe). I find that it works slightly better than US-centric sites like Kayak.com because it does a good job of pulling in all of the low fare budget air carriers in addition to the national carriers.
Flights between Rome and Milan are under an hour, versus the four hours the trip takes by highspeed train. However, considering how much time you need to have to get out to the airport, go through security, wait for boarding, then get back into the city center at your new destination – the entire process of flying can actually take longer door-to-door.
Do you have any other tips or questions about train travel in Italy? What are you waiting for? All aboard!
Please note: this post may include affiliate links to companies that I personally recommend and use myself. If you choose to book through the link, I may earn a small commission.