There is something a little rough about Roman cooking. It is a cuisine based on the quinto quarto (the fifth quarter of the animal including tripe, oxtail, intestines). These meats are all usually stewed and generously dusted with savory but sharp pecorino cheese. Roman dishes are my go to, but there are other moments when you want a little refinement and that's where Al Pompiere comes in.
Al Pompiere is not fine dining but the atmosphere feels different as soon as you climb the stairs to the second-floor dining room.
It is old school. Much in the way you immediately sense things will be a certain way at Checchino, you get the same sense of decades gone by at Al Pompiere.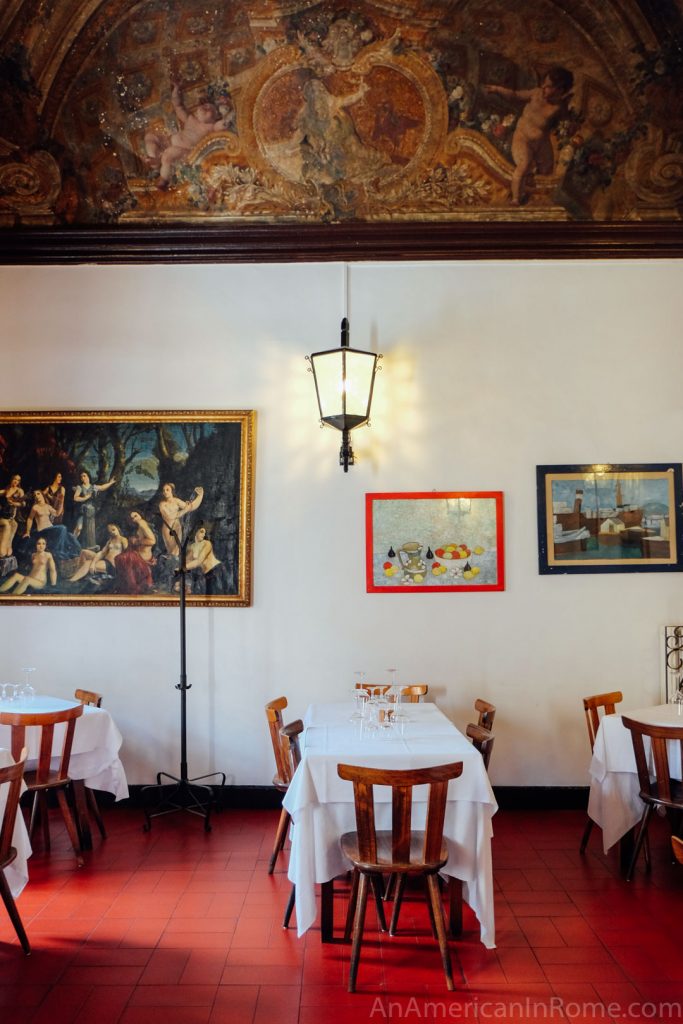 You will find the restaurant directly across from the much more humble Sora Margherita on the edge of Rome's Jewish Ghetto.
Inside Al Pompiere you will dark wood offset by natural light (at lunch, naturally), and frescoes under the centuries-old beams.
Adding to the times-gone-by vibes are attentive waiters dressed in vests and bow ties, and the charming vintage China plates decorated with firemen – or "Pompiere" in Italian.
Like the decor and the service, the food belongs to another time. The peak of Al Pompiere arrived several decades ago, during Rome's La Dolce Vita heyday.
While you can find Jewish Roman dishes such as carciofi alla giudea and classic plates like carbonara, those are not the ones to come for. You come to Al Pompiere for the items that are as vintage as the plates they are served on. The ones which have since fallen out of fashion on other menus across the city over the last decades.
You come for the fettuccine al limone.
Creamy, swimming in Parmigiano, with the bright bite of zested citrus.
This is not one of Rome's traditional pasta dishes, but it is the kind of detour you sometimes wish to take.
Or keep things more local and seasonal with artichoke pasta – not traditional but building on the ingredients that have long rounded out Roman (Jewish) food.
The menu is made up of these less common recipes, so it is worth going back to work your way through it.
And to soak up the atmosphere one more time.
Don't believe me? To read more, you can check Elizabeth's post.
Ristorante Al Pompiere
Via di S. Maria de' Calderari, 38
Rome, Italy (Jewish Ghetto)
Website | Phone: +39 06 686 8377