I can't really recommend a caffè corretto but I am here to say that you can easily stray from the usual espresso or cappuccino into pure Italian coffee bliss. For that perfect pick-me-up, there is the marocchino.
You also totally look like you know what you are talking about if you order a marocchino.
A marocchino is a layered espresso-based coffee. If there is any chocolate syrup on hand, this is used to drizzle around the sides of the cup to coat it. Then, the espresso is added to the cup.
Next comes a layer of frothed milk, topped with cocoa powder, followed by another layer of frothed milk and a final sprinkle or drizzle of chocolate.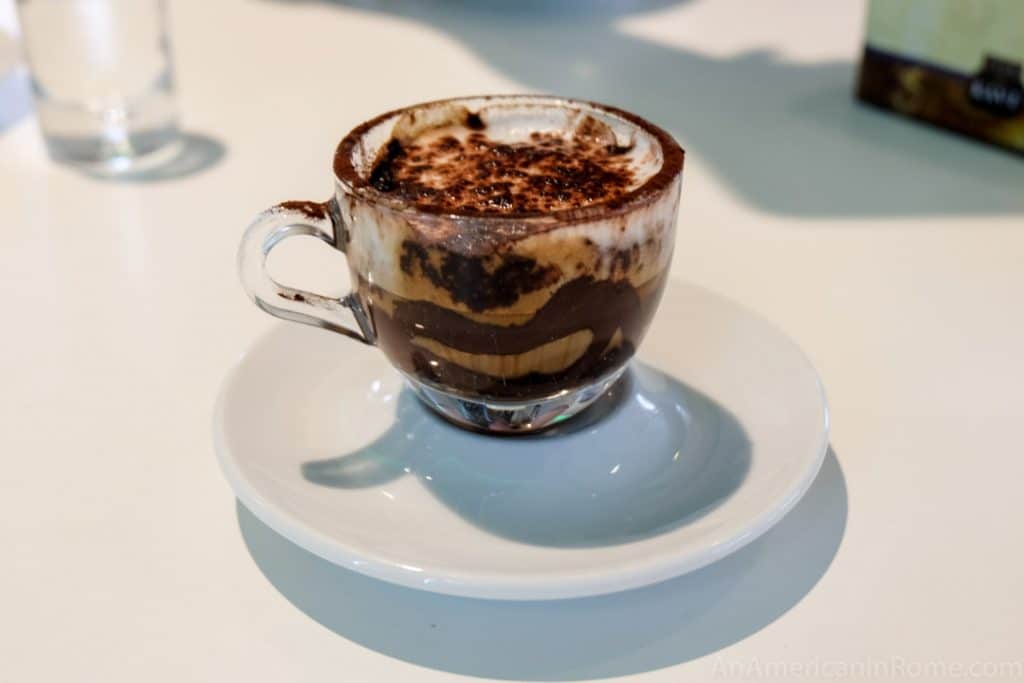 To me, this drink is the perfect combination of bitter and sweet. The hot espresso helps to melt the coffee and the layers of milk soften the coffee hit.
It is a coffee drink to order when you want to be a little bit fancy, which is why one of my favorite places to get it is at the bar on the second level of Chiostro del Bramante. To sip on this while gazing down at the perfect cloistered courtyard is pure bliss.
You may have also heard that there is a "rule" that you can't order a cappuccino after 11 am in Italy. This is not really true – you can. It is just that most Italians are put off by the idea of drinking a lot of "heavy" milk after a meal, so cappuccino is predominantly a morning (thus pre-lunch) drink.
I am also out of the habit of ordering a cappuccino later in the day so my solution is the marocchino. It comes with more frothed milk than a caffè macchiato (espresso "marked" with a dash of milk), but it does not have the density of a cappuccino.
It is also a coffee drink that begs to be savored. In a country where coffee is usually downed as quickly as possible, I do like to slow down with the occasional chocolate-y marocchino to remind myself that life is full of tiny pleasure is you take the time to enjoy them.
But, if you want a true chocolate coffee in Italy, then skip Starbucks and go directly to Torino for a Bicerin. Best with a chocolate sandwich, of course.
Have you ever tried a marocchino? Or do you have another favorite "secret" coffee that you like to order in Italy? In summer, I always switch it up with a shakerato.