Some Italian cities, such as Torino and Modica, are particularly well known for their sweet traditions. However, Rome also boasts its share of delicious chocolate shops. From carefully handcrafted candies that have been made in the same style for 170 years to edible shot glasses and dipped gelato cones, here is where to find the best chocolate in Rome.
Rome's most famous chocolate house is Said. The sweet factory has been around since 1923 and its post-industrial vibe in the San Lorenzo neighborhood is very cool. You can sit down to eat surrounded by vintage candy molds, or browse the counter to take away their craft chocolates. They also have an online store in case you can't make it to Rome to select your sweets in person.
Confetteria Moriondo e Gariglio
Moriondo e Gariglio is one of the most historic sweet shops in Rome. The creations are beautiful and timeless. This explains why the chocolate shop has stuck around for almost 150 years – after first moving to Rome because it was a favorite of the Savoy royal family. The shop assistants will be happy to help you curate a bag of filled sweets to take away. I would suggest picking out chocolate letters to spell out a loved one's name.
Frigidarium exploded in popularity once the guidebooks started writing about its chocolate covered gelato. It makes a mess but it well worth it for the delicious candy shell. Pick out your favorite flavor and then have it dipped in chocolate sauce. The molten sauce quickly hardens into a topping that shatters as you dig into the frozen dessert. The gelateria is located on Via del Governo Vecchio, one of my favorite streets in the city!
Why mess with a good thing? Chocolate is absolutely a great thing, so raw chocolate might just be the way to go if you want to experience it as nature intended. Grezzo makes totally vegan treats so you can indulge in a chocolate fix without any added animal products. There are stores in a few parts of Italy, but my favorite in Rome is in Monti. You can find gelato as well as candy style chocolates to box up to surprise someone with.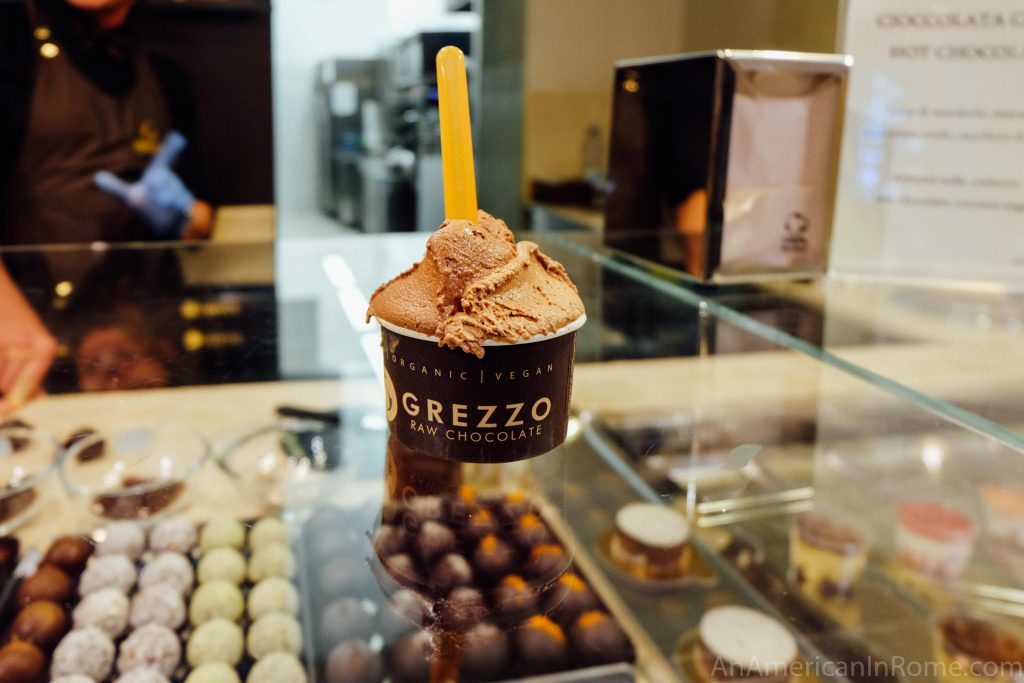 Want something a little more adult? Stop in for a quick shot and some innuendo at Cioccolata e Vino. The tiny bar sells used books but it is most famous for its drinks, which have slightly x-rated names. The drinks are all served in chocolate shot glasses, and you're encouraged to drink it all in one go, eating the delicious container at the end.
Looking for more food guides? Here is a guide to the best cheese shops in Rome, the best gelato in Rome, and finally my favorite restaurants in Trastevere.