Cheese is one of the big reasons I get up in the morning.
Aged? Bring it on.
New? Can't get enough.
Soft? Spread it on bread.
Hard? Eat it plain.
In my book, it is alllll good.
I have always loved cheese. I thought I knew something about cheese. And then I moved to Rome and I found out that there are hundreds (maybe thousands) of Italian cheeses that I have NEVER heard of.
Oh, there is so much cheese eating to be done in Rome. Let's make sure you do it right.
From tastings to wine pairings, from the humble to the gourmet – here are the best shops, restaurants, bars and markets to seek out if you want to dine on cheese during your next trip to Rome.
What to get: Everything. No? Ok. Um. Try a tasting. Put yourself in the hands of the servers and you will not be disappointed.
Beppe is a man after my own heart because he literally named his store "Beppe and his cheeses." That is basically the definition of living the dream, right?
In his wine bar and cheese shop in Rome's Jewish Ghetto you will find an amazing selection of treats from Piemonte. But it is the perfectly matched cheese platter pairing that makes this one of the best wine bars in Rome. And without a doubt it is THE best wine bar for cheese. The selection and the care that goes into stocking the shelves is amazing.
Want to find some cheese or foodie gifts to take home? Try the new Beppe location at Rome's Central Market (Mercato Centrale). You can pop in for a glass of wine and cheese platter before your train.
What to get: Burrata
Burrata is one of my favorite cheeses, and I didn't even know it existed before I moved here in 2010.  It is mozzarella cheese (yes, yes, always good) PLUS stracciatella and cream.  Cutting into burrata allows the cream to pour out, and leaves you with a deliciously rich soft, fresh cheese.
I adore burrata in appetizer form at Roscioli, where it is served with semi-dried tomatoes.
The concentrated sweet acidity of the tomatoes perfectly cuts through the creaminess of the fresh cheese.
Roscioli's carbonara is also incredibly cheesy, if you want to double down on cheese + bacon and eggs. Mmmmm.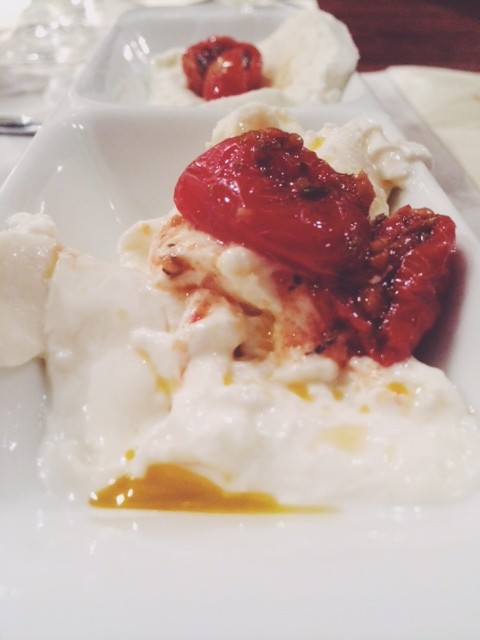 What to get: Cacio e pepe
Want a meal rather than a snack? Snap up some cacio e pepe. "Cacio" is dialect for local pecorino cheese. The cheese is grated over hot pasta with a bit of pasta water and the result is a creamy cheese sauce studded with freshly cracked black pepper.  Once you try a plate, you will never go back — that's why we rounded up where to find the best cacio e pepe in Rome — and it was Flavio who came out on top.
Volpetti (Via Marmorata, 47) and Taverna Volpetti (Via Alessandro Volta 8)
What to get: gourmet aged cheese to take home from the shop, or a cheese platter to enjoy with wine at the taverna around the corner.
Volpetti has been a Testaccio institution for decades. On a busy corner of Via Marmorata, the cozy gourmet shop is stocked with olives, meats, pastas and (of course) cheese. I always slow down to see what cheeses they have displayed in the window and sometimes pop in to treat myself to an 'etto' (100 g).  It is also where I head when I need a non-Roman Italian cheese like ricotta salata.
And while many are mourning the loss of the Volpetti tavola calda, I am digging its new incarnation as Taverna Volpetti.  Stop in for an aperitivo made up of small servings of different cheeses from the namesake shop just one door down. Ask the waiter and they will put together a tasting platter for you!
Il Goccetto (Via dei Banchi Vecchi, 14)
What to order: Caprese with oven dried tomatoes
Il Goccetto is another one of my favorite wine bars. I love the atmosphere, as well as the revolving selection of Italian wines by the glass.
However, another reason that I will always suggest Il Goccetto is because of the cheese dishes they incorporate into their menu. There is the apple salad with squeaky-fresh new cheese that is a classic standby when I pop in for something light.
Then there is my favorite dish: fresh mozzarella with oven dried tomatoes.  Much like the burrata semi-dried version at Roscioli – it is the combination of the two ingredients that makes the dish. The fresh mozzarella is perfectly complemented by the rich and savory baked tomatoes.  For me, this is the best way to enjoy caprese in the colder months.
What to get: Fresh cheese such as mozzarella or ricotta.
Oh oh oh, sweet Enzo and Lina.  They operate one of the most beloved stalls in the Testaccio market.
They have moved with the market, coming from the old location to the Nuovo Mercato di Testaccio with the same fantastic selection of cheese and ham.
Behind the glass and bobbing in liquid are fresh mozzarella (balls or braided) from the south.  Lina will also walk you through her selection of pecorino, or cut off a hunk of parmigiano. It is local shopping at its best and you must stop by for some small bit of cheese if you are ever in the market.
What to get: a bit of this and a bit of that to build your own sampling platter.
Ercoli, another Roman gastronomic institution, has recently been reimagined for a modern clientele. The shop originally opened in 1928, but was redone in late 2016. The updated space stretches into multiple rooms – comprised of a ready-to-eat counter, deli counters filled with cheese (YES), shelves of dry goods, a restaurant and a vermouth bar.
You can grab some crackers from the shelf, pick out a mix of quality cheese, pay and settle in for a fancy on-site picnic.
Trapizzino (Multiple locations)
What to get: Cacio e pepe supplì
If you have read this blog before, you have probably heard me wax poetic about Trapizzino. In fact, the man behind the counter at my favorite Roman snack shop told me that I came there "too often."
While I adore their pizza sandwiches, he usually sees me "too often" because I stop in as I pass by to see if they have any cacio e pepe supplì.  Like the pasta of the same name, these are made with pecorino melted down to the creamiest most sublime moment, and mixed with rice then fried.
FRIED CHEESE BALLS. Yep.
The shop may be officially called L'Antica Caciara, but everyone really just call's it Roberto's.  Roberto, the always smiling owner, stand proudly behind his rows of cheese in Trastevere. The shop's fame has placed it solidly on the Rome food tour map, but the attention is well deserved. Roberto's selection of cheese and meats, and his sunny outlook, have made him a neighborhood institution.
I mean — who wouldn't be happy if they got to deal with cheese all day?!
Did I miss any of your favorite Roman cheese shops?
Do you want to learn more about Italian cheese? I cannot recommend Eleonora's show highly enough. Find ABCheese on Sky's Gambero Rosso channel!