Living most of my life in Southern California, I never really experienced what people like to call "winter." I remember being so jealous of people who could actually wear pea coats. Pea coats were the cutest!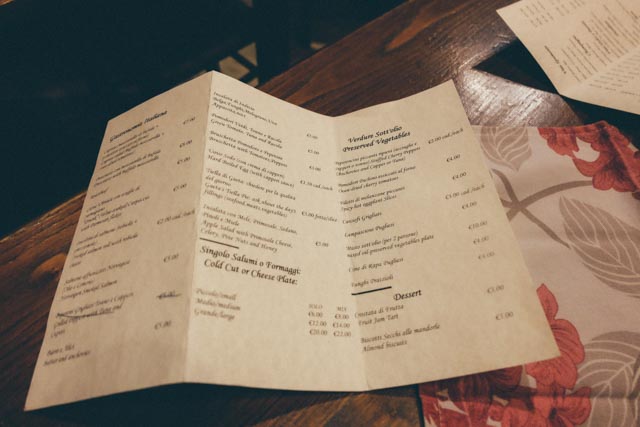 Since moving to Rome and acquiring my own winter accessories arsenal, I get it. Winter is cold.
All those coats and boots and scarves are still pretty cute, but I usually crave coziness when the colder weather sets in.
When that happens, we head to Il Goccetto, a tiny wine bar that feels like a little hug in the centro storico.
We order a glass, or a bottle if we have the time, and settle in to the very small space.
Il Goccetto also has a menu that offers small bites, not full meals. We had already had dinner, but if I see an apple salad with "new cheese" and pine nuts? Well, I am going to have to eat that anyways.  (I love the squeak of new cheese).
We usually order cheese and salami to enjoy with the great rustic bread.  Many people rave about the cipolline lampascioni which you should try if you are into (or even just curious about) sweet and sour mini onions.
One of the reasons that the small space feels even smaller is the wall-to-wall wine.
The bottles are stacked high above the tables, which is one of the reasons I love this bar.  Who doesn't want to be hemmed in by that much beautiful wine?
While it can make the place a bit dark, it all feels quite quintessentially Roman.
Plus, all that wine (800+ types) means an incredible selection, with bottles ranging from about €15 to morethanIcanafford.
The selection of wines by the glass is also extensive and listed daily on a chalkboard behind the bar.  The producers featured on the by-the-glass menu change monthly.
And if you happen to come in warmer months? Don't worry if the too few tables are already claimed. You can grab a glass and join the locals on the steps outside.
Bonus: Supplizio is just a few steps away.
Il Goccetto
Via dei Banchi Vecchi, 14
00186 Rome
Hours: 11:30 to 14:30 and 18:30 to 24:00
Closed: Monday morning and all day Sunday. No reservations accepted.