Let's be honest: I hear "Monti," then "gelato" and "chocolate" and my brain is like HELL YEAH.
Then I hear "vegan," and "raw," and the music ringing in my ears comes to an abrupt close. What? Vegan gelato in Rome?
Gelato is one of those things where I don't like to mess around.
But I was willing to risk Grezzo – Monti's buzzing raw chocolate shop.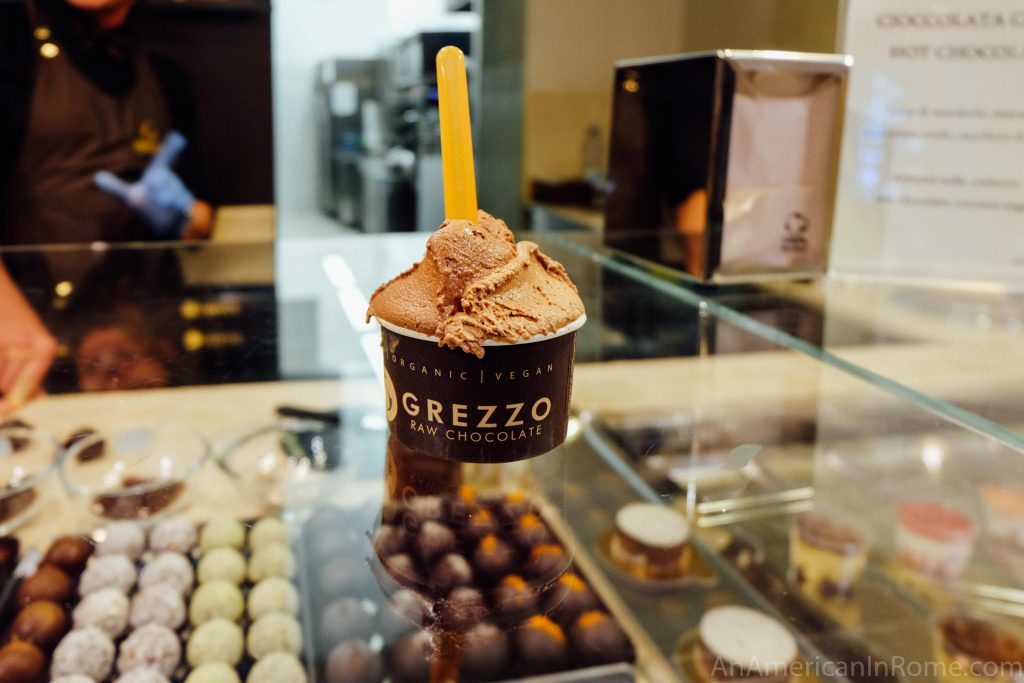 The shop is completely animal-product-free, which will please any vegetarians and vegans who are tired of Rome's offal heavy menu offerings.
The chocolates gleam like perfect orbs behind glass.
But I have a thing for gelato.
Grezzo's offerings skew towards cocoa, but there are also seasonal fruits to pair with a range of chocolate flavors.
I opted for coffee (my second love) plus the signature raw chocolate.
The gelato is deeply flavored and well done.
Kind of like the rest of the Grezzo shop – which is simple and chic.
Located on Via Urbana, Grezzo is on a picturesque street in Monti filled with cafes and motorini traffic.
I mean, for vegan gelato it is good.
For other gelato options, including non-vegan gelaterie in the same hood you can check out this list of the best gelato in Rome.
Grezzo 
Via Urbana, 130
Rome, Italy (Monti)
Open: 11 am – 11 pm everyday.