Tis the season for Christmas markets, holiday foods, and lots of decorations! December in Rome is a magical time to visit, with plenty of events planned to celebrate the yuletide season. If you are planning to visit, you should wander through some of the most beautifully decorated holiday areas and swing by a Rome Christmas Market.
Then, get straight back to event hopping.
Best December 2017 Events in Rome:
1-3 December: Tech innovators from all sectors will gather under one roof to share ideas and inventions as part of Maker Faire Roma. The event combines talks, workshops and demonstrations of everything from 3D printed food to wearable tech and everything in between. (In English and Italian).
2 December: Kick off the festive season with a Christmas dinner from the Irish Club of Rome. The four-course meal costs €45 and must be reserved in advance by emailing [email protected].
2 December: The Piazza Navona Christmas fair reopens. The square will have a carousel and some vendors with holiday goodies. Currently on hold due to a city debate over security costs.
3 December: Public museums any many sights (including the Colosseum) are free today because it is the first Sunday of the month.
3-4 December: Chorus Café is hosting "A Tutta Torba!," a full day (3 pm – 12 am) dedicated to smoky, peaty whisky with hundreds of labels to suit every taste, vintage and rare bottles to try at the Collector's Corner and a food area hosted by the stars of Roman street food, Trapizzino. Admission to the event is free and tokens for tasting can be purchased on site.
5 December: Unfortunately, there is a public transportation strike planned from 8:30 am until 5 pm, starting again at 8 pm until the end of service. Here is more information on Uber in Italy to avoid getting stuck. Postponed until 12 January.
6-10 December: Italian book lovers will find a haven at the Piú libri piú liberi conference in EUR. The event showcases books from smaller Italian publishing houses, as well as talks and workshops.
7 December: The Vatican's giant Christmas tree and nativity scene will be inaugurated at 4:30 pm on St. Peter's Square.
8 December: December 8th is a public holiday in Italy, so expect business closures and less frequent public transportation. In Rome, the Pope will be at the statue of the Madonna in Piazza Mignanelli next to Piazza di Spagna at 4 pm as part of the celebrations around the Feast of the Immaculate Conception.
9 December: Support a great cause and finish some holiday shopping with a trip to the Joel Nafuma Refugee Center's Christmas market. The market will be held at St. Paul Within the Walls from 12 pm to 5 pm. More information is here.
10 December: The Basilica di Santa Maria degli Angeli e dei Martiri will become the lovely setting for a traditional evening of Swedish carols and music by the Santa Lucia choir. The church performance takes place at 10:30 am, and the choir will perform again in Piazza di Pietra at 6 pm that night.
10 December: Latteria Studio in Trastevere is hosting its annual Christmas Pop-up Kitchen. Sofie is baking Danish Christmas cookies, with other goodies for sale, including Danish aebleskiver from Domenico all day. Carla is bringing homemade Christmas cakes, jams and marmalades, while Alice is making mince pies and selling Christmas marmalade from Marmellate Solidale. Some items should be ordered ahead (with contact information in the flyer below).
12 December: Celebrate Chanukah with the lighting of the menorah in Piazza Barberini at sunset.
13 December: Patti Smith will perform a unique concert reading at Rome's Teatro dell'Opera titled "Homage to Rome." Her spoken words will be accompanied by her daughter on piano. More information and tickets are here.
16 December:  You can join The Eatery in Rome for a lovely Christmas pop-up dinner on Saturday, December 16th. Email [email protected] for reservations at their beautiful holiday table.
16 December: Love telling and/or hearing great stories? Storytellers Rome is gathering to share some tales about "It's All Relative" at 7 pm at Caffe Fondi.
17 December: The Almost Corner Bookshop in Trastevere is hosting festive drinks to celebrate the holiday season from 6 pm – 8:30 pm. Stop in for a glass of bubbly and support a local shop by taking care of some last minute Christmas shopping. 10% of the day's proceeds will go to charity.
24 December: The steep steps of the Aracoeli church will be illuminated with candles as part of the Christmas Eve service.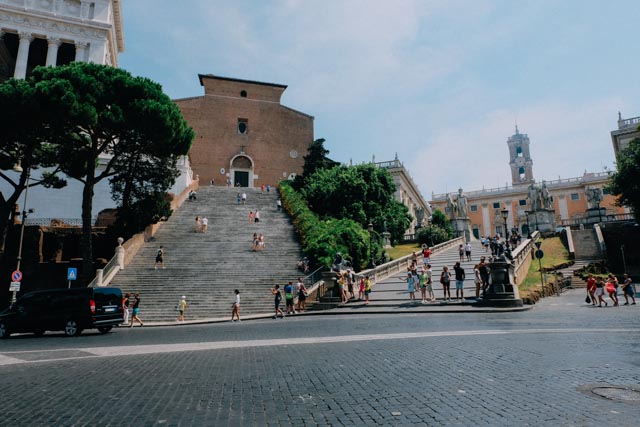 21-31 December: The Roma Gospel Festival will bring 10 days of music to the city in late December. The choirs, many from the United States, will perform at Auditorium Parco Della Musica for the 22nd edition of the festival. Tickets and more information are available here.
Ongoing December Exhibits in Rome:
Picasso – Between Cubism and Classicism 1915-1925: To celebrate 100 years since Picasso's 1917 trip to Italy, the Scuderie del Quirinale is hosting 100 works completed by Picasso between 1915 and 1925. The show, which includes many of Picasso's cubist paintings, will run through January 21, 2018. Here is a review of the show on the blog.
Monet: Impressionism more your style? The Vittoriano will have 60 works from Paris' Musée Marmottan Monet on display through January 20, 2018.
Enjoy: An exhibit of installations at Chiostro del Bramante are currently on show to highlight "where art meets fun." ENJOY runs through 25 February 2018.
This post will be updated as more information on December Events in Rome becomes available. 
Still looking for more? Try my post on things to do in Rome in winter.