Rome is a city of terracotta colors. In summer, the citrus-colored buildings feel baked. But winter in Rome is a bit different. As the temperature drops, the same peeling patina appears less sunburnt but still reflects a Mediterranean warmth beneath occasionally gray skies.
But even in the winter months (December, January, and February), you can be graced with brilliantly blue days and crisp sunshine.
I've written about when to visit Rome, with a month-to-month guide about what to expect. Conclusion: there's no bad time to visit the Eternal City. And winter in Rome specifically? There are plenty of reasons to see the Italian capital in the season.
Here are 11 things to do in Rome in winter:
Holiday decor: December is one of my favorite times in the city because the Christmas decorations are up in Rome. Tiny cobblestone alleys are strung with tinkling lights and the major shopping streets are transformed into a Roman wonderland. I always look forward to seeing what the major Made In Italy brands will come up with for their holiday decorations – and this year Maison Valentino stole the show with a twinkling facade. The lights make the city feel cozy despite cooler weather.
Join the celebrations: With the Vatican down the road, Christmas is a pret-ty big deal in Rome. But Rome celebrates beyond December 25th. On New Year's Eve, concerts take place through out the city and fireworks light the sky over the Colosseum. Early in the new year, the celebrations start again for the Epiphany on January 6th, when La Befana brings gifts to children. Then, in late January and February (depending on when Easter falls) you'll see children in costumes take to the street. Piazzas take on a semi-permanent layer of confetti as informal parties start to celebrate carnevale. It culminates in a parade and acrobatic show in Piazza del Popolo.
Ice skate in the center: It does occasionally snow in Rome. However, even the temperature is more likely to stay comfortably above freezing. BUT you can still experience winter activities in Rome and take advantage of ice skating outdoors in December and January. Ice rinks can be found next to Castel Sant'Angelo, in Testaccio at the Città dell'altra economia, as well as at the Parco della Musica.
Snack on roasted chestnuts: after a bit of skating or a passeggiata (stroll) to see the holiday lights, warm up with roasted chestnuts in a scenic spot. Sellers can be found hawking arrostocalde by the Spanish Steps, outside the Orange Garden, near Piazza Navona and on many of the corners in between.
Avoid the queues: fewer visitors means less competition to see some of Rome's most famous sites. If you are planning to pay homage at major landmarks like the Colosseum or the Vatican museums, you'll find it easier to make online reservations and potentially even possible to show up without tickets and stand in a line for less time. That means more precious hours to spend on other Roman activities (and in Rome restaurants), no?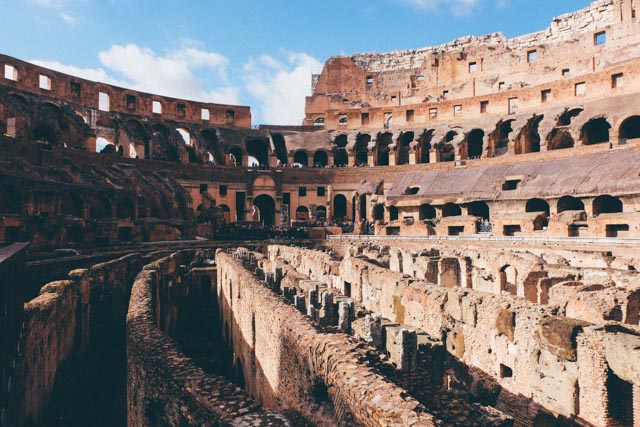 Explore a palazzo and a church (or two): if the weather ever does turn sour, Rome has some amazing indoor activities that are perfect for winter. Wander the art filled halls of Palazzo Barberini or Palazzo Braschi to see the classical contributions to the artistic canon. Or, join Personalized Italy for a tour of what you might otherwise trample all over: the floors. Cosmati floors to be precise. The visit to lesser known churches and behind the scenes access to the exquisite mosaic-like groundwork is a perfect stop in colder weather.
Skip the traffic: With less tour buses to maneuver, Rome's choreographed chaos of traffic slows momentarily. On a sunny winter day, it's the perfect excuse to hop on a Vespa and see Rome by scooter. A two-wheeled tour of Rome is one of the best ways to explore farther flung neighborhoods in style. And even if you feel you know the city, you can see it in a new light with scooter tours that focus on revealing hard-to-find public masterpieces of street art, or the cinematic history of the Eternal City.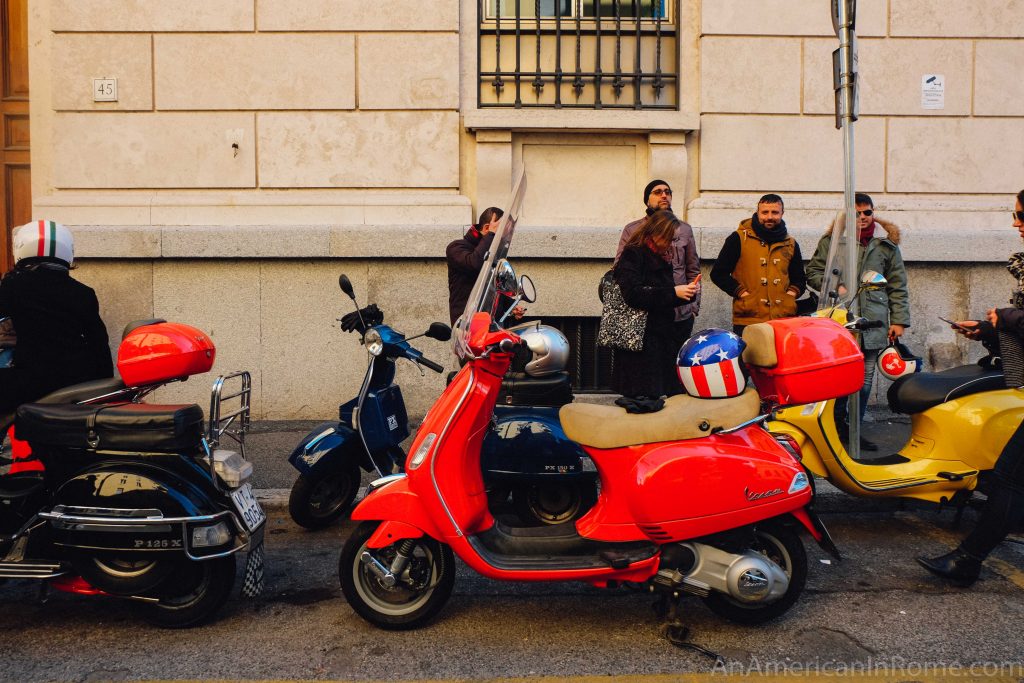 Visit covered markets: Colder weather doesn't mean the markets stop. On the contrary, Rome's fresh markets are bursting with seasonal produce.  While some markets  (like Mercato San Cosimato) are outside, others like Nuovo Mercato di Testaccio are perfect in sun, rain, sleet or snow.  The covered but light-filled market has a range of dining options or you can stop by the butcher, the baker, and the cheesemaker to pick up everything you need to create an Italian meal at home.
Sample seasonal cuisine: I always recommend the markets because Roman eating is seasonal eating. While you can't find any Nemi strawberries in winter, you will find citrus, artichokes and mushrooms a-plenty.  If you don't want to spend time in a kitchen yourself, head out to Rome's restaurants to sample the winter bounty.  I recommend the cheese-filled fried artichoke at Renato e Luisa's for starters.
Take advantage of lower priced accommodation: High season comes with higher prices. With less competition for rooms, you can get an amazing deal on accommodation during the winter months in Rome. That can make a huge difference considering how much of your budget a hotel can eat up. Want to save even more? A perfect (and super friendly) homebase in Rome is The Beehive and the family-run hostel is offering an additional 10% off if you use the code AnAmericanInRomeWIR for bookings in November through February. This is a great deal and there is no minimum stay (but 31 Dec and 1 January are excluded).
Hit the sales: speaking of deals – January is also when Italy launches its winter sales or saldi. Sales are closely regulated and only happen twice a year. So if you're looking for a deal on Italian leather boots or a chic made in Italy coat, the winter sales are the perfect time to treat yourself.
Still looking for more? Here are all my favorite things to do in Rome in every season.
Many thanks to Linda of the Beehive for organizing an amazing #winterinrome event!