I am a bit biased, but I don't think there is really a bad time to go to Rome. However, I completely understand why there are pros and cons of when to go to Rome at any time of the year.
Except maybe August. August wouldn't be my favorite time to visit Rome, so I can't come up with that many pros… but to each his own.
Every season has its pros and cons when it comes to when to visit Rome. If you want to come when the city is fairly empty in terms of visitors, then you risk having to deal with less ideal weather. If you are hoping for sunny skies, you might be waiting longer in line to see the sights.  The choice is yours.
When to Go to Rome – Month by Month
January in Rome:
January can be fairly damp and cold. The trees are bare and the river often rises thanks to the rain. Redeeming feature? Artichokes. Because I can't exactly hibernate, artichokes give me a reason to get dressed and leave the house. One major holiday in Rome to be aware of: 6 January is the epiphany – a national holiday when businesses close and children celebrate by getting gifts from La Befana – Italy's friendly Christmas witch. The holiday marks the end of the Christmas season in Rome and the beginning of the sale season in Italy.
Average temperature in Rome in January: 8 °C or 46 °F
Check Rome hotel prices in January.
February in Rome:
February is when I really feel like I am from San Diego because I can't understand how it is still cold. February is usually rainy, but manageable. Because the holiday season has just ended, prices for accommodation are likely lower than most of the year. Shops are open and the markets are full of cold weather comforts. There are no major holidays you need to worry about, so pack a warm jacket, as well as some waterproof shoes, and get out there.
Average temperature in Rome in February: 9 °C or 48 °F
Check Rome hotel prices in February.
March in Rome:
In Italian, there is a saying that "March is crazy," – marzo è pazzo. That holds true when it comes to the March weather in Rome.  Certain days will feel like spring, and just when you start to believe the sunshine might last, you will be caught in a torrential downpour.  Depending on how early Easter falls, you may have more crowds around the Vatican, but otherwise, the city is navigable.  You could very well get lucky with the weather but you will still likely need a light coat and a small umbrella.
Average temperature in Rome in March: 12 °C or 54 °F
Check Rome hotel prices in March. 
April in Rome:
April always gets my hopes up. The greenery starts to reappear and a few flowers spout up. However, the nights are still cool.  If Easter falls in April, expect pilgrims to make their way to the Vatican and crowd Metro A. During spring break season (and weekends in general) you'll find the Colosseum and other central monuments starting to fill up with European travelers. Major holidays to be aware of include 21 April – Rome's birthday. Rome and I are both April-babies, so I say come out and celebrate.
Average temperature in Rome in April: 14 °C or 57 °F
Check Rome hotel prices in April.
May in Rome:
May in Rome is glorious. The city is bursting with color. The leaves are fully back on the trees and pots of bougainvillea line the Spanish Steps. May 1st (Primo Maggio) is labor day in Italy and a major holiday that may close some businesses. On the upside, almost everyone is out and about and the city plans a free concert at San Giovanni. May days are warm without being stifling. It is the perfect time to picnic in Circo Massimo. After you finish up, pop into Rome's rose garden that will be open for a limited time during the month of May.
Average temperature in Rome in May: 21 °C or 70 °F
Check Rome hotel prices in May. 
June in Rome:
The thrill of May's welcome warmth is fleeting. By the end of June, I am usually starting to cross the street to stay in the shade as the temperatures rise. But the city feels alive. Summer is so close you can taste it. (And I quite literally start frequenting Rome's best gelato shops as much as possible). Summer concerts start up again and all of Rome is in a good mood. The downside is that everybody knows it, so accommodation prices start to rise and the buses are more crowded. Good luck out there!
Average temperature in Rome in June: 23 °C or 73 °F
Check hotel prices in Rome in June. 
July in Rome:
July is one of the best months in Rome if you want to enjoy some of the outdoor events like cinema in the piazza or concerts in Teatro Marcello. Oh! And the opera at the baths of Caracalla! There is SO MUCH TO DO IN JULY! I absolutely love it.  Yes, yes, it's hot. And there will be longer lines at the major Rome attractions, but pick up a Rome City Pass and skip the queue. Then be ready to spend the long evenings lounging around rooftop bars or grab a glass of wine outside Il Vinaietto and watch the bella figura parade. My god, isn't it good to be alive? (That's what I repeat to myself as I skip through the city… slowly. Because it's hot).
Average temperature in Rome in July: 26 °C or 79 °F
Check hotel prices in Rome in July.
August in Rome:
August is probably my least favorite time to visit Rome.
There is no way to put this delicately – it is hot as balls.
Ok, I could maybe have described that more politely?
But Rome really does feel like a furnace in August and you should not expect too much functioning AC. However, I can just move more slowly if heat is the main issue. August in Rome is a time of closures. Romans head for the beach and close restaurants and shops for weeks on end. I would recommend the first two weeks of August is you really need to come to Rome this month. Otherwise, wait until early September if possible. Major holidays to be aware of: 15 August which is Ferragosto – the feast of the assumption.
Average temperature in Rome in August: The internet claims that the average temperature in Rome in August is in the high 20s to which I say: hahahahahaha! No, it is in the 30's °C (90 °F) and it can reach 40 °C – over 100 °F
Check hotel prices in Rome in August.

September in Rome:
While August can feel dead quiet, the Romans return for lovely September. Buses and trams are full as residents head to work and school, but the city bids adieu to most of the summer travelers meaning we all have a bit more breathing room outside of rush hour. September can still be very warm in Rome, but the evenings start to offer the tiniest respite (but don't think you need a jacket or even that you will be able to comfortably break out the jeans quite yet).  The museums are usually offering new shows post-summer, making September a great time to come to Rome.
The average temperature in Rome in September: 22 °C or 72 °F
Check Rome hotel rates in September.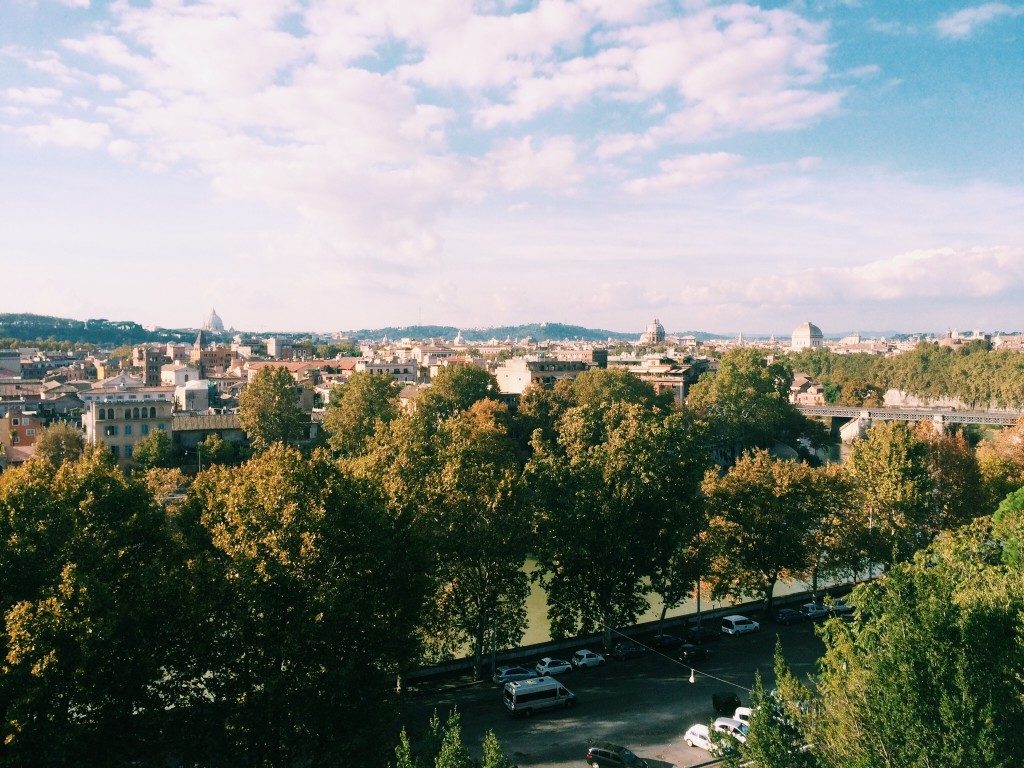 October in Rome:
October is probably my favorite time to go to Rome.  The days are usually still warm, but the nights are starting to have a bit of a bite to them. The chestnut sellers (who no longer seem to pack up their stalls, even in summer) are a welcome sight once more. Even though the days are getting shorter, the sunsets seem to get longer. I like to wander up to Rome's Orange Garden to soak in a few more rays of light, before running for shelter from the starling birds that literally flock to the city during this season.
Average temperature in Rome in October: 18 °C or 64 °F
Check Rome hotel rates in October.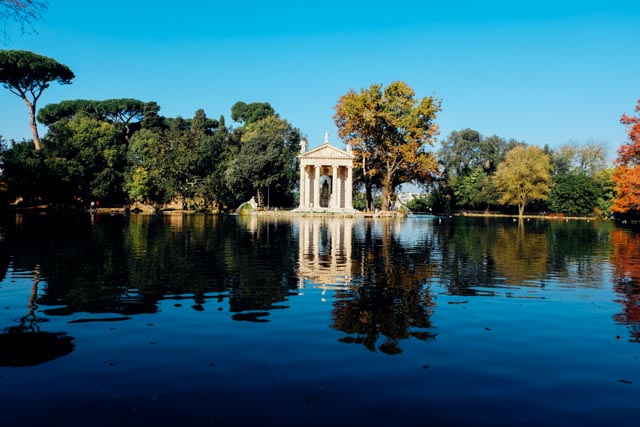 November in Rome:
I associate November in Rome with plenty of rain. The leaves fall from the trees and the honey-colored buildings seem to lose some of their sunburnt feeling. However, this past November was exceptionally mild and we sat outside sipping wine in the sun around the city. You do being to feel the cold creeping in, but add an extra layer and you will be fine.  This is the time of year when carrying an umbrella starts to be advised, but it shouldn't stop you from visiting.
Average temperature in Rome in November: 13 °C or 55 °F
Check Rome hotel rates in November.
December in Rome:
By the time December rolls around, Rome is feeling decidedly festive. It hasn't snowed in Rome since 2011 – but since I have lived here it has snowed twice and one time was in December. I count snow in Rome as a pro, rather than a con because the Trevi Fountain in the snow is really something else. There will be a flurry of shopping activity in the center but nowhere near the crowds of summer.  Keep in mind that December 8th is a major national holiday. Expect closures on Christmas day (25), as well as 26 December (Santo Stefano).  Some businesses will close for the whole week between Christmas and New Year's, and many will only open for half a day on New Year's Eve. However, the city is so charming, you can wander through the cobblestone streets strung with lights and then cozy up in one of Rome's best wine bars for a perfect evening without the crowds.
Average temperature in Rome in December: 10 °C or 50 °F
Check Rome hotel prices for December.
Did I miss any tips that you have for when to visit Rome?
Oh, and regardless of the month, if you want to what is happening in Rome while you are in town, I always post a calendar of events at the beginning of the month.
Regardless of when you decide to come to Rome, there are things to do and amazing places to eat.