It is impossible to talk about food in Italy without talking about pasta. There is dried pasta, and fresh pasta, in hundred of shapes with a range of toppings. So where, exactly do you find the best pasta in Rome?
That depends on what pasta dish you want to eat. There are four classic Roman pastas: carbonara, cacio e pepe, amatriciana, and gricia. While you can, of course, find these pastas outside of the Eternal City, this is really where they are from and where they should be enjoyed if you want the chance to sample literally the best versions in the world.
Federico Fellini once said that "Life is a combination of magic and pasta." Well, Roman pasta is a magic combination of guanciale and pecorino. Add or take away a few ingredients, switch out the pasta shape, and you have one of the iconic dishes.
In addition to the classic Roman kinds of pasta, there is also gnocchi (traditionally eaten in Rome on Thursdays). As the capital city in Italy, you can also find fantastic versions of other regional Italian pasta specialties at some of the restaurants around the city. If you are craving ragu or ravioli, have no fear! You can eat those plates of pasta in Rome as well.
Best Pasta in Rome
Carbonara
Carbonara is the king of pasta in Rome. A silky sauce made from egg (or egg yolk), thickened with salty pecorino cheese and punctuated with crisp guanciale and black pepper, carbonara is a dream when it is made well. Despite what some foreign cookbooks might claim, there is absolutely zero cream in carbonara, the creamy texture comes from the egg and cheese, and the skill of the chef who prepares it. Carbonara is almost always made with dried pasta, with my favorite shape being rigatoni. The shorter tubes are best for catching the sauce – which should be bright yellow from the egg yolks. You will often find it made with spaghetti, as well.
There is lots of debate about the origins of the pasta, with a favorite myth claiming that it was invented in Rome in the wake of WWII when cooks had to find a way to creatively use the rations of eggs and bacon that were supplied to American soldiers based in the city.
A badly cooked carbonara will mean scrambled eggs clinging to your pasta, so it is more than worth seeking out the smaller restaurants that turn out fantastic versions. However, because the egg is slightly undercooked, this is one of the things you can't really eat while pregnant in Italy.
Where to eat carbonara in Rome: Roscioli; Lo Scopettaro; Perilli; Luciano Cucina Italiana.
Cacio e Pepe
Cacio e pepe is a pasta that is bewilderingly good when you consider that in only has two real ingredients. The vegetarian pasta dish is made with pecorino cheese ("cacio" in Roman dialect) and black pepper (pepe). That's it. The creaminess of the sauce comes from the speedy emulsification of the of grated cheese in a tiny bit of cooking water. Some places cheat and use butter to get the silky texture but it is not needed or traditional. The black pepper helps to balance out the sharp saltiness of the sheep's milk cheese.
Cacio e pepe is the only Rome pasta that you can regularly find made with fresh pasta instead of dried. While spaghetti is common, you will often see tonnarelli (a long pasta that contains egg) used instead.
Where to eat cacio e pepe in Rome: The best cacio e pepe in Rome is always up for debate so you can read the full guide for 10 places to try it. Top picks include Flavio al Velavevodetto; Cesare al Casaletto; Felice a Testaccio (which will actually prepare the dish tableside).
Amatriciana
Amatriciana comes from the Lazio town of Amatrice, which was devastated by an earthquake a few years ago. Despite its mountain-top origins, the pasta has been thoroughly claimed by the city of Rome (and contested by the neighboring region of Abruzzo). Amatriciana features a tomato-based sauce that includes crispy guanciale (aged jowl bacon). It is topped with pecorino cheese and black pepper, those two other critical Roman pasta ingredients. Some restaurants leave the guanciale a bit flabby, but I prefer it as below. The use of rigatoni pasta is common because it is all the better for scooping up the sauce. Naturally, you can and should fare la scarpetta to savor the last bit of sauce.
Where to eat Amatriciana in Rome: Grappolo d'Oro; Trattoria Vecchia Roma (which does a smokey flambe version that involves lighting a wheel of pecorino cheese on fire).
Gricia
What is carbonara without the egg? Pasta alla gricia. To make the pasta (which often uses spaghetti), the guanciale is sauteed in a pan. The jowl bacon gives up some of its fat, and when the cooked pasta is added to the pan, it becomes slicked in the flavorful drippings. Add pecorino cheese and black pepper and you have gricia, a bacon-and-cheese pasta that is indulgent without ever feel like too much.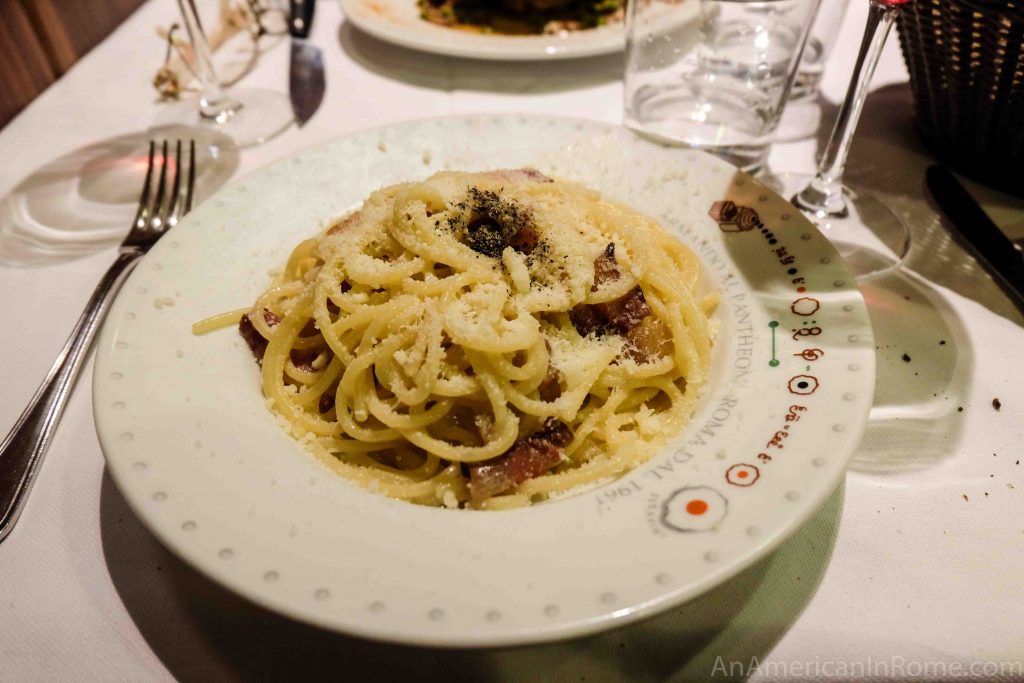 Where to eat pasta alla gricia in Rome: Armando al Pantheon; Da Oio a Casa Mia.
Cozze e Pecorino
Cheese and fish are two ingredients that are rarely paired in Italian cooking but they come together beautifully in cozze e pecorino – a pasta dish with mussels and pecorino cheese which originates from the seaside towns outside of Rome. You will see it on the menus in late spring and summer and it is a great local alternative to spaghetti alle vongole (spaghetti with clams).
Where to eat cozze e pecorino: La Torricella; Mastro Papone.
Non-Roman Pasta in Rome
Arrabiata
Vegetarian or even vegan? Arrabiata is the way to go. The word means "angry" and is used to describe the spicy tomato sauce that covers the pasta. Arrabiata is often one of the cheapest dishes on the menu if you are on a budget because there is no cheese or meat in the pasta at all – simply tomato sauce, sometimes flavored with a bit of garlic, but always liberally spiced with dried red pepper flakes.
Spaghetti al ragù
"Spaghetti Bolognese" doesn't exist, but the term is usually being used to describe pasta with ragù – a dish that traditionally comes from Bologna. There is one regional restaurant near the Trevi fountain that makes all things fresh pasta extraordinarily well: Colline Emiliane.
Ravioli
Ravioli is a fresh, filled pasta that is more common in northern Italy than it is in Rome. However, you can find the dish in several Roman restaurants that specialize in homemade pasta. Be sure to check the menu carefully because if you see a little * listed next to the dish, it is more than likely frozen. One of the best places to have ravioli in Rome is at Trattoria Monti, a small family-run restaurant that does an unbelievable egg yolk version. Caffe Propaganda, near the Colosseum, also regularly has gourmet versions of ravioli on the menu.
Anything Pasta at Marigold Roma
Domenico, who is one of the co-founders of Marigold Roma along with expert baker Sofie, is my favorite pasta chef in Rome. His recipes are always based on the seasons but usually offer a twist on the traditional. My favorite in recent memory was a fava bean and pecorino pasta, but I promise that whatever is on the constantly updated menu will be worth trying. At least one pasta dish is usually on the lunch menu (Tuesday – Friday) or dinner menu (Friday and Saturday only).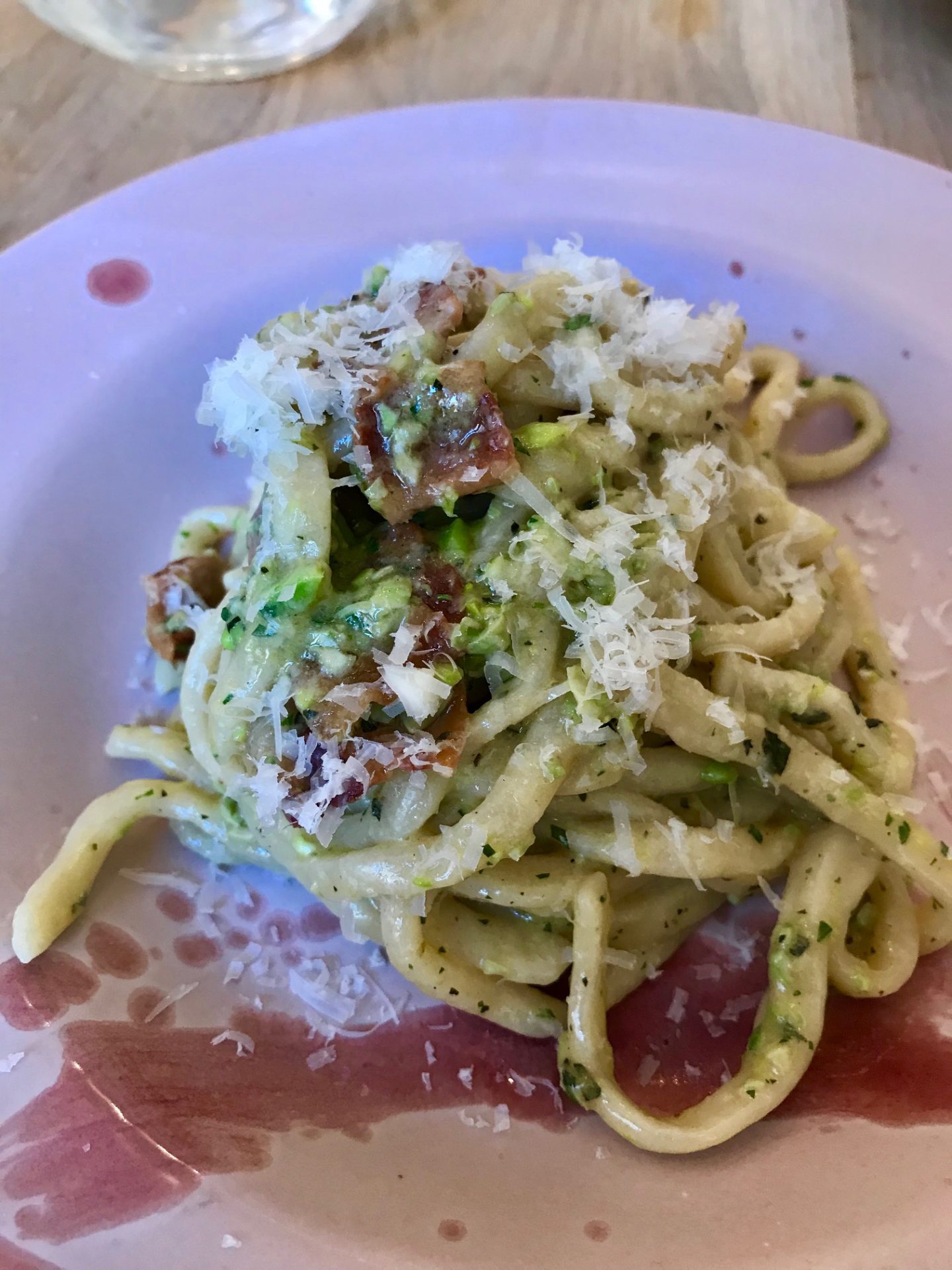 So… what was the best pasta in Rome that you ever ate?
Hungry? Here's how to make a restaurant reservation in Rome (and why you definitely need one).