The thrill and the tragedy of expat life are one in the same: you are not from here.
The irresistible draw of "not-from-here" is what drives many to travel or settle abroad.
When you are an expat, you can take pride in your not-from-here-ness. You wear it like a badge of honor. You revel in it. You embrace the new experiences and drink up the anomalies of your adopted land.  You are not from here, but you choose to be here, and that is fabulous.
The tragedy of expat life is that you are not from here.
In being here, you are (by definition) far away from the friends and family who are there.  They are just a phone call away- but that phone call might need to traverse 6,000 miles and 9 different time zones.
So, while you try to grasp at the undercurrent of cultural references, not wanting to admit you are barely bobbing along on the surface, you find other people who are in the same boat. You rely upon them for moral support because they understand what it's like to not be from here.
This leads me to the simple truth that I have been trying to deny: when you're not-from-here, sometimes you don't stay here.
And so, on the occasion of an impending move, we gathered at Le Mani in Pasta to toast a dear friend on the eve of her new adventure.
We opted for family style: two primi (pasta, naturally) for four people.
The gnocchi alla radicchio had a smooth start with radicchio's signature bitter bite.
The vermicelli con moscardini e carciofi cried out intriguingly from the chalkboard of daily specials.  In reality, the interesting combination of octopus  and artichoke fell a bit flat.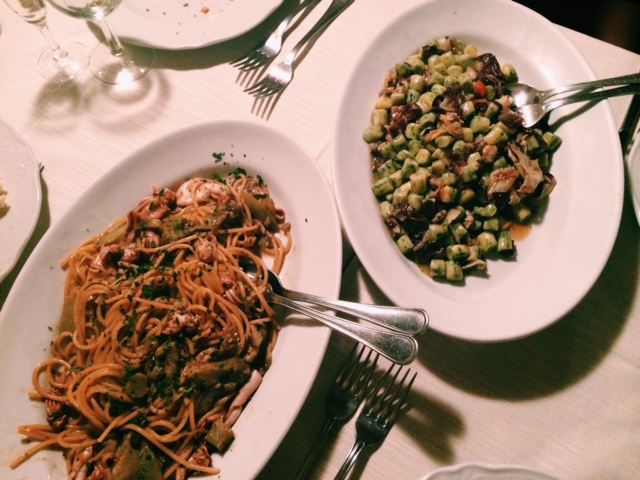 But the beauty of goodbyes is that they offer an excuse for indulgences, which is how we found ourselves faced with the grilled shellfish platter.
Scampi. Langostino. Lobster. Delicious.
Grilled simply. Sprinkled with bread crumbs. Served with lemon.
The secondo made up for any missteps with the primi. In all honestly, any disappointment in the pasta was probably the result of us being swayed by specials rather than sticking to classic dishes. Besides, good customer service goes a long way in a town like Rome, and the service at Le Mani in Pasta was excellent.
I'll be going back.
I'll go back to try more pasta. To order more fish. To toast the good times. And to drown any sorrows in plates filled with carbs.
Le Mani in Pasta
Via dei Genovesi, 37,
Rome (Trastevere)
+39 06 581 6017