Full disclosure: I am writing this while wearing leggings and a tank top that reads "foods before dudes" and a glass of wine in hand because it has been a long year and I am tired.
Not tired in a bad way, but I just plum wore myself out.
I said yes to everything – including blogging and writing while keeping a full time job.
It has been a challenging year, but a great one, so I want to thank you all so much for your kind emails of encouragement and your comments. But most of all, thank you for reading the blog.
Looking back on 2016, there have been more than 200 posts. Mostly about Rome. (That seems crazy, but like I said – it has been an interesting year and I have a lot more to say in 2017).
Out of those 200+, here is a look back at the most popular blog posts about Rome:
10. Best books about Rome: This was one of my favorite posts to research because I love to read. Each of these books, from cookbooks to fiction, is written in a completely different style. However, the star of each is Rome. I highly recommend any/all of them, which is why I included the list in my round up of Roman gifts.
9. 6 things I have learned from 6 years in Italy: Looking back, sometimes don't know how I managed to pull off a move to Rome. It was challenging, but where there is a will there is always a way. The move itself taught me a lot about what I could achieve, but it has been the time spent in Italy that has truly changed me. To celebrate my six year Rome-aversary I rounded up what the years abroad have taught me about this city but also about myself.
8. 10 quotes about Rome that perfectly capture the Eternal City: Whenever I am struck down by writer's block I like to wander around the city. The winding cobblestone lanes and domed skyline have inspired generations of artists. Being a lover of words, I tracked down some of my favorite Rome-related quotes.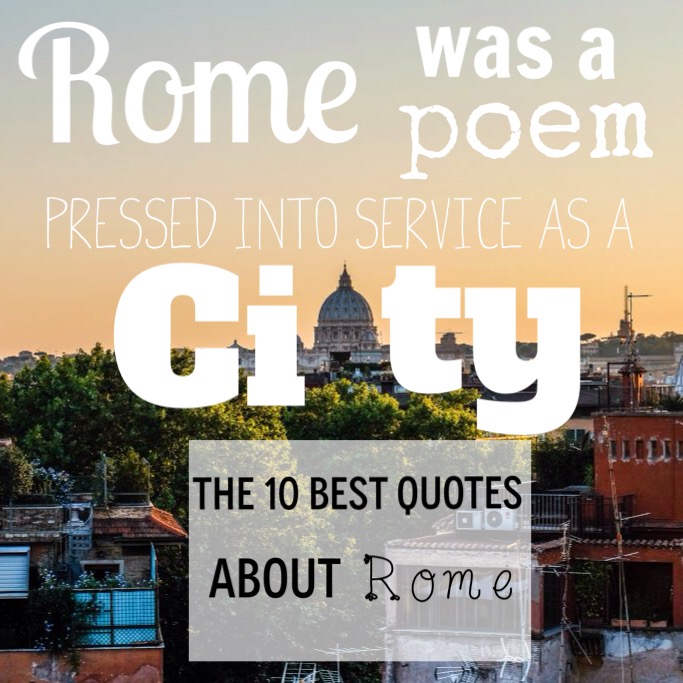 7. Rome's central market: Mercato Centrale Roma opens at Termini Station: It is really hard for me to say anything nice about Rome's main train station. I truly dislike it. Truly. However, the addition of a new central market is pret-ty dang good. The mercato centrale is situated away from most of the overwhelming hubbub of the station and is absolutely buzzing with its own energy. It is a great option for finding some of my favorite Roman foodie recommendations under a single roof. Think of it as a fancy food court and you will leave happily well-fed.
6. Italian toilets, or going to the bathroom in Rome: Sometimes I walk into a bathroom at a restaurant or bar in Rome and I think: Nope. I just can't. They are RIDICULOUS. There seems to be a national obsession with ripping the seats off, and if you are looking for toilet paper you can forget it. I took the approach of documenting these terrible restrooms, much to Jimmy's dismay. He never understood why I had so many photos of toilets on my phone, but I am clearly not the only one who finds Roman bathrooms to be a laughable matter. (P.S. I laugh so I don't cry).

5. 8 reasons why moving to Italy made sense, financially: A lot of people ask how they can afford to move to Italy. When I first moved to Rome, I spent ALL my savings. I was in graduate school, not working full time, and enjoying the luxury of living alone. I paid for that with every last penny I had. This post, about the cost of living in Italy and the financial tradeoffs that you have to make, was one of my favorites to write because it required a level of introspection that made me realize I really am happy with the choice (even if it means I don't own a car or a house).

4. Best gelato in Rome: As a kid, I never really got excited about ice cream. I was always more of a candy girl, myself. However, living in Italy has opened up a world of gelato and I know that there is absolutely no turning back. I eat a lot of gelato. More gelato than I should, I'm sure. But the icy treat can be so so good on a hot day. (But no joke, I tried to go to Gelateria Corona after getting a glass of wine last week and I would have had my December gelato if the shop had still be open for the night!). This post of the best gelato in Rome was the culmination of years of tasting Rome's extensive gelato offerings, with a handy little map to guide your way.
3. How to spend 48 hours in Rome like a local: I get it. I know that you really do have to see the Colosseum, and potentially swing by the Vatican as well when you come to Rome for the first time. The Pantheon and the Trevi Fountain? Yep, those are also major monuments that can be found smack in the center of Rome. However, I am a major proponent of getting out there and experiencing Rome like a local. This guide is perfect for a weekend in Rome when you have seen the sights but want to get a feel of what it is like to navigate the city like a Roman. (Or at least like a Rome transplant like meeeee).
2. The 10 commandments of cooking pasta like an Italian: One night, as I was cooking a quick dinner, I realized that Italy has changed the way I operate in the kitchen. There are so many unwritten rules about how to do this and non si fa that. Some of the rules make sense, others are nonsense. However, rules are rules! And it came to me that these rules are followed with almost biblical precision. Thus, the 10 commandments of pasta were born while I waited for my water to reach boiling point so I could add the salt. I was giggling to myself so much while writing them that Jimmy had to come check to see if I was ok, so I am very glad that some of you also enjoyed this one!
1. 7 best places to eat in Rome for seriously cheap: I blame the success of this post on a slightly popular pinterest pin, but it could also be due to the fact that eating on a budget in Rome is one of my favorite things to do. I ranted about a stupid overpriced outpost recently because I hate places that make food or drinks out of reach to most residents and visitors. You really can eat well in Rome for less than €5, so I hope you have had a chance to sample all of these cheap eats for yourself!
There you have it. The most popular Rome blog posts of 2016.
Are there any other posts that you enjoyed this year?
Some things that you would like to see more or less of?
I would love your feedback so that I can create more of the blog posts that you want to read next year. If you have a moment, you can take the 2-minute survey here.