Sometimes, you just can't find the right words to describe Rome.
The beauty of the Eternal City, the chaos, the mismatch of elegance and decay that is around every corner.
Luckily, Rome has attracted some of the best creative thinkers of the last last centuries (or millenia). The city inspires awe, and many of have written of its charms.
With that in mind, here are the best quotes about Rome:
"If we could be reborn wherever we chose, how crowded Rome would be, populated by souls who had spent their previous lives longing to inhabit a villa on the Janiculum Hill"
– Francine Prose, American Writer
"Rome was a poem pressed into service as a city."
-Anotole Broyard, American writer
"Rome is the city of echoes, the city of illusions, and the city of yearning."
-Giotto di Bondone, Renaissance painter
"Rome will exist as long as the Coliseum does; when the Coliseum falls, so will Rome; when Rome falls, so will the world."
-Venerable Bede, Saint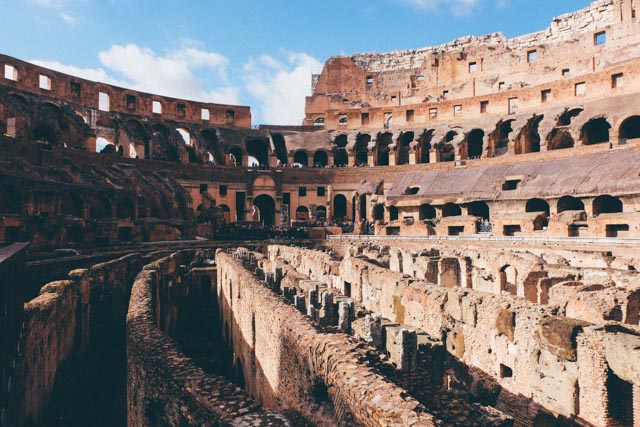 "Italy has changed. But Rome is Rome."
-Robert De Nero, American actor
"Oh Rome! my country! city of the soul!"
—Lord Byron, English Poet
 
"Rome – the city of visible history, where the past of a whole hemisphere seems moving in funeral procession with strange ancestral images and trophies gathered from afar."
-George Eliot, pen name of Mary Ann Evans, an English poet
"When thou art at Rome, do as they do at Rome."
-Miguel de Cervantes, Spanish writer
"I found Rome a city of bricks and left it a city of marble."
-Augustus, Roman emperor
"Italy will never be a normal country. Because Italy is Italy. If we were a normal country, we wouldn't have Rome. We wouldn't have Florence. We wouldn't have the marvel that is Venice."
-Matteo Renzi, Prime Minister of Italy…
Did I miss any of your favorite Rome quotes?
(P.S. Buon Ferragosto!!)