YUP. Dreams really do come true.  Da Michele Rome is a reality.
Da Michele is one of the best pizzerie in Naples, and has just opened its only other location right here in bella Roma.
Weirdly, L'Antica Pizzeria Da Michele Roma is INSIDE a children's museum?
I mean, that is not what I was expecting, but I feel like you should know that so you don't circle around the Explora Museum like I did.
Walk through the main doors, past the cafeteria, and you will find the neapolitan pizzeria in all its brightly lit high ceilinged glory.
L'Antica Pizzeria Da Michele in Naples was my first real pizza nirvana experience.
The communal tables. The buzz. THE PIZZA.
Chewy dough, fresh cheese, tangy tomatoes and a bite of garlic?
Pure ecstasy.
In fact, I make an at least once a year trip to Naples just to eat.
So to have once of my favorite pizzerie open in Rome? Yes. Sign me up. Save me the train ride, and give me a pizza.
Da Michele's new Rome location is … new.
It is big (but you will still get caught in line if you come at peak hours), and it is clean (which objectively is a good thing when it comes to eateries, but it feels a bit sanitized).
In addition to Nastro, there are a few special edition Peronis and an overpriced craft beer on the menu.
But everyone knows Nastro is the right beer for pizza, so we started with that.
Next came nodini- fried knots of pizza dough served with dipping sauces?
The addition of appetizers is not the only thing that is a bit different.
Let's talk about prices.
The prices at Da Michele in Naples remain almost unchanged over all the years that I have been going. A pizza marinara will cost you just €4! FOUR EURO.
However, in Rome Da Michele charges €7.50.
That is a pretty striking markup, but I am going to give it a pass because it does cost money to ship those tomatoes and fresh fior di latte mozzarella up to Rome, verses serving it in Naples where the supply routes for the ingredients are shorter and better established.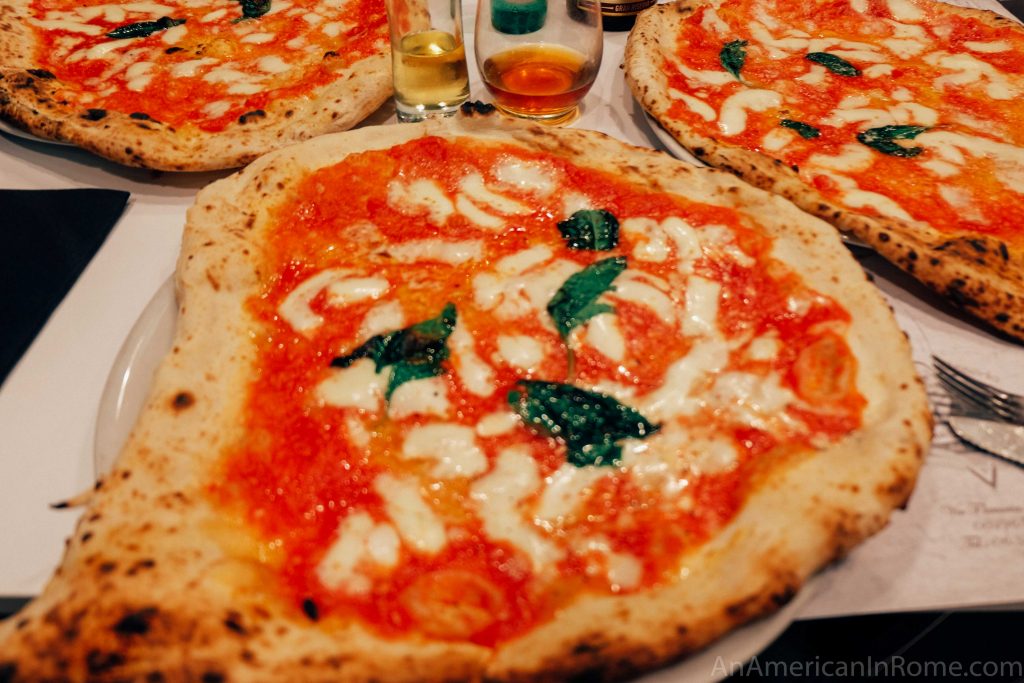 But what really matters is the pizza, and the pizza at Da Michele Roma is really very good.
It is the best Neapolitan pizza that I have had outside of Naples, by far.
I snapped this photos as quickly as humanly possible so that I could get busy inhaling the pizza.
There are still only two traditional options on the menu: margherita and marinara.
However, the new Rome location also expands to offer pizza repiena – a sort of stuffed pizza that sounds good in theory but I promise you that nothing is likely to stand up to the classics.
Rome's new Da Michele is more than welcome. However, it won't replace a good day trip to Naples.
If you are willing to make the Naples pilgrimage, here is the start to your pizzeria itinerary:
The original L'Antica Pizzeria Da Michele in Naples is an institution for good reason.
50 Kalo, outside the warren of lanes in the city center, is a great option for traditional pizza without (usually) such a long wait.
But if you are staying in the Eternal City?
Da Michele Rome is a great option. (Just don't get it confused with the restaurant of the same name on Via Merulana).
L'Antica Pizzeria Da Michele Roma
Explora Museum
Via Flaminia, 80/82,
00196 Roma
No reservations accepted.  Open every day from 12 pm – 5 pm and again from 7 pm – 12 am.