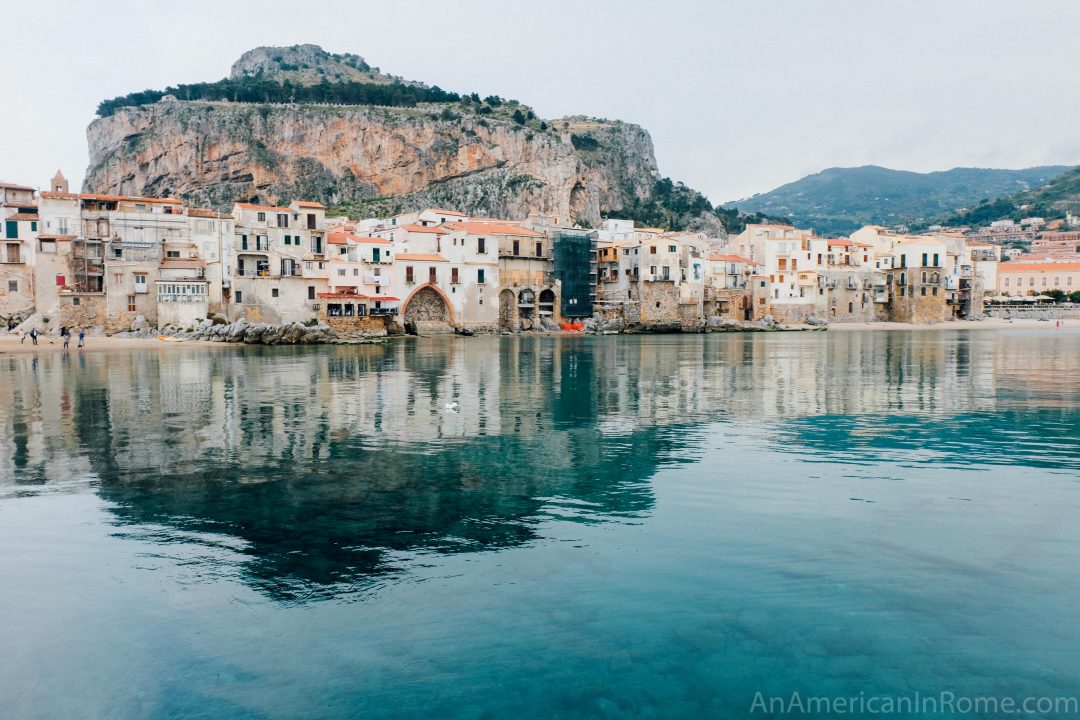 Cefalu, Italy: A Beachside Fishing Village in Sicily
Last updated on September 11th, 2018 at 10:42 pm
While I love Palermo, it is clear that the best part of Sicily are the small towns. Luckily, it is possible to have the best of both worlds with a day trip from Palermo to Cefalù.
I promise you that if you have seen a seaside shot of Sicily, you have probably glimpsed Cefalu's charming port.
The small cove is impossibly picturesque even in the off season.
Located about 40 miles east of Palermo, Cefalù is easily reachable by both car and train.
With the regional train, Cefalù can actually be an easier destination to reach than Mondello – which is closer to Palermo but only has a bus option for public transportation. (Side note: the bus is terrible).
The train schedule can vary slightly depending on the day, but you can check the options for Palermo to Cefalù on the trenitalia website. Tickets can be purchased online or in person at the station. (And here are some more tips on how to buy train tickets in Italy).
The trains run approximately every hour between the city and the seaside town, so you can be in Cefalu within about 50 minutes.  The train station is uphill from the beach, about a ten minute walk away.
And it is a short trip that is well worth it.
While Palermo's buzz of hectic scooters and activity can be invigorating, life in Cefalù is decidedly slower.
As with many small towns in Italy, a cathedral dominates the main square.
A town of about 14,000 – the numbers can swell during summer when Cefalu becomes a major tourist destination.
The best times to visit are in the shoulder seasons of April-May and September-October. The beach crowds are sparse during those months, but the shops and restaurants are open.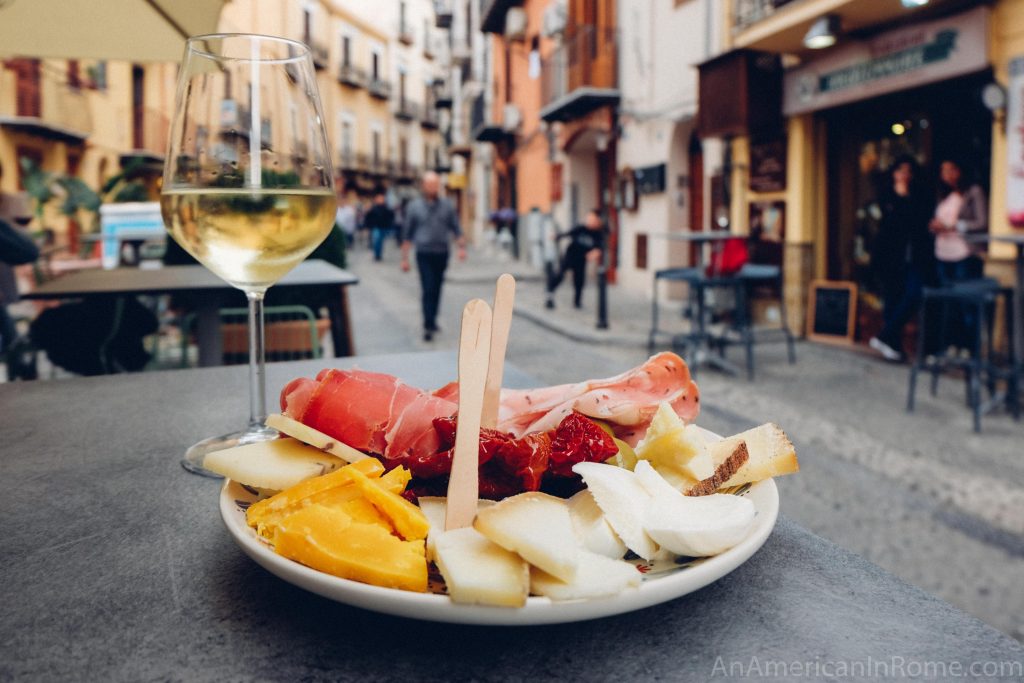 Once you have wandered through town, stop for a local aperitivo at Tentazioni Meditterranee (Via Carlo Ortolani  di Bordonaro 23).
The shop sells the gourmet products to take away, but there are also tables outside to enjoy Sicilian snacks like mortadella with truffles and cheese dotted with pistachios. And if you look juuuuust right, you will catch a glimpse of the ocean through the small piazza across the street.
If you are staying for dinner or want a more substantial lunch, book a table at Il Normanno (Via Vanni, 8). The cozy restaurant offers a chance to try slow food dishes from the region.
Speaking of staying, I highly recommend considering Cefalù for more than only a day trip from Palermo.
I booked two nights in a small studio just off the water, and had coffee on my own little balcony before the town came to life.