If you are traveling between Rome and Florence by train (or using Florence as a base to explore any other parts of Italy by train), you are going to be spending time at the main Florence train station. Known as Firenze Santa Maria Novella, the station is located within an easy walk of the center of the city and is also a major bus stop.
The Florence train station is one of the busiest in Italy and offers several services, as well as hosting shops and eateries. To prepare for your trip, here is a complete guide to Florence's Santa Maria Novella train station.
Florence Train Station
The main Florence train station is Firenze Santa Maria Novella. Santa Maria Novella is also the name of a nearby church, so you may see the station abbreviated as Firenze SMN.
Santa Maria Novella is one of the busiest train stations in Italy, and over 150,000 passengers (almost 60 million a year!) use the station every day. Trains depart Florence for regional destinations in Tuscany, as well as major Italian cities like Milan, Rome, and Venice.
The Florence train station has 19 train tracks located on one floor, as well as multiple small shops and eateries.
The station first opened in 1848 and was redesigned in the 1930s. There are still several examples of typography and an interesting architectural influence from the time period that are visible in the departure hall.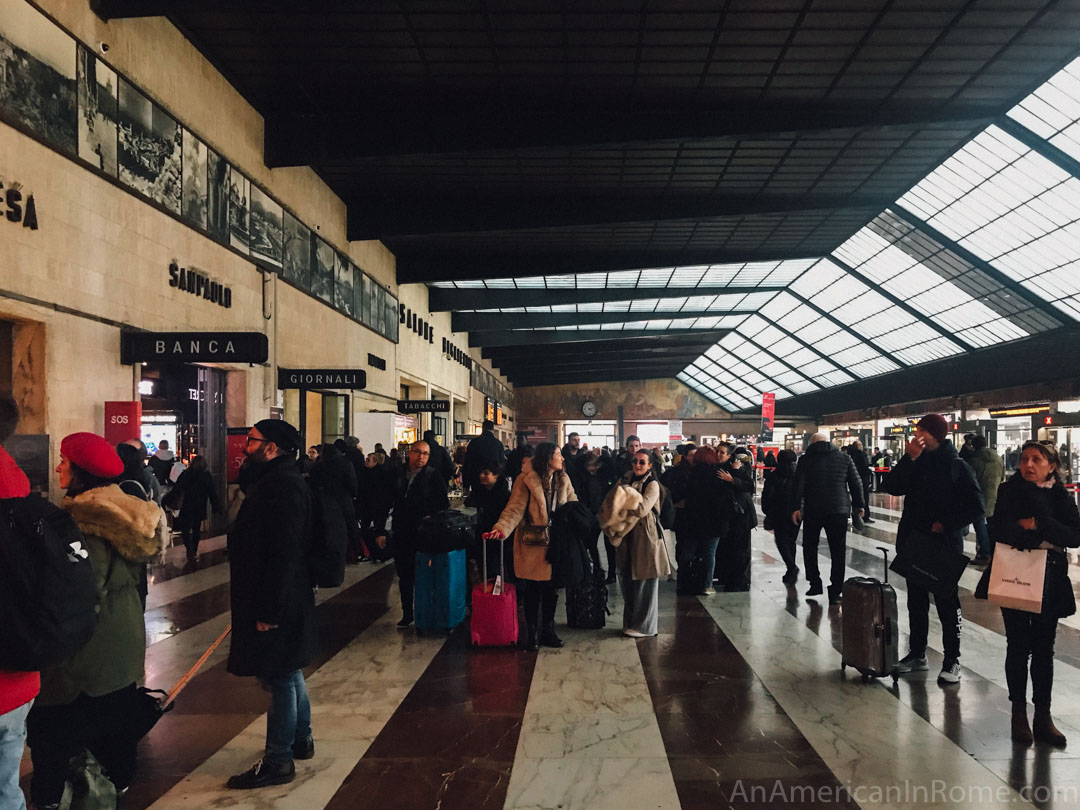 Location
The address for the Florence train station is Piazza della Stazione, Firenze, Italia. The station is centrally located and is only about a 10-minute walk from the Duomo in the heart of the city. There are several restaurants and hotels located on the streets immediately surrounding the station, as well.
Buses and trams stop outside of the station for easy access to public transportation if you need to travel further away. A taxi stand is also located immediately outside the main terminal doors.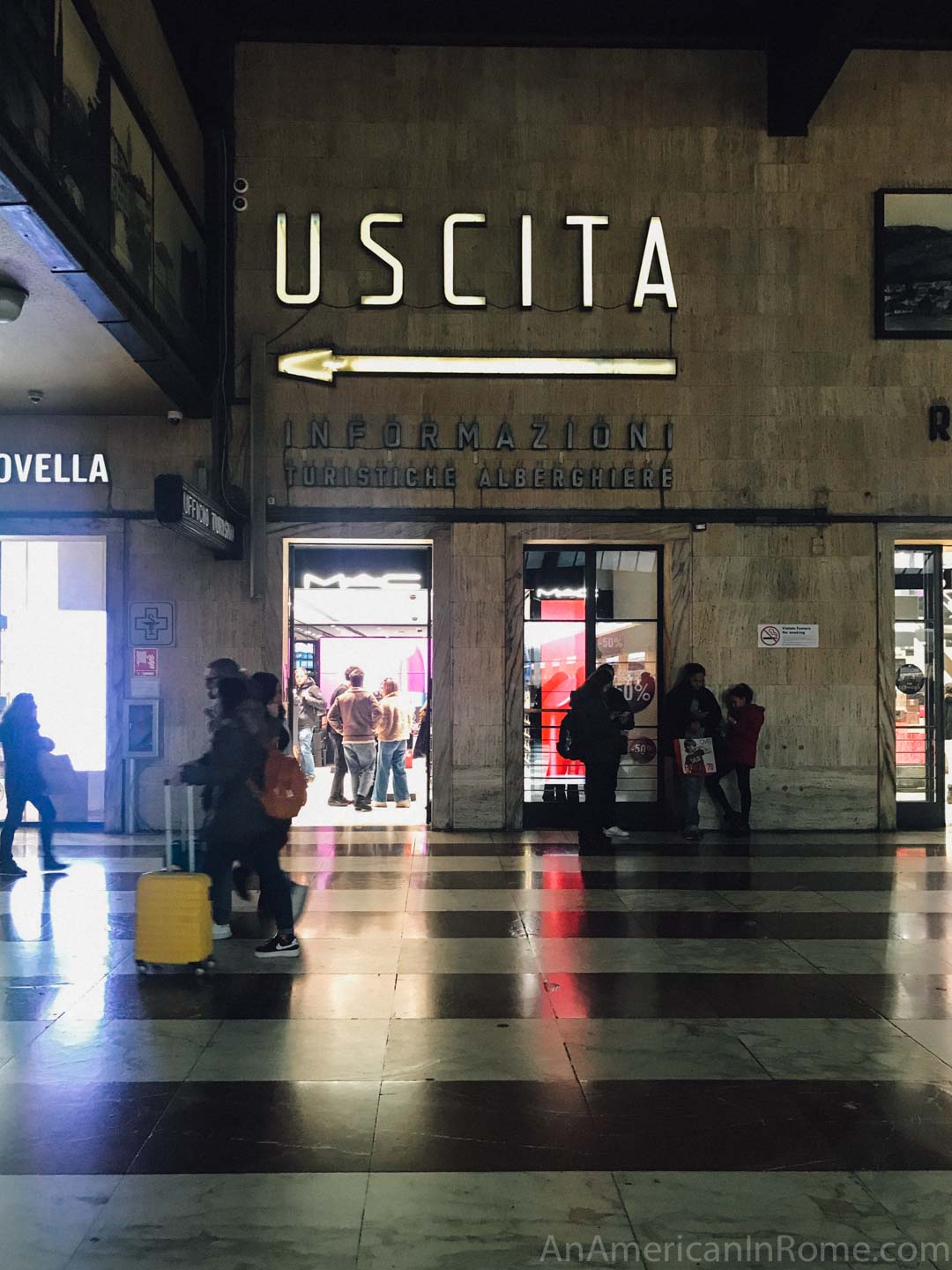 Buying Tickets
Tickets can be purchased from ticket desks and machines inside the train station. You can also purchase tickets in advance online, or buy regional tickets from the small newspaper stands in the main hall.
For a complete guide, here is more information on how to buy Italian train tickets.
Security and Check-in
Check-in is not required at Santa Maria Novella station. There are no options to check-in bags, so you must be prepared to carry your own luggage onto the train and place it in the luggage racks on board on your own.
To reach the train platforms, you must have a valid ticket to travel on that day. You will see two gates with green lights that read "entrata" and grant access to the platforms. You can show either a printed ticket or your ticket confirmation on your smartphone. Aside from the ticket check (which moves quickly), there is no other security. There are no shops or services once you pass through the simple security check so you should do so only when your departure platform is displayed (about 10-15 minutes before train departure).
Shopping and Eating
Firenze S.M. Novella station has several eateries that are designed for takeaway meals which can then be carried on the train. There is a McDonald's near Platform 16 and a VyTa which sells panini and other portable meals in the center of the main boarding area. Other shops sell bottled drinks and snacks such as chips. There are no sit-down restaurants in the main terminal building, so it is better to eat before arriving if you prefer a more leisurely meal.
The station also has several small shops, including Victoria's Secret (selling cosmetics), Sephora, Feltrinelli (books), and accessory stores.
The Florence train station also has a post office and a pharmacy for any last-minute practical needs.
Facilities and Services
The Florence train station has limited seating available in the ticketing area, as well as private club lounges that can be found across from Platform 1. The Sala Freccia Club is available to travelers who have the platinum or gold CartaFreccia card, or those with executive class tickets.
Travelers with disabilities can make use of the assistance provided by Sala Blu.
Toilets are available near Platform 16 and Platform 5. Note that the restrooms require a 1 euro payment for use.
Baggage Storage
Kipoint is the only provider of baggage storage inside Santa Maria Novella train station, past the McDonald's near Platform 16. The shop is open from 6 am to 11 pm every day and costs €6 for the first 5 hours, with a €1 charge for each additional hour. If you prefer, you can also store your baggage at the number of nearby hotels using LuggageHero, even if you were not a guest at the hotel. Use the code AMERICANINROME for two hours free.
Monument
Inside the ticketed area, you can find a monument to the Jewish lives lost during WWII. The artwork and plaque is located in front of platform 16, where Jews were once deported from Florence to be sent to Auschwitz.
Station Hours
The Santa Maria Novella station is open from 4:15 am to 1:30 am. It closes during the hours when there is no train service, and it is not possible to stay inside during those three hours in the middle of the night.