One of the things I love about Rome in summertime is how much the Romans use the city. Sure, a lot of people head out of town on vacation, but even those who stay in the city want to be outside as much as possible.
So the warm nights tend to mean lots of fun, seasonal pop-ups. Some, like Tram Depot, are well established. Others, like the river bars, are a bit gimmicky. Some, are creative.
One of the most unusual repurposings of space I have seen in recent memory is La Falegnameria Cocktail & Co.
The little cocktail spot is entirely outdoors and has picked a pretty untrendy location for its very contemporary popup. The bar is located inside a lumberyard.
That's right – a hardware store, for wood. The lumberyard in question has been operating in this corner of Rome near Porto Fluviale for almost 200 years.
I have walked by it countless times and never gone inside because I have never been in the woodworking or construction market. It is not a place I ever expected to see a bar.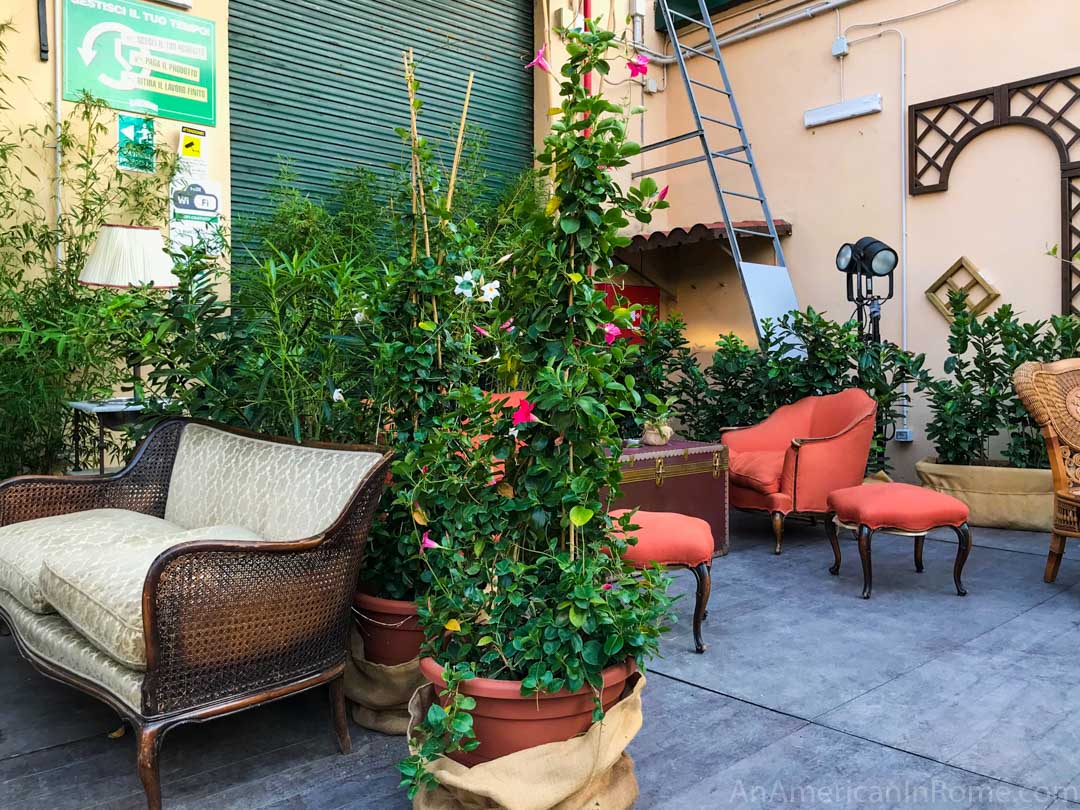 But it works.
The lumberyard has been filled with plants to make it feel much more like a garden and there is cute vintage furniture that is pulled out every night.
Paying homage to its location, the signature cocktails are based on natural floral and woodsy flavors.
The presentation of the drinks is great, but both the Acero (a Manhattan with hazelnut foam), and the Mastro d'Ascia (a tequila-based drink with lime, passion fruit and mint) were too sweet for my tastes. I don't drink a ton of cocktails but I would go for something heavier on the bitters next time.
They can also make any classic drinks at the bar – all are €10 – with wine and beer coming in at a little less.
The bar is open from 7 pm – 2 am Monday through Saturday. They are not open any earlier during the day because the lumber yard has wood to sell!
The pop is going to be here through the end of September, but expect it to be closed if the weather takes a turn. There are no umbrellas or coverings to protect the seats. Everything is out in the open air, and that is what I like about it. Summer in Rome is about making the city an extension of your living room.
It would be a great place to stop for a drink after dinner at Trattoria Pennestri or Marigold Roma.
Cheers to summer, with its new places and new ideas.
La Falegnameria Cocktail & Co.
Via delle Conce, 13,
Rome, Italy (Piramide/Ostiense)
Open 7 pm to 2 am every day except Sunday, through the end of September 2019.